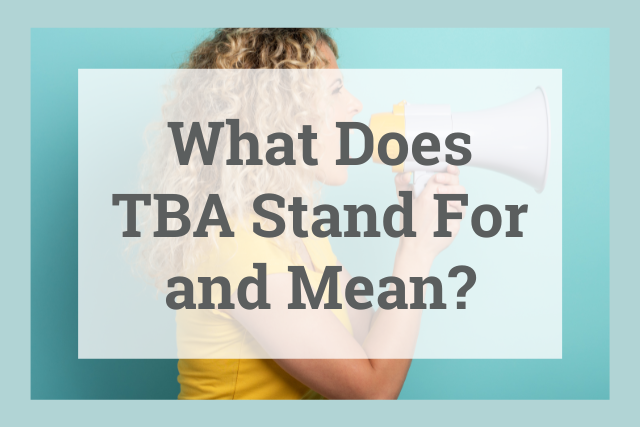 In the modern world, you'll need to use more acronyms and initialisms than ever before, both in professional settings and in daily life.
One abbreviation you might see regularly is TBA, which most commonly stands for "To Be Announced." Read on to learn more about what TBA means, and how and when to use it.
What Does TBA Stand For? Its Full Form
The full form of TBA is "To Be Announced." TBA is very similar to TBD, which means "To Be Determined."
Many people use these two initialisms interchangeably, which makes sense because they have similar meanings. ProWritingAid's Acronym Consistency Report can help you make sure you're using acronyms and initialisms in a consistent way.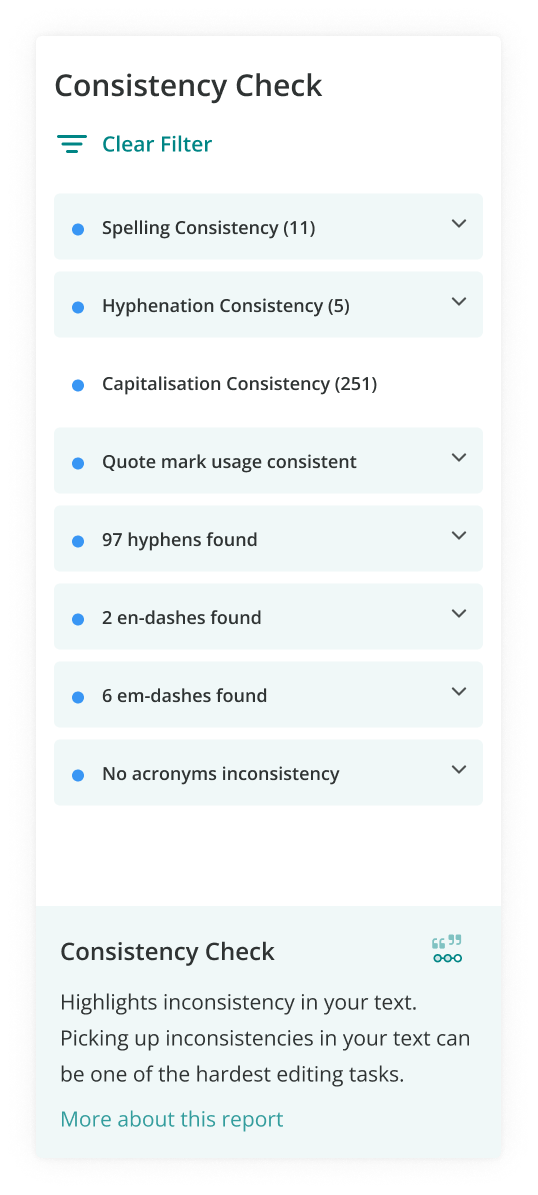 Occasionally, people also use TBA to stand for "To Be Advised," "To Be Agreed," or "To Be Arranged," which all have similar meanings to "To Be Announced."
What Does TBA Mean?
People usually use TBA to say that they'll provide a piece of information at a later date because they aren't ready to share it yet. Often, this happens because that piece of information is still unknown.
When something is TBA, that means you should check back later to see if that information has been updated.
You'll often see this abbreviation when someone is scheduling an event, such as a wedding reception or concert.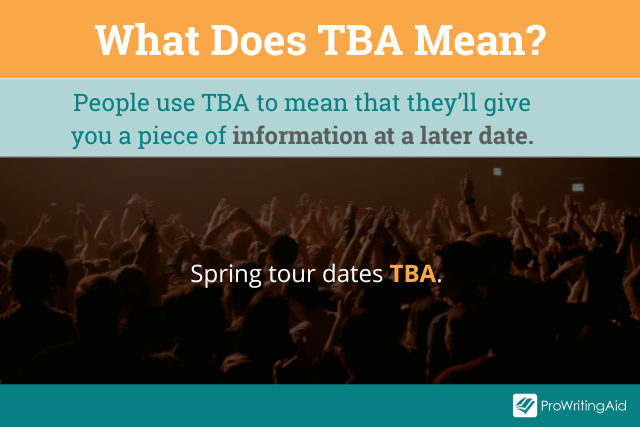 For example, you might receive a party invitation that says "Location TBA," meaning that the party location is not yet finalized.
Similarly, your favorite band might say they'll be playing a concert in your city, "Date TBA," meaning they haven't finalized the date, or they don't want to share it yet.
Does TBA Mean the Same on Facebook and in Business Writing?
Unless you work in a specialized industry, TBA will usually mean the same thing to everyone. You'll see the term used on Twitter, Instagram, and Facebook in the same way it's used in business settings.
On social media, people might use TBA as a slang term when they post events, such as "Party at my house tonight! Time TBA."
In the business world, corporate workers and investors often use TBA as a formal term to say that something isn't finalized yet. For example, someone might say that a meeting time is TBA.
Examples of TBA Used in Sentences
Let's look at some examples of how you might use TBA in a conversation.
"We'll touch base with the client next week. The meeting time is tba."
"My newly engaged friends are freaking out. Their wedding is in just two months and their venue is still TBA."
"The concert opener (TBA) will be performing a thirty-minute set before the headliner comes onstage."
"Matt, Sarah, and Frankie will all be in attendance at the conference. Other attendees TBA."
"Keep a look out for our next announcement! The details are still TBA."
"It's so hard to get the whole family to agree on a single destination. That's why our Christmas plans are still TBA."
What Are the Other Meanings of TBA?
TBA has many other meanings, depending on the context. However, these additional meanings are much rarer. Most people mean "To Be Announced" unless they specify another definition.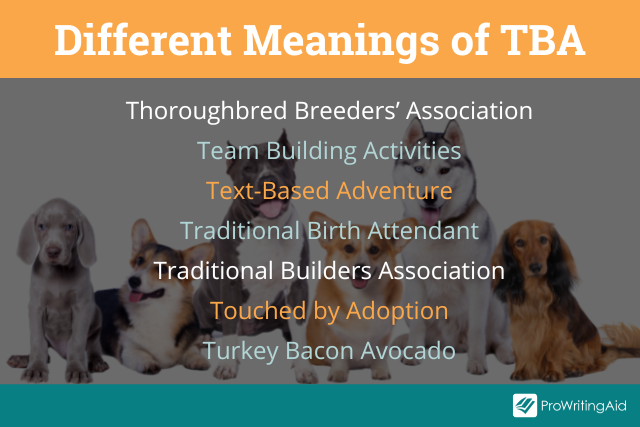 Below are some alternative meanings of TBA, some of which are specific to various locations.
Team Building Activities: games and exercises that strengthen the bonds between members of a group and encourage collaboration instead of competition
Text-Based Adventure: a computer game genre where most of the interface consists of written texts
Traditional Birth Attendant: a midwife or care provider who assists a mother during childbirth
Tallahassee Builders Association: an organization of home construction professionals
Toyota Boshoku America: a corporation that sells automotive components
Tampa Bay Area: a major populated area on the west coast of Florida
Traverse Bay Area: an intermediate school district in Michigan
Tram Boarding Area: an initialism used by Houston Space Center
Total Benefits Administration: a computerized benefits administration system designed by Hewitt Associates, LLC
Touched by Adoption: an organization that offers education on adoption and support groups for children
Thoroughbred Breeders' Association: an organization of dog owners and breeders
Tires, Batteries, and Accessories: an auto repair company
Tertiary-Butyl Arsine: a chemical compound used in semiconductor manufacturing
Turkey Bacon Avocado: a type of sandwich
The Black Album: an album by the band Metallica
In general though, just remember that "To Be Announced" is usually the correct meaning of TBA, and you'll be good to go!
---
Take your writing to the next level: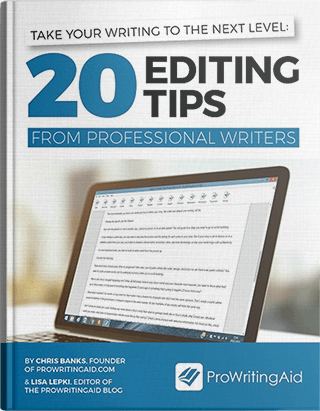 Whether you are writing a novel, essay, article, or email, good writing is an essential part of communicating your ideas.
This guide contains the 20 most important writing tips and techniques from a wide range of professional writers.