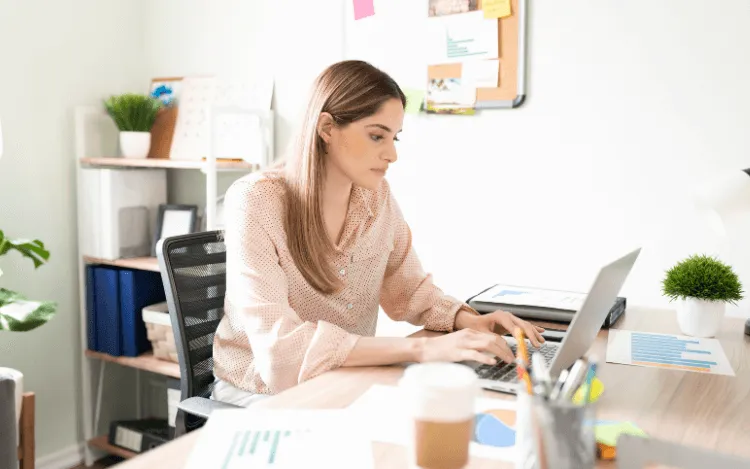 Sending a thank-you email after a job interview isn't just polite. It can mean the difference between getting a great job or missing that opportunity.
Keep reading to find out why you should write a quick thank-you email after an interview.
Why You Should Write a Post Interview Thank-You Email
Several years ago, a colleague was leaving to move out of state. At our end-of-year luncheon, our boss announced this sad news. He read out the excellent thank-you letter my coworker had sent nearly a decade before. Yes, our boss kept it all those years!
It was then that I understood just how important sending a thank-you message is. Employers often interview dozens of people for a position. A personalized thank-you note helps you stand out from the competition. It shows you're so invested in the job that you've taken extra time for it.
When to Send a Thank-You Letter After Interview
It's much easier to send an email than mail a thank-you letter or card these days. Sending an interview thank-you email the same day or following day is much faster and more likely to get read than waiting on the postal system!
Don't wait too long after your job interview, but you also don't need to hit send immediately. It's best to send your thank-you email within 24 hours.
Personally, I like to send important follow-up emails late in the evening or early in the morning. This increases the chance that yours is one of the first emails they see when the following workday starts.
Types of Interview Thank-You Emails
The best format for your thank-you email depends on the type of job interview you had. Let's take a look at a few ways you might write your email.
Short Thank-You Email After Interview
After an in-person interview, you can send a thank-you letter or an email. It doesn't need to be long, but you do want to make it personal.
Address the hiring manager however they introduced themselves to you. For example, if their name is William, but they introduced themselves as Bill, call them Bill.
Feel free to use the interview thank-you email templates at the end of this article. But make your short email sound personal by mentioning the company name and job position. You don't want them to think you've sent the same email to other people!
Thank them for their time and reiterate that you'd love to work for their company. If they asked you for any additional information in your interview, such as references or a portfolio, attach it to the email.
Two or three sentences will suffice in most cases. Remember, the hiring manager is busy! A lengthy thank-you letter probably won't get read.
Thank-You Email After Zoom Interview
Since 2020, more and more companies utilize Zoom for interviewing. It's more convenient for interviewers and job candidates.
You should still send a short thank-you note after a virtual interview. If you're interviewing for an in-person job, tell them you're eager to meet them in person.
Otherwise, follow the same etiquette as above for a Zoom interview thank-you email.
Unique Thank-You Email After Interview
A basic thank-you email template is polite, but if you really want to stand out, spend a little more time crafting your message.
A thank-you email is the perfect way to remind the interviewer that you're the best candidate for the job. Compliment the company and mention why you want to work there.
Then add some additional information about yourself. This is a great way to mention things that didn't fit on your resume. You can attach examples of projects you've worked on or link to your portfolio. Linking to your personal website is also a good idea if it's relevant to your profession.
Be formal but personal. You want to build a relationship. Small talk is common in interviews. If they mentioned where they live or a hobby they enjoy, reference it in your email conversationally. Just a sentence is plenty. For example, if you both love baseball, don't spend a paragraph talking about it. You could say something like, "Thanks again, and go Red Sox!," or "Hope you get a chance to catch the Angels game tonight."
The goal is to stand out in the interviewer's mind. Be personable and promote yourself without sounding arrogant.
How to Write a Thank-You Email After Interview
So, how do you write a thank-you email? Let's take a look at how to write a professional after-interview message step-by-step, from subject line to send.
Thank-You Email After Interview Subject Line
You want your interviewers to read your email, so a strong subject line is important. Say thank you in the subject line, so they know exactly what to expect. Avoid saying things like, "Interview Follow-Up," because they may think you have additional questions and may not open it immediately.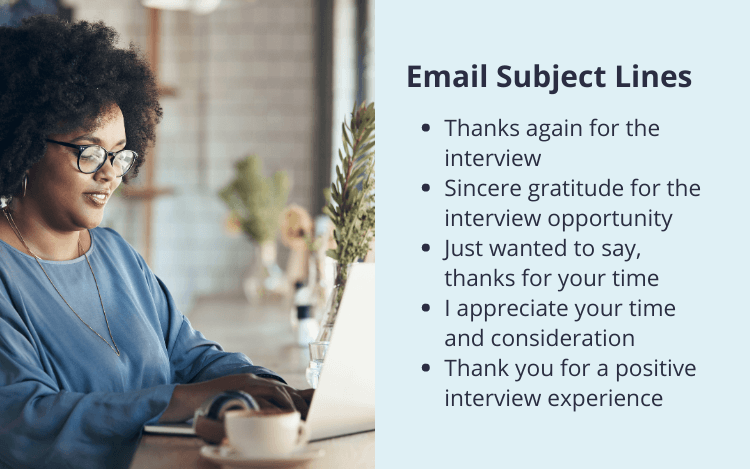 Here are a few ideas for strong email subject lines:
Thanks again for the interview

Sincere gratitude for the interview opportunity

Just wanted to say thanks for your time

I appreciate your time and consideration

Thank you for a positive interview experience
Now is not the time to promote yourself. Be gracious and succinct, then move on to the body of the email.
Salutations in Thank-You Emails
Salutations in thank-you emails can be tricky because they need to match the tone of your interview and the culture of the company.
If your interview was very formal, and the company is a suit-and-tie office, follow formal email etiquette. Use "Dear" and whatever name they introduced themselves as. If they gave you their full name, you should use their title and surname.
However, many interviews are more relaxed. You can tell a lot about the company culture from the way your interviewers dress and talk. If they're very casual, feel free to use a salutation like "Hi" or "Hey" before their first name. You want the tone of your email to show that you can fit in with the company: how you communicate is even more important than your skills.
Most interviews likely fall somewhere in between formal and casual. "Hello" before their first name is always a good salutation.
Keep It Short
You don't want to waste your interviewer's time. Keep your email to the point. Here's a good formula to follow for the body of your thank-you email.
Thank you (1 sentence)

Compliment or personal connection (1 sentence)

Compliment the company (1 sentence)

Reiterate why you want to work there (1–2 sentences)

Additional information or links (4 sentences max)

Optional: personal connection (1 sentence)

Call-to-action (1–2 sentences)

Sign-off
A great way to compliment the company is to mention their mission or values. You can also mention the company culture, their strengths in the industry, or the way they are innovating in their field. Make the compliment more personal by referencing something specific your interviewer discussed during your meeting.
A personal connection is what we discussed earlier. If the interviewer mentioned something about themselves, find a way to authentically mention it. It shows you're interested in them as a person and helps build a relationship. Put it at either the beginning or end of your email, but you don't need to mention it twice.
A call-to-action encourages the interviewer to contact you back. You can say something like, "I look forward to hearing from you soon," or "Please call or email me if you have any further questions."
Finally, your sign-off should, like the salutation, match the tone of your interview. Formal sign-offs may sound like "Warmest regards" or "Sincerely." Less formal options are "All the best," or even just "Thanks again."
Finally, sign your full name, and include an email signature with your contact information.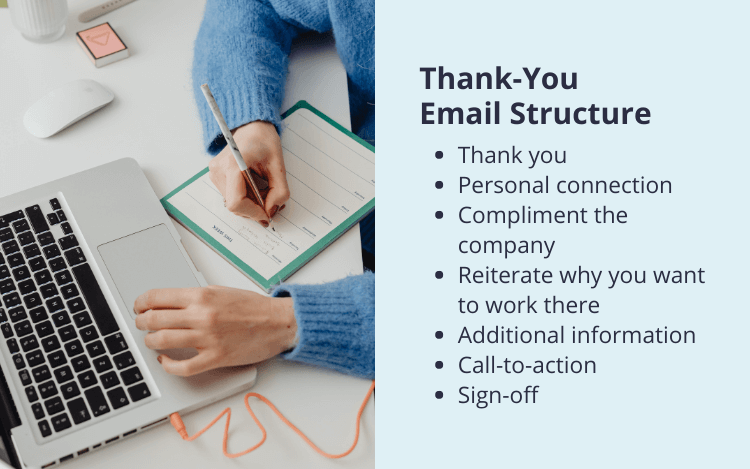 Edit Your Thank-You Email with ProWritingAid
The absolute worst places to have a typo are in cover letters and thank-you emails. It's important that your grammar, spelling, and readability are perfect in your email. This shows that you have a strong attention to detail and can communicate professionally and clearly.
Re-read your thank-you email, then run it through ProWritingAid's free grammar checker. You can also use our free browser extension to edit directly in your email provider.
ProWritingAid will find all your grammatical errors and improve your readability. You can even use our Rephrase tool to make your writing more or less formal.
Sample Thank-You Email After Interview
Let's check out a couple of thank-you email templates for you to quickly draft a message to your interviewer. Just fill in the details with your own information.
Generic Thank-You Email Template
Hello [Interviewer's Name],
Thanks again for taking the time to interview me. I enjoyed chatting with you about [company name].
I really admire/align with/believe in [company name]'s mission of [company mission or main initiative]. I believe my skills as a [job role] will benefit the company.
Please feel free to check out my website [insert hyperlink] for more information about the work I've done.
I look forward to hearing from you soon. Please reach out if you have any further questions.
Regards,
[Your Full Name]
[Your contact information]
Unique Interview Thank-You Email Template
Hello [Interviewer's Name],
I just wanted to express my gratitude for taking the time to talk with me about the [job role]. Your interview questions were thought-provoking, and I enjoyed hearing some of your expertise.
I admire how [Company Name] is making an impact in the [field]. The company culture seems refreshing and innovative [or other adjectives].
My experience in [job role] will bring new ideas/strategy, and I'm excited about the possibility of contributing to [Company Name]'s growth. I mentioned a project [brief description of project] I worked on at my previous job. I've attached a sample of it to this email. You can also find my list of references you requested attached.
[Personal connection example: Enjoy your upcoming vacation to Belize!] I look forward to hearing from you soon. Please email, call, or text me if you have any further questions.
All the best,
[Your Full Name]
[Your contact information]
The Impact of Thank-You Notes
A thank-you note after an interview has become standard etiquette in many fields. But for many jobs, most applicants won't take the time to build a connection and express their gratitude.
A thank-you email will help you stand out from your competition. We hope this article helps you land your dream job.
---