Today we're going to give you a detailed comparison of ProWritingAid vs Writer.com (formerly Qordoba).
Launched in 2012 in the UK, ProWritingAid started as a tool to help professional writers get their work to a publishable level. We realized that people often weren't confident enough to share their knowledge and ideas because they'd received little or no formal writing training.
In businesses, the most important knowledge is often in the heads of people with the least training in writing and that can mean that it is lost when they leave the company. That's why ProWritingAid has always focused on helping writers to become better instead of just pointing out mistakes.
Our users love our product because if they don't understand an issue, they can find a detailed explanation of it, learn how to fix it, and be confident that they won't repeat it.
Today, ProWritingAid offers actionable advice for writers of all types and ability levels, and it allows you to add your own rules, training materials, and style guides. Because of this, ProWritingAid has become an important tool for many companies large and small.

Writer.com started life as Qordoba, a content intelligence platform, in 2015. From what we know (and we'd love to find out from someone on the team), its primary purpose was to help content teams automate their style guides. It went on to add grammar, spelling, and readability checking.
Integrations
An important part of any tool is having it available wherever you're writing. If you have to copy and paste your text into another tool then you're less likely to use it. That's why at ProWritingAid, we've built more integrations than any other writing product.
With our Chrome extension and extensions for Firefox, Edge, and Safari, you can integrate our writing improvement tool into your favourite CRM, email client, support desk software, or sales engagement platform.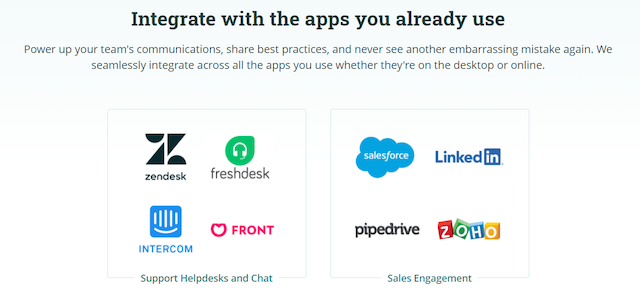 At the time of writing, ProWritingAid's Chrome Extension has an average rating of 4.9/5 from over 2,000 reviewers, and over 200,000 active users.
Writer.com's Chrome Extension has just 13 reviews with an average rating of 4.5/5.
Writer.com does not currently have extensions for Firefox, or Safari, but both ProWritingAid and Writer.com have integrations for Microsoft Word and Google Docs. ProWritingAid also has a desktop app that works with a wide variety of file formats, and an integration with Arbortext editor.
If you want to integrate grammar and style checking into your own applications then ProWritingAid and Writer.com offer APIs.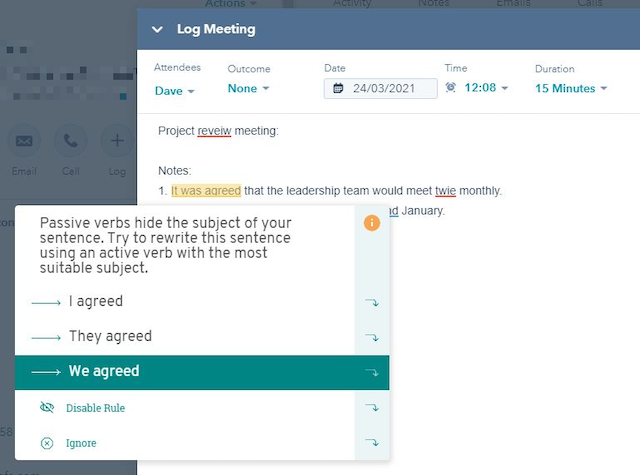 Real-Time Checking
Both Writer.com and PWA like to help writers in the flow of work. We both offer real-time checking so that issues and improvements are flagged as you write.
At ProWritingAid, we know that some writers find this distracting. So you have the option to turn the real-time checker off or on at any point in the writing process. In Writer.com, the real-time checker is always on.
Both tools highlight grammar, spelling, style, and passive voice suggestions and corrections. Many of these highlights include a suggested alternative with a simple click to accept the edit. However, only ProWritingAid automatically offers active voice alternatives for passive sentences.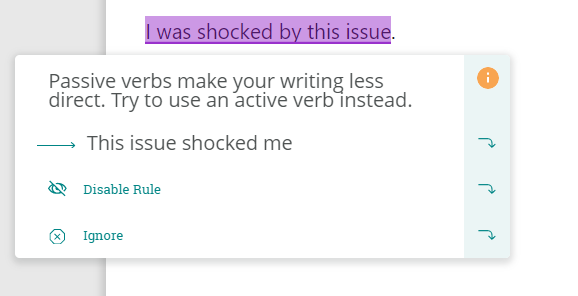 Metrics and Goals
Both tools provide a score that increases as you make improvements to your document. Writer.com provides a single score out of 100. This score reflects the total number of issues in the document. ProWritingAid offers a similar score for grammar and style suggestions, but we also add a goal-based score.

Goals are what make ProWritingAid so powerful. We provide actionable advice to improve your document, rather than just fix specific issues. We compare your document to great examples of writing, and show you where you can improve. By following this advice you can take your writing to the next level.
Writing is considered an art by many. But our Goals turn writing into a science; they show you the building blocks of great writing and help you get there one step at a time.
What's more, the Goals in ProWritingAid will vary depending on what you're writing.
For example, if you're writing a sales email then we add a goal around using sufficient positive language. If you're writing marketing copy then we give you a Goal around customer-focused language. This means that whatever you're writing, you'll have the guidance you need to create a great document.
In-App Learning
Learning happens best when it's in the context of the work being done.
ProWritingAid's real-time feedback promotes real-time learning. This is opposed to the traditional approach of sending people off to a training course on writing skills where they learn abstract rules that are difficult to apply to their actual writing.
At ProWritingAid we see learning as a core component of what we do. ProWritingAid isn't a Bandaid. It helps users to build skills and capabilities, to learn and to make permanent improvements. So you'll find many learning resources built into the tool.
The first place to look is the gold "i" icon that appears on most edit pop-up messages. Clicking on the icon opens an explanation about the subject of the highlight. You'll also find that there are short videos, quizzes, or links to blog posts included here, too, so that whatever type of learner you are, there's something that will work for you.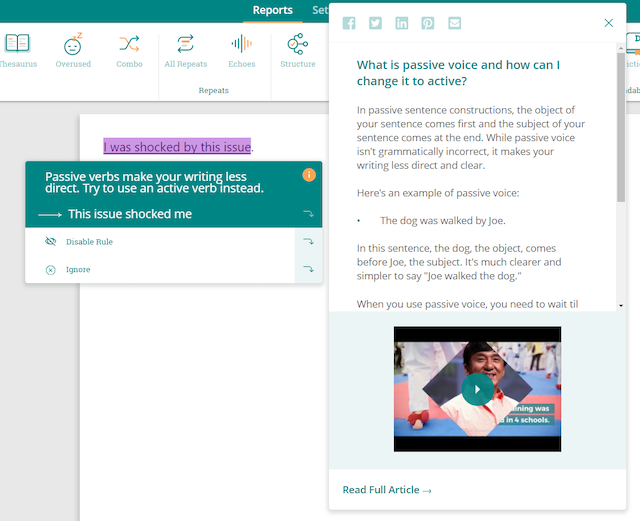 Writer.com offers a "Learn more" button but, from what we could see, only for passive voice highlights. The explanation offered is good, though, and would certainly help someone understand the difference between the active and passive voice.

Number of Reports
Writing is a broad subject with many elements. It's important that writers can focus on the specific topics that will improve their technique and output the most. That's why ProWritingAid offers 25 different in-depth reports. Each focuses on a different part of writing technique or subject area. As you'd expect, this includes the obvious ones such as grammar, style, and readability. But others, such as checking for repeats, sticky sentences, and acronyms are among our users' most valued.
Writer.com offers seven filters. Each filter highlights mistakes by subject area. The result is that users are faced with understanding a large amount of information at once (or, worse, they're not aware of some of the issues with their document).
Visual Aids
For visual thinkers, ProWritingAid has some great aids to help you analyze and improve your own writing and the weak points in your document.
Here's an example from two that we include in our summary report. They take seconds to understand but immediately help you zero in on the points in your document that need attention.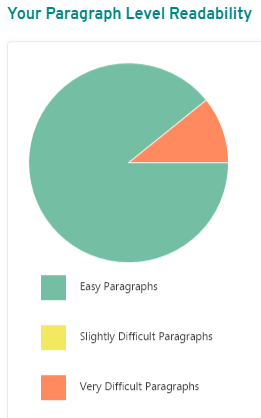 Writer.com only provides feedback on the edit screen. There are no visuals to help users see patterns or clusters of issues.
Free Plans and Trials
Anyone can sign up to ProWritingAid for free for an unlimited time. Our free web editor tool shows all corrections and improvements. It offers all 25 reports and all features but limits each analysis to 500 words at a time.
Free users can upgrade to Premium for a one-week trial at any time, providing access to all premium integrations with no commitment. Teams or organizations that want to arrange longer trials can do so by reaching out via our support team.
Writer.com does not offer a free version. It offers a two-week free trial after which you either upgrade to a paid plan or you lose access.
Paid Plans
ProWritingAid offers access to all integrations and reports at all license levels starting at $20 per month, or you can save 50% by purchasing a yearly license for $120. Teams and enterprise licenses offer additional team management tools, and greater style guide and term base capacity.
Writer.com offers a teams and enterprise plan. The business plan is $18 a month per user, with no discount for purchasing an annual license. This means it will cost $216 per year. Importantly, it doesn't seem to offer any custom written style rule checking and gives far less detailed feedback than ProWritingAid.
ProWritingAid's full feature range comes at a much better price. The limited capabilities of Writer.com's starter plan puts it at a significant disadvantage when comparing their cheapest $216 annual subscription to ProWritingAid's $120.
Customization
Both ProWritingAid and Writer.com are customizable. Both allow users to write custom style rules, upload terms to a term base, and create text snippets.
Language can be complicated, so we aim to make these custom features as easy to use as possible. We support clients and help them take full advantage of the power of these features.
Our style guide rule generator, for example, is most commonly used to pick up misspelled or incorrect terms and phrases, but with a bit of help, clients have created to rules to highlight complex numerical formulae and grammatical constructions. Our NLP (neuro-linguistic programming) experts are always on-hand to help.
We weren't able to test the capabilities of the Writer.com custom features.
Privacy and Security
At ProWritingAid, we believe your writing is your writing. We do not retain any rights to any text that we analyse, nor do we store any text that we analyse (unless requested by the user). Writer.com's terms state that they may use customer information to develop features: we're not sure what this means for data storage or your rights.
Both organizations are HIPAA compliant. Writer.com is already SOC 2 compliant whilst ProWritingAid is working towards SOC 2 compliance. ProWritingAid also offer on-premise deployments for corporate users unable to use cloud-based tools.
Which to Choose?
So there we have it. This is not an exhaustive review but it's based on a detailed review of Writer.com in addition to our knowledge of our own product. The question is, which is right for you? We suggest asking yourself a few questions when making your decision. Here's a few to get you started:
Do you need simplicity or nuance? Or are there times when you'll need both?
Do you want to be able to measure the quality of your documents and your improvements?
Is learning important to you? Do you want your team to build skills and knowledge over time?
Would you benefit from the flexibility of having a tool that is available wherever you write?
How do you satisfy your data security and privacy requirements?
Unsurprisingly, we think ProWritingAid is the best choice. Don't get me wrong, we like writer.com, but ProWritingAid is more comprehensive. It gives you the tools you need to make writing well painless. When you sit down to write and edit, you'll know what you need to work on, how to improve and what to avoid.
Our extensive writing resources make the editor part grammar checker and part writing course—without endless abstract grammar rules. Plus, ProWritingAid gathers your writing reports, style guides, snippets and learning resources in the places you write the most so you can make clear, engaging writing the rule, not the exception.
The best way to see what ProWritingAid can do for you is to try it yourself. Sign up for free to put our reports and integrations to the test. If you want to try ProWritingAid with your whole team, get in touch to organize a demo.
All product and company names are trademarks™ or registered® trademarks of their respective holders. Use of them does not imply any affiliation with or endorsement by them.
---