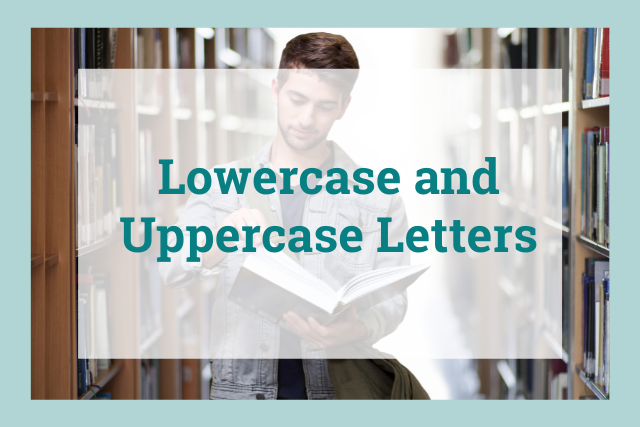 The 26 letters in the English alphabet can take two forms: uppercase and lowercase. Each form serves a different function. Most of the letters you see in writing are lowercase.
Definition of Lowercase Letters
Lowercase letters are smaller and sometimes take a slightly different form than their uppercase counterparts.
Notice the L that starts the word Lowercase in the previous sentence. It's larger than the other letters and looks different than the l in the word letters.
Lowercase letters are used more often than uppercase letters. They follow the first letter of a sentence or the first letter of a proper noun.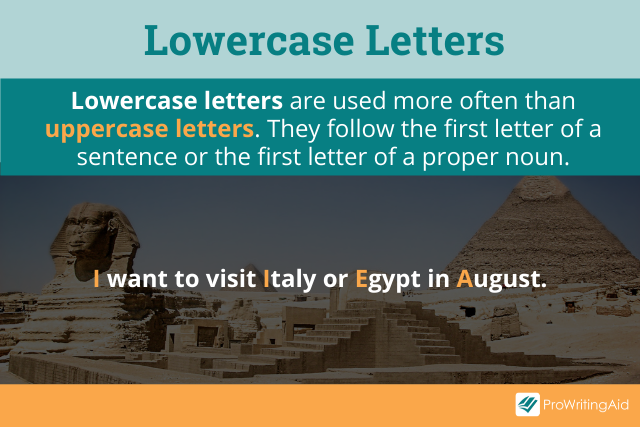 English Alphabet Lowercase Letters
These are the lowercase forms of each of the 26 letters in the English alphabet.
| a | b | c | d | e | f | g | h | i | j | k | l | m |
| --- | --- | --- | --- | --- | --- | --- | --- | --- | --- | --- | --- | --- |
| n | o | p | q | r | s | t | u | v | w | x | y | z |
Definition of Uppercase Letters
Uppercase letters, also called capital letters, are used to start sentences and as the initial letter of a proper noun.
Uppercase letters are larger than their lowercase counterparts. Though most uppercase letters look similar to their lowercase partners, others take slightly different forms.
English Alphabet Uppercase (Capital) Letters
These are the uppercase or capital forms of the 26 letters in the English alphabet.
| A | B | C | D | E | F | G | H | I | J | K | L | M |
| --- | --- | --- | --- | --- | --- | --- | --- | --- | --- | --- | --- | --- |
| N | O | P | Q | R | S | T | U | V | W | X | Y | Z |
When Should You Use Lowercase Letters?
It's easier to explain the function of lowercase letters by saying what they don't do. Lowercase letters do not start sentences and are not used as the initial letter of a proper noun.
They are used for all the remaining letters in sentences and following the first letter of proper nouns.
Most of the letters you write will be lowercase. A quick scan of this article shows that uppercase letters are used in specific circumstances and lowercase are used everywhere else!
In the first sentence of the paragraph above, Most of the letters you write will be lowercase., only the M in Most is an uppercase letter. All the others are lowercase.
Use Lowercase Letters with Common Nouns
Nouns are words that represent a person, place, thing, or idea. There are two types of nouns: common and proper.
Common nouns refer to a non-specific person, place, thing, or idea. They are generic terms. The chart below shows the common noun version of the proper nouns used above.
| Proper noun (capitalize first letter) | Common noun (lowercase letters) |
| --- | --- |
| Joanna | person |
| London | city |
| France | country |
| Tuesday | weekday |
| September | month |
Proper nouns refer to a specific person, place, thing, or idea. For example, the name of a particular person, city, country, day of the week, or month is a proper noun.
Joanna
London
France
Tuesday
September
The initial letter of a proper noun is an uppercase letter. The rest are lowercase.
Sentence Examples with Proper and Common Nouns
These sentences contain both proper and common nouns (in bold). The proper nouns are capitalized, the common nouns contain only lowercase letters.
After work, Sue met friends for dinner.
The ancient poet Homer wrote The Odyssey and The Iliad.
My favorite day of the week is Sunday, and my favorite month is July.
When Should You Use Uppercase Letters?
Most often, capital letters are used to start sentences and proper nouns, but those aren't the only times.
This list explains other circumstances that require uppercase letters.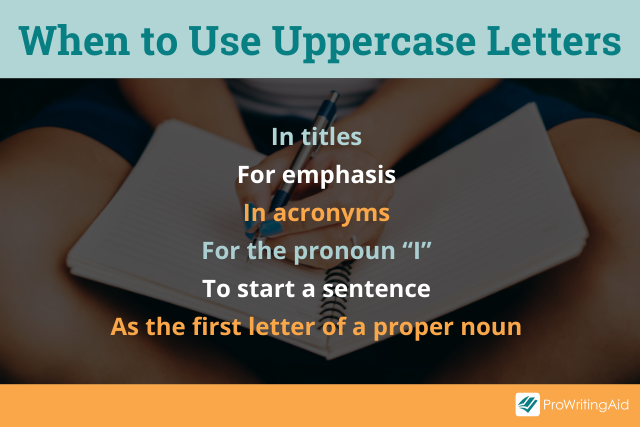 1. The first word of a quote that's part of a complete sentence
When an embedded quote is also a complete sentence, the first word of that quote should be capitalized.
Mary said, "We should go to the beach."
2. Titles of literary or artistic works
Capitalize the first, last, and all other words in a title except conjunctions, articles, and prepositions of fewer than four letters. This is called "Title Case." (Some style guides have even more specific guidelines, so always check!)
To Kill a Mockingbird
The Hunger Games
The Fault in Our Stars
3. Professional titles preceding a person's name
When a title such as "Dr." or "President" precedes a specific person's name, capitalize it.
We will now hear from Dr. Jones, our keynote speaker.
President Biden will give a speech later today.
Use lowercase letters if the title is used as a description or not followed by a specific name.
The keynote speaker is Martin Jones, a doctor.
I'm watching the president give a speech.
If you feel overwhelmed by the different rules of capitalization, remember that ProWritingAid is here to help!
It's a thorough grammar checker (and more) that will detect errors in capitalization for you.

4. The pronoun "I"
You should always capitalize the pronoun "I."
5. Acronyms and Initialisms
An acronym is a word formed by taking the first letter of each word of a compound term. Initialisms are similar abbreviations, except that the letters are pronounced individually rather than forming a new word.
PIN is an acronym for personal identification number and is pronounced as the word "pin"
FBI is an initialism for the Federal Bureau of Investigation and is pronounced as individual letters F-B-I
Some phrases are also abbreviated as initialisms:
"Talk to you later" is TTYL
"As soon as possible" is ASAP
Acronyms and initialisms should always appear in uppercase form.
6. When adding emphasis
Be careful with this use of uppercase letters!
When you put words or sentences in ALL CAPS, a practice often seen in texts or posts, you add emphasis to your words. Consider how that emphasis will be perceived.
ALL CAPS statements carry more aggression and intensity than lowercase words. That's not always a bad thing.
For example, texting someone "HAPPY BIRTHDAY!" instead of "Happy birthday" is a way to convey excitement and show you really mean those good wishes.
Other times, ALL CAPS can sound accusatory, demeaning, or rude.
Remember that ALL CAPS in writing makes it seem as though the speaker is yelling. Keep that in mind before you press "send" on your uppercase text or post!
A Summary of Lowercase and Uppercase Letters
Lowercase letters are used for common nouns and for every letter after the initial letter of the first word of a sentence.
Uppercase letters are most often used at the start of sentences and as the first letter of proper nouns, though there are other times to use the capital letter form too.
---
Take your writing to the next level: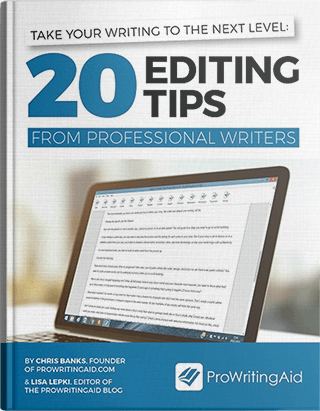 Whether you are writing a novel, essay, article, or email, good writing is an essential part of communicating your ideas.
This guide contains the 20 most important writing tips and techniques from a wide range of professional writers.