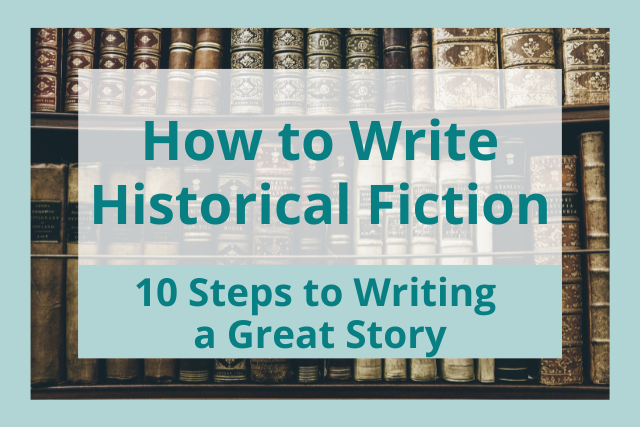 You don't need a history degree to write historical fiction—you just need to love history.
But many writers find writing historical fiction intimidating. Although it requires more research than most other genres, it doesn't have to be any harder than writing anything else.
If you've ever wondered how to write historical fiction, you're in the right place. Here are ten steps you can take to become a historical fiction writer.
What Makes a Good Historical Fiction Novel?
Historical fiction readers love this genre because it's a perfect balance of realism and escapism. Historical fiction is grounded in real events and time periods, but it's more engaging than reading a history book on the subject.
A great historical fiction book brings history to life. But it does more than focus on the events. Rather, historical fiction transports readers through time, connecting them on a human level with people of the past.
When you're studying history in school, it's easy to forget that the past was full of real people who did very human things and had very human struggles.
Good historical fiction writers humanize the past, immersing their readers in a world that feels new and familiar at the same time. Historical fiction reminds us we're not so different from other people after all.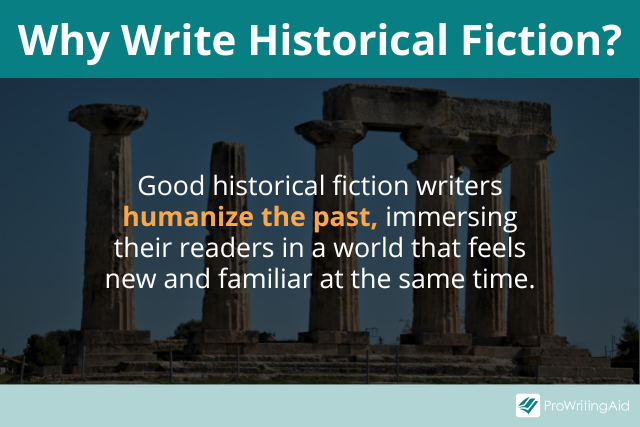 How Important Is Historical Accuracy in a Historical Novel?
Historical accuracy is a controversial subject among historical fiction writers. But the truth is, you will have readers who don't care much about accuracy and readers who will hyper-fixate on an obscure detail you got wrong. So, keep in mind that you can't please everyone.
Historical fiction ranges in accuracy. There are books like Wolf Hall with real people and events that are as accurate as possible. And some writers prefer to only fill in the gaps of what research can't tell us, like The Other Boleyn Girl by Philippa Gregory.
On the other side of the spectrum, there are historical fiction books that are only loosely inspired by history. These books may occur at a specific time, but accuracy about details isn't the author's primary goal. Regency romance like Julia Quinn's books are great examples of this.
And of course, there are eras in history that we know little about. Jean M. Auel's The Clan of the Cave Bear focuses on interactions between Neanderthals and early modern humans. We know very little about their culture and customs.
The level of historical accuracy in your novel is up to you. In general, it's a good idea to keep a broad sense of the era accurate. But you can choose to overlook smaller details.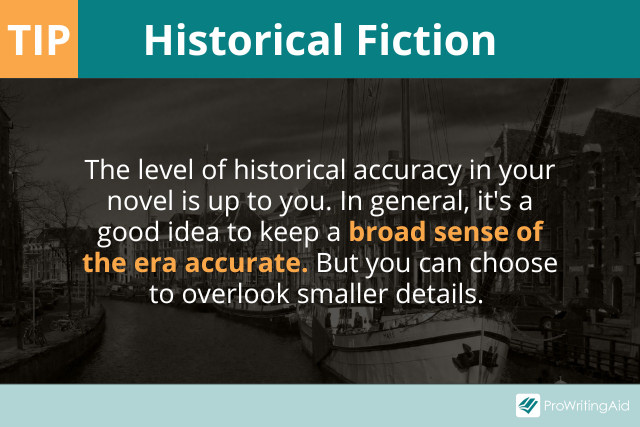 For example, in my upcoming pirate novel, my timeline for major events, as well as travel time between locations, is very accurate.
But ships with steering wheels instead of tillers didn't become mainstream until a couple of decades later. That didn't fit with the pirate aesthetic I wanted, and most historical romance readers aren't maritime historians, so my ships have the traditional wheel.
If you worry about getting emails citing all your errors, consider adding an author's note that explains your choices in the back of your book.
10 Steps to Writing Historical Fiction
Writing historical fiction can feel overwhelming at first. But these ten steps on how to write historical fiction will help break the process down.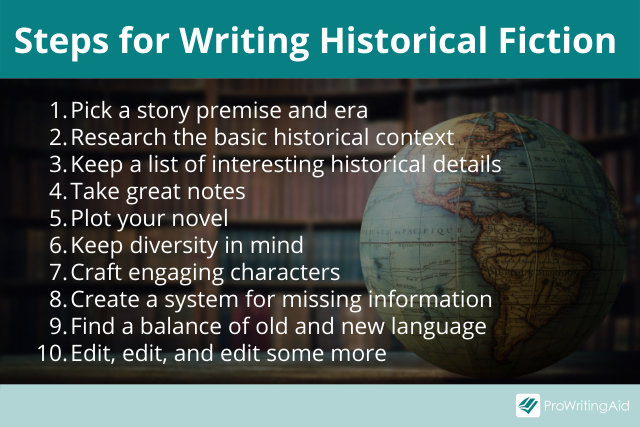 1) Pick a Story Premise and an Era
Chances are you're reading this article because you already have an idea for a historical fiction novel. Perhaps you have a favorite historical era or event you want to explore.
But if not, spend some time thinking about what you love about history. What excites you? What do you wish you knew more about?
Once you've decided on a premise and an era, it's useful to pick an actual year. This will help you narrow your research and build your setting with external conflicts and events.
For example, if you're writing a WWII novel, decide if you're setting the story before or after D-Day. This will affect your story's narrative.
2) Research the Basic Historical Context
Now you have to become a semi-expert in your era. This will require some in-depth research, but it's hard to know where to start.
I once heard a historical fiction writer say she starts by getting an overview of the time period from the children's section of the library. Then she can formulate research questions to go into great depth. Crash course videos are another great starting point.
I like to use a strategy that AP history teachers use with grade school students. Break down a time period and location by using the acronym PERSIA to take notes.
The acronym PERSIA stands for political, economic, religious, social, intellectual, arts. Social refers to social structure and social norms. Intellectual deals with major achievements.
A simpler form is PEGS, which is political, economic, geographic, social. Use these categories as an outline for your research.
Using one of these formats can help guide your research and organize the information you learn.
To go into greater depth, look into books, podcasts, documentaries, journals, and primary sources. Consider reaching out to a research librarian to help you find information. They're professional researchers and can save you time and frustration.
3) Keep a List of Interesting Historical Details
As you research, your creativity will kick into overdrive. You may stumble upon one line in a book that fascinates you and will fit your story well.
These may be obscure details that aren't important in the grand scheme of history. But these historical tidbits bring your story to life.
Keep a list of these little facts, along with a citation of where you found them. You may weave them into your story later.
4) Take Great Notes
There is nothing more frustrating than jotting down a historical fact to use later, only to never find the information again. I speak from personal experience.
When you take notes, add enough details to give you context. Then, add a citation to find it later. You don't have to be picky about using a style guide. Just make a note of the book and page number, website, or episode where you learned the fact.
Find a note-taking system that works for you. Many people use a database app or spreadsheet to keep track of notes. Some people use folders and notes within their novel-writing software.
I like to use a project management board like Trello. I can keep track of all my information, take quick notes on my phone, and easily categorize my research.
5) Plot Your Novel
Not every writer is a "planner." But with historical fiction, there are so many pieces to keep track of that some degree of plotting is necessary.
You must keep a real historical timeline of events, pick the historical details you want to include, plus you have to create a plot with conflict and character arcs.
There are many plotting formats you can use, such as the Snowflake Method, the Story Circle, or Save the Cat! beat sheets. Or you can create your own system.
If you're more of a "pantser," create a basic outline. Remember, nothing is set in stone when you plot. Your outline is a living document, and your characters may decide your story needs to go another direction.
But having a rough outline will help you keep all research and plot points together in a way that makes writing easier.
6) Keep Diversity in Mind
You know the phrase, "History is written by the victors?"
We often get a one-sided view of history, particularly that of the group that held the most power. But there's more to history than you learned in school.
Women have always had agency in their lives, even if they are largely erased from the historical record. Queer people have always existed, but they didn't have the vocabulary we have now for their diversity.
People of color are also not a monolithic group. Be careful not to erase the stories of marginalized people, but do so sensitively. Avoid harmful stereotypes and caricatures.
Research these groups of people during your era. Often, this information lies in scholarly journals. A librarian can help you get access to many of these.
We recommend hiring sensitive readers with experience in historical fiction to help you portray characters different from you with respect. ProWritingAid will also flag some potentially harmful language with our inclusive language report. You'll see these improvements alongside your style suggestions in the tool.
7) Craft Engaging Characters
This step is true for any type of fiction. But it can be extra fun when writing historical fiction.
Characters make a story. Readers keep turning the page because they're invested in your characters.
Consider what makes your characters stand out. Find interesting vocations from the era. Make your characters' motivations match their time period.
This is also a great time to play with social norms. Do your historical characters break any societal standards? What are their pastimes?
Small quirks and historical details will also make your characters memorable. Does your heroine always forget her bonnet? Do your characters bond over a writer or philosopher of the time?
8) Create a System for Missing Information
Just when you think you've researched everything you need to know, you'll run into questions while writing. These are usually minor details, like fabric types or when something was invented.
It's easy to fall down a research rabbit hole when you run into these problems. You'll think it's simple to find the answer, only to spend several hours looking up when shoelaces were invented.
I spent at least fifteen hours over several weeks trying to find a visual of historic bilge pumps on ships so I could describe it. It culminated in me reading an entire book about bilge pump technology at 2 a.m., which still didn't have a good diagram!
You will never finish writing your novel if you do this too often. So, you can create a note system to fill in the gaps on your first round of revisions. I like to add "LOOK THIS UP" in all caps. Other writers prefer to use brackets or comments on their document.
You'll often find that you learn the answer later, or you may not need the information at all.
When you do need to fill in the missing information, you can now separate your research time from your writing time. Give yourself dedicated time to look up information that doesn't take away from the time you spend writing.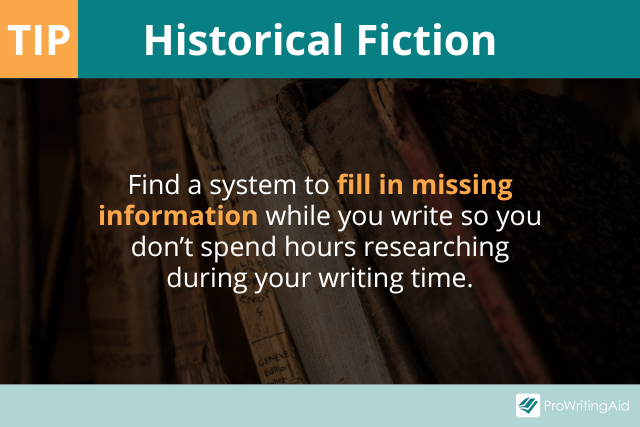 9) Find a Balance of Old and New Language
Language changes over time, and your historical characters likely spoke quite differently from how we speak today.
You want to show the time period through dialogue, but you also run the risk of alienating readers if it's too hard to read.
The balance of old and new language patterns is up to you. It will depend on your sub-genre, your comparison titles, and your own knowledge of historic speaking patterns.
It's a good idea to use modern language in narration. Then choose some words or phrases to work into dialogue to enhance the historic setting.
10) Edit, Edit, and Edit Some More
Once you have your completed draft, put it away and celebrate. Give yourself a couple of weeks before you come back to edit. This ensures you're looking at your manuscript with fresh eyes.
Historical fiction will take several rounds of edits. In your first pass, you'll fill in those missing details and perhaps elaborate on certain scenes.
You'll do developmental edits for plot holes, pacing issues, character development, and more. Then you'll work at a chapter and scene level.
Finally, you'll do line edits, cleaning up your prose and making sure every word is perfect.
ProWritingAid can help. We can offer pacing feedback and line edits on your manuscript. You can set your document type to Historical Fiction to get personalized feedback about how well your writing matches genre expectations. It's a great feature that can save you time during your editing process.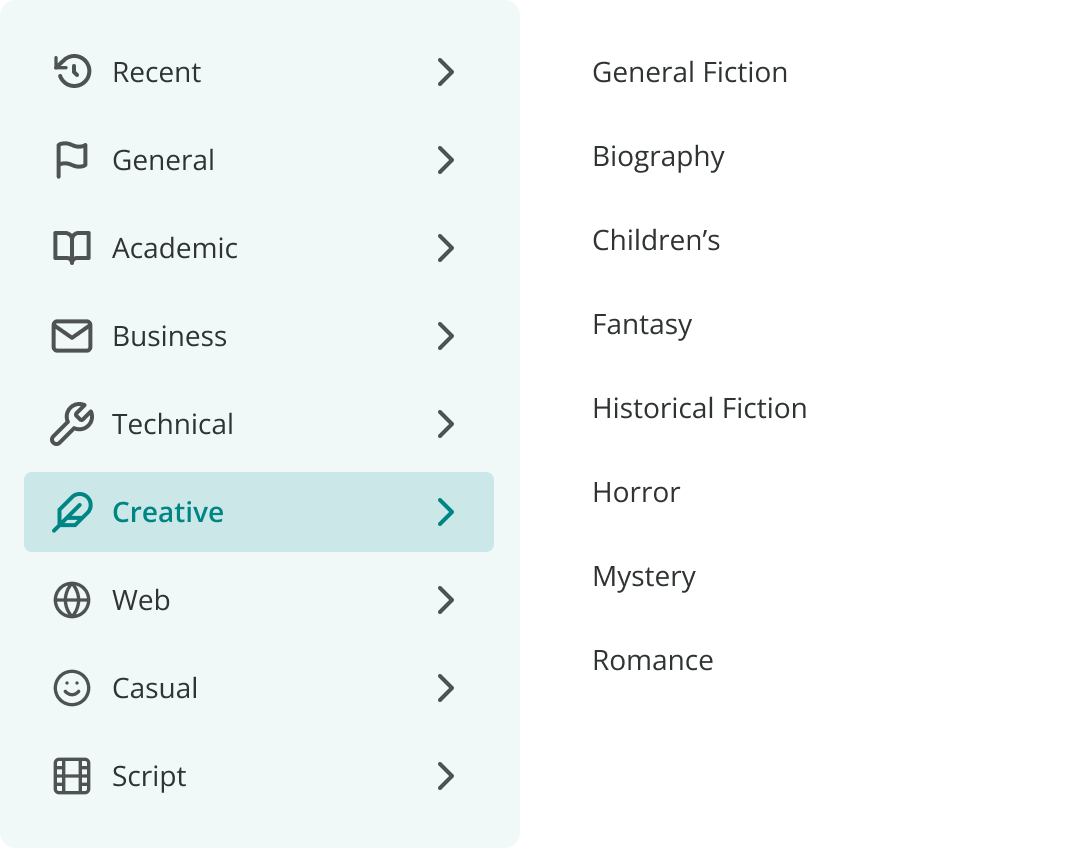 Final Thoughts on How to Write Historical Fiction
While it may require more research than other genres, historical fiction is a fun genre to write. It doesn't have to be any harder than writing anything else.
If you maintain a solid system for your research, plotting, and writing, you can write an amazing historical novel that readers will love.