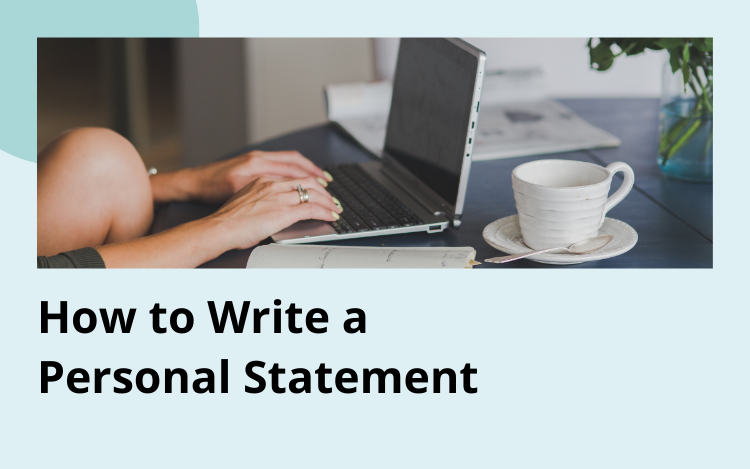 How do you tell someone who you are in just a few hundred words?
It's certainly no easy task, but it's one almost every college applicant must do. The personal statement is a crucial part of any college or university application.
So, how do you write a compelling personal statement?
In this article, we'll give you all the tools, tips, and examples you need to write an effective personal statement.
What Is a Personal Statement?
A personal statement is a short essay that reveals something important about who you are. It can talk about your background, your interests, your values, your goals in life, or all of the above.
Personal statements are required by many college admission offices and scholarship selection committees. They're a key part of your application, alongside your academic transcript, standardized test scores, and extracurricular activities.
The reason application committees ask you to write a personal statement is so they can get to know who you are. 
Some personal statements have specific prompts, such as "Discuss a period of personal growth in your life" or "Tell us about a challenge or failure you've faced." Others are more open-ended with prompts that essentially boil down to "Tell us about yourself."
No matter what the prompt is, your goal is the same: to make yourself stand out to the selection committee as a strong candidate for their program.
Here are some things a personal statement can be:
It can be funny. If you have a great sense of humor, your personal statement is a great place to let that shine.  

It can be vulnerable. Don't be afraid to open up about hardships in your life or failures you've experienced. Showing vulnerability can make you sound more like a real person rather than just a collection of application materials.  

It can be creative. Candidates have got into top schools with personal statements that take the form of "a day in the life" descriptions, third-person short stories, and even cooking recipes.
Now we've talked about what a personal statement is, let's quickly look at what a personal statement isn't:
It isn't a formal academic paper. You should write the personal statement in your natural voice, using first-person pronouns like "I" and "me," not in the formal, objective language you would use to write an academic paper.

It isn't a five-paragraph essay. You should use as many paragraphs as you need to tell your story instead of sticking to the essay structure you learned in school.

It isn't a resumé. You should try to describe yourself by telling a clear and cohesive story rather than providing a jumbled list of all of your accomplishments and ambitions.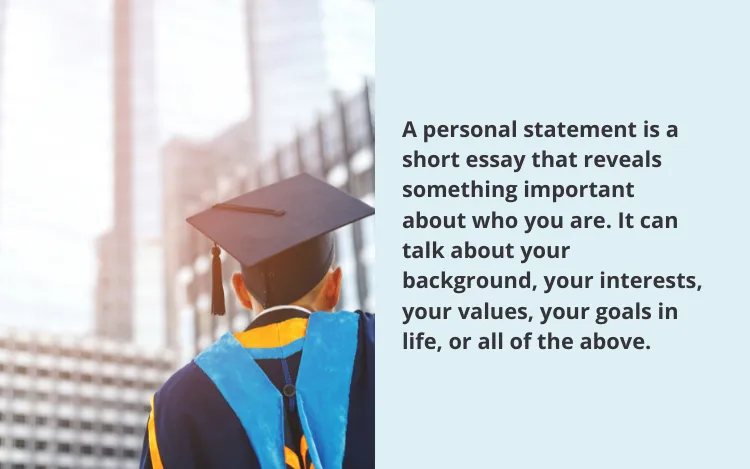 6 Tips on How to Write a Personal Statement
Here are our top six tips for writing a strong personal statement.
Tip 1: Do Some Serious Self-Reflection
The hardest part of writing a personal statement isn't the actual process of writing it.
Before you start typing, you have to figure out what to write about. And that means taking some time to reflect on who you are and what's important in your life.
Here are some useful questions you can use to start your self-reflection. You can either answer these on your own by writing down your answers, or you can ask a trusted friend to listen as you talk about them together.
What were the key moments that shaped your life? (e.g. an important friendship, a travel experience, an illness or injury)

What are you proud of? (e.g. you're a good listener, you always keep your promises, you're a talented musician)

How do you choose to spend your time? (e.g. reading, practicing soccer, spending time with your friends)

What inspires you? (e.g. your grandmother, a celebrity, your favorite song)
Doing this self-reflection is crucial for figuring out the perfect topics and anecdotes you can use to describe who you are.
Tip 2: Try to Avoid Cliché Topics
College application committees read thousands of personal statements a year. That means there are some personal statement topics they see over and over again.
Here are a few examples of common personal statement topics that have become cliché:
Winning a tournament or sports game

Volunteering in a foreign country

Moving to a new home

Becoming an older sibling

Being an immigrant or having immigrant parents
If you want to make a strong impression in the application process, you need to make your personal statement stand out from the crowd.
But if your chosen personal statement topic falls into one of these categories, that doesn't necessarily mean you shouldn't use it. Just make sure to put a unique spin on it so it still delivers something the committee hasn't seen before.
Tip 3: Show, Don't Tell
One common mistake you might make in your personal statement is to simply tell the reader what you want them to know about you, such as by stating "I have a fear of public speaking" or "I love to cook."
Instead of simply stating these facts, you should show the committee what you're talking about through a story or scene, which will make your essay much more immersive and memorable.
For example, let's say you want the committee to know you overcame your fear of public speaking. Instead of writing "I overcame my fear of public speaking," show them what it was like to be onstage in front of a microphone. Did your palms get clammy? Did you feel light-headed? Did you forget your words?
Or let's say you want the committee to know you love to cook. Instead of writing "I love to cook," show them why you love to cook. What's your favorite dish to cook? What does the air smell like when you're cooking it? What kitchen appliances do you use to make it?
Tip 4: Connect the Story to Why You're Applying
Don't forget that the purpose of your personal statement isn't simply to tell the admissions committee who you are. That's an important part of it, of course, but your ultimate goal is to convince them to choose you as a candidate.
That means it's important to tie your personal story to your reasons for applying to this specific school or scholarship. Finish your essay with a strong thesis.
For example, if your story is about overcoming your fear of public speaking, you might connect that story to your ambition of becoming a politician. You can then tie that to your application by saying, "I want to apply to this school because of its fantastic politics program, which will give me a perfect opportunity to use my voice."
Tip 5: Write in Your Own Voice
The personal statement isn't supposed to be written in a formal tone. That's why they're called "personal" statements because you have to shape it to fit your own voice and style.
Don't use complicated or overwrought language. You don't need to fill your essay with semicolons and big words, unless that's how you sound in real life.
One way to write in your own voice is by speaking your personal statement out loud. If it doesn't feel natural, it may need changing. 
Tip 6: Edit, Edit, Edit!
It's important to revise your personal statement multiple times in order to make sure it's as close to perfect as possible.
A single typo won't kill your application, but if your personal statement contains multiple spelling errors or egregious grammar mistakes, you won't be putting your best foot forward.
ProWritingAid can help you make sure your personal statement is as clean as possible. In addition to catching your grammar errors, typos, and punctuation mistakes, it will also help you improve weaknesses in your writing, such as passive voice, unnecessary repetition, and more.
Personal Statement Examples (for College and University)
Let's look at some of the best personal statements that have worked for successful candidates in the real world. 
Harvard Personal Statement Example
Love. For a word describing such a powerful emotion, it is always in the air. The word "love" has become so pervasive in everyday conversation that it hardly retains its roots in blazing passion and deep adoration. In fact, the word is thrown about so much that it becomes difficult to believe society isn't just one huge, smitten party, with everyone holding hands and singing "Kumbaya." In films, it's the teenage boy's grudging response to a doting mother. At school, it's a habitual farewell between friends. But in my Chinese home, it's never uttered.

Watching my grandmother lie unconscious on the hospital bed, waiting for her body to shut down, was excruciatingly painful. Her final quavering breaths formed a discordant rhythm with the steady beep of hospital equipment and the unsympathetic tapping hands of the clock. That evening, I whispered—into unhearing ears—the first, and only, "I love you" I ever said to her, my rankling guilt haunting me relentlessly for weeks after her passing. My warm confession seemed anticlimactic, met with only the coldness of my surroundings—the blank room, impassive doctors, and empty silence. I struggled to understand why the "love" that so easily rolled off my tongue when bantering with friends dissipated from my vocabulary when I spoke to my family. Do Chinese people simply love less than Americans do?
This is an excerpt from a personal statement that got the applicant admitted to Harvard University. The applicant discusses her background as a Chinese-American by musing on the word "love" and what that means within her family.
The writer uses vulnerable details about her relationship with her grandmother to give the reader an understanding of where she comes from and how her family has shaped her.  
You can read the full personal statement on the Harvard Crimson website.
Tufts Personal Statement Example
My first dream job was to be a pickle truck driver. I saw it in my favorite book, Richard Scarry's "Cars and Trucks and Things That Go," and for some reason, I was absolutely obsessed with the idea of driving a giant pickle. Much to the discontent of my younger sister, I insisted that my parents read us that book as many nights as possible so we could find goldbug, a small little golden bug, on every page. I would imagine the wonderful life I would have: being a pig driving a giant pickle truck across the country, chasing and finding goldbug. I then moved on to wanting to be a Lego Master. Then an architect. Then a surgeon.

Then I discovered a real goldbug: gold nanoparticles that can reprogram macrophages to assist in killing tumors, produce clear images of them without sacrificing the subject, and heat them to obliteration.

Suddenly the destination of my pickle was clear.

I quickly became enveloped by the world of nanomedicine; I scoured articles about liposomes, polymeric micelles, dendrimers, targeting ligands, and self-assembling nanoparticles, all conquering cancer in some exotic way. Completely absorbed, I set out to find a mentor to dive even deeper into these topics. After several rejections, I was immensely grateful to receive an invitation to work alongside Dr. Sangeeta Ray at Johns Hopkins.
This is the beginning of a personal statement by Renner Kwittken, who was admitted into Tufts University as a pre-medical student.
Renner uses a humorous anecdote about being a pickle truck driver to describe his love for nanomedicine and how he got involved in his field. You can feel his passion for medicine throughout his personal statement.
You can find Renner's full essay on the Tufts Admissions page.
Law School Personal Statement Essay Example
For most people, the slap on the face that turns their life around is figurative. Mine was literal.

Actually, it was a punch delivered by a drill sergeant at Fort Dix, New Jersey, while I was in basic training. That day's activity, just a few weeks into the program, included instruction in "low-crawling," a sensible method of moving from one place to another on a battlefield. I felt rather clever for having discovered that, by looking right rather than down, I eliminated my helmet's unfortunate tendency to dig into the ground and slow my progress. I could thus advance more easily, but I also exposed my unprotected face to hostile fire. Drill sergeants are typically very good at detecting this type of laziness, and mine was an excellent drill sergeant. So, after his repeated suggestions that I correct my performance went unheeded, he drove home his point with a fist to my face.

We were both stunned. This was, after all, the New Army, and striking a trainee was a career-ending move for a drill sergeant, as we were both aware. I could have reported him; arguably, I should have. I didn't. It didn't seem right for this good sergeant, who had not slept for almost four days, to lose his career for losing his temper with my laziness. Choosing not to report him was the first decision I remember making that made me proud.
These are the first three paragraphs of an anonymous personal statement by a Wheaton College graduate, who used this personal statement to get into a top-25 law school.
This statement describes a time the applicant faced a challenging decision while in the army. He ended up making a decision he was proud of, and as a result, the personal statement gives us a sense of his character.
You can find the full essay on the Wheaton Academics website.
FAQs About Writing Personal Statements
Here are some common questions about how to write a personal statement.
How Long Should a Personal Statement Be?
The length of your personal statement depends on the specific program you're applying to. The application guidelines usually specify a maximum word count or an ideal word count.  
Most personal statements are between 500–800 words. That's a good general range to aim for if you don't have more specific guidelines.  
Should Personal Statements Be Different for Scholarships?
Many scholarship applications will ask for personal statements with similar prompts to those of college applications.
However, the purpose of a personal statement you'd write for a scholarship application is different from the purpose of one you'd write for a college application.
For a scholarship application, your goal is to showcase why you deserve the scholarship. To do that, you need to understand the mission of the organization offering that scholarship.
For example, some scholarships are meant to help first-generation college students get their degree, while others are meant to help women break into STEM.
Consider the following questions:
Why is this organization offering scholarships?

What would their ideal scholarship candidate look like?

How do your experiences and goals overlap with those of their ideal scholarship candidate?
You can use the same personal anecdotes you'd use for any other personal statement, but you'll have a better chance of winning the scholarship if you tailor your essay to match their specific mission.
How to Start a Personal Statement
You should start your personal statement with a "hook" that pulls the reader in. The sooner you catch the reader's attention, the more likely they'll want to read the entire essay.
Here are some examples of hooks you can use:
A story (e.g. When the spotlight hit my face, I tried to remind myself to breathe.)

A setting description (e.g. My bedroom floor is covered with dirty laundry, candy wrappers, and crumpled sheet music.)

A funny anecdote (e.g. When I was a little kid, my friends nicknamed me Mowgli because of my haircut.)

A surprising fact (e.g. I've lived in 37 countries.)
Conclusion on How to Write a Personal Statement
There you have it—our complete guide to writing a personal statement that will make you stand out to the application committee.
Here's a quick recap: 
A personal statement is a short essay that shows an application committee who you are

Start with a strong hook that pulls the reader in

Tell a story to engage the reader 

Write in your own voice, not in a formal tone
Good luck, and happy writing!
---