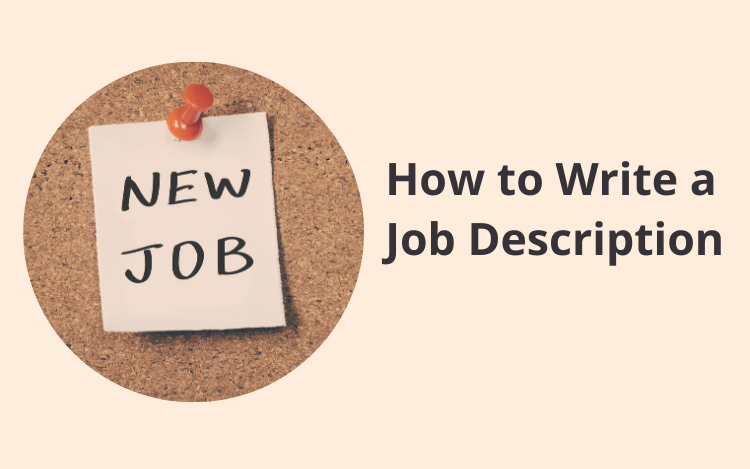 Successful businesses can be measured by their employees. But what's the first step in hiring brilliant candidates? That's where a job description comes in.
Creating an effective job description is the first step in attracting the right candidate by clearly outlining the skills, experience, and qualifications that are required for the role.
In this article, we will provide some tips and best practices for writing job descriptions.
How to Write a Good Job Description
A job description is a summary of the duties, responsibilities, and requirements for a particular job. A good job description will also provide information about the company and culture. 
A well written job description will effectively define the expectations for an employee's performance in a specific role. There should be enough information for job seekers to gauge whether or not they would be a good fit for both the role and the company.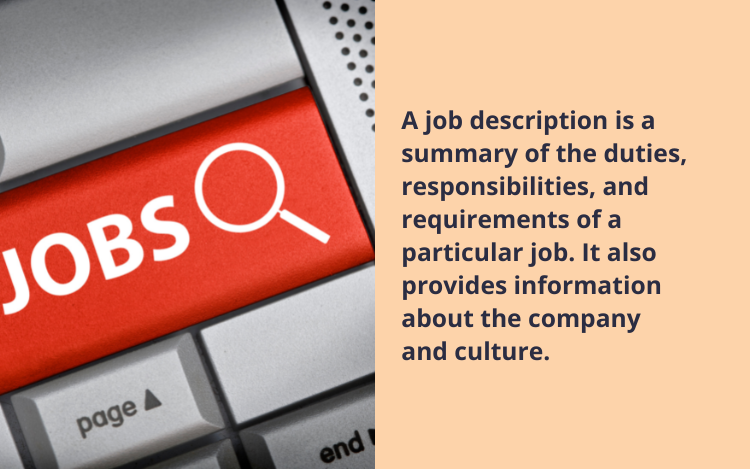 What to Include in a Job Description
Crafting a job description can be a tedious process because there is a delicate balance that must be maintained. Job descriptions should be concise enough that they grab the attention of job seekers while still providing all the relevant details about the post and company.
Rest assured though, we're here to help. Let's look at the different elements that must be included in a job description.
Job Title
The job title should be a brief description of about 4–6 words that accurately reflects the role and responsibilities of the position. Job titles should be clear and specific.
Avoid using vague or ambiguous titles, as this can lead to confusion and may not attract the right candidates. For example, while "Happiness Hacker" might be the title used internally, potential candidates won't be searching for that term and may overlook the job post. Instead, stick to the common titles, or put the industry standard in brackets. In this case you'd use "Happiness Hacker (Customer Service)."
Potential job titles include Marketing Assistant, Business Analyst, Customer Service Representative, and Junior Content Writer.
Job Summary
The job summary is a brief overview (4–6 sentences) of the company and the role being advertised. Briefly capture your company's value proposition by highlighting its culture, vision, and mission.
Ideally, the candidate should be able to imagine what it would be like to work at your company. 
Then succinctly describe the scope of the position. You can include the main tasks the candidate will undertake, where they fall in the organization, and who they will report to. 
Responsibilities
A list of responsibilities will give your candidates an idea of what will be expected of them. It is unlikely you'll be able to include every single thing they'd do, but include the main responsibilities. In a detailed but concise bullet list, highlight the most important aspects of the job.
In addition to the main duties, include any specific tasks or projects the employee will be responsible for. This can help candidates understand the scope of the role and determine if they are a good fit.
For example, responsibilities for a Junior Digital Marketer could include:
Keep up-to-date on the latest products, trends, and insights across platforms (social media, blog, print/digital magazines). 

Continuously compile information about competitive new launches, advertising, and formulas. 

Present findings to team and/or brand managers.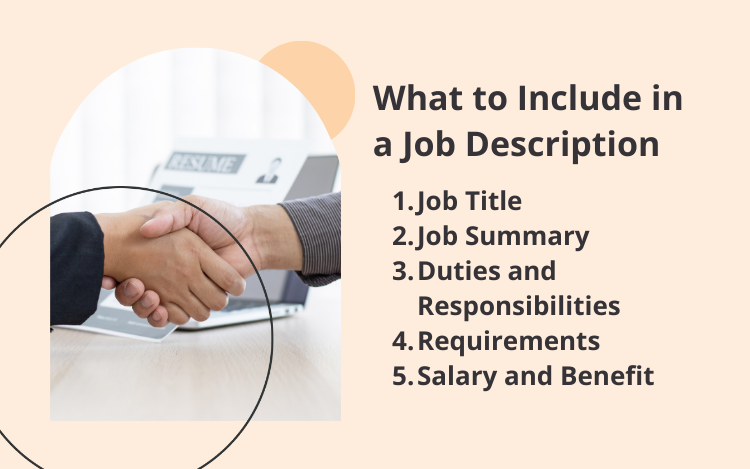 Qualifications
Specify the skills and qualifications that are required for the role, including any hard or soft skills, education, experience, or specific training. This can help attract qualified candidates and set clear performance expectations.
Qualifications can also be divided into must-have skills (critical areas) and nice-to-haves (desirables). You can also include the type of personality that would be most suitable for the job.
For example, qualifications for a Customer Service Lead could look like this:
Required
2–3 years experience in customer service, operations, account management, or similar

Previous experience in a high-volume service role

Experience using a help desk, like Zendesk or Gorgias
Desirable
An interest in brands, retail, and fashion

Some experience of high-end service

Experience in a startup would be advantageous
Compensation
While including salary details is optional, job seekers like to see what can be expected from the post. If you're unable to include the exact amount, you could opt for a range instead. 
Compensation also includes other benefits such as paid time off (PTO), medical insurance, flexible work hours, equity, and career development opportunities.
Other Details
You may need to provide additional details, such as the location of the job, the type of work environment (e.g. office, warehouse, etc.), and any physical demands of the role. 
This can help candidates to understand the conditions they will be working in and determine if the job is a good fit for them.
Job Description Examples 
Now, we're going to look at two job descriptions with all the aspects we mentioned earlier.
Marketing Assistant
We're Truly Marketing—your branding geniuses. Our mission is to help our clients reach their full branding potential through PR, sales management, and customer service. 
We're seeking a Marketing Assistant to support our marketing programs. Reporting to the Marketing Manager, the Marketing Assistant will provide administrative support and assist with the creation of marketing materials and the development and execution of marketing strategies, campaigns, and events. 
Salary:
$22–$32 per hour 
Duties:
Monitor marketing campaigns' progress and results to gather data to help improve performance

Assist in creating and updating content on multiple platforms, including website, social media accounts, blogs, and emails

Help with the organization and coordination of marketing and promotional events, such as conferences, exhibitions, and trade shows
Required Experience: 
Excellent oral and written communication skills

Good organizational, time management, and project management skills

Meticulous attention to detail and the ability to work under pressure

Strong technical skills, especially in Microsoft Office applications, digital marketing software, and social media platforms
Benefits:
Dental, optical, and life insurance
General Manager
We're Gaudy Interiors, the leading specialists on all things interior design. Our mission is to help our clients curate homes that suit their tastes. 
We are looking for an experienced General Manager. You will lead the whole team, build efficient processes, and drive sales.
Job Duties:
Manage all staff across sales, operations, administration, and finance

Look for potential business growth and research market potential

Achieve a great increase in revenue in the target markets

Lead, inspire, and motivate all direct reports

Create and implement effective business plans
Job Requirements:
5 years' experience in sales

Excellent communication and presentation skills

Strong leadership skills

Ability to develop a high-performing team

Ability to multitask while adapting to changing priorities

A proven track record of handling a variety of management tasks

Excellent verbal and written communication

Bachelor's degree in Business Administration or a relevant field
Job Benefits:
56K–75K salary (based on experience)

21 vacation days

Sick, personal, and parental leave

Health insurance

Retirement plan

Professional development
Job Description Best Practices
Writing a compelling job description is an important step in the hiring process, as it can help to attract qualified candidates and set clear expectations for an employee's performance.
Now you know all the key aspects of a job description, let's go over some best practices:
Keep it concise: While it is important to provide detailed information about the role, try to keep the job description concise and to-the-point. 

Use bullet points: Using bullet points makes the job description more visually appealing and easier to read, so candidates are more likely to read the entire description and consider applying for the role.

Proofread and edit: Proofread and edit the job description to ensure it's free of errors.
Conclusion on How to Write a Job Description
Job descriptions are often the first introduction candidates will have to your company, so ensure it's a good one. 
Before you publish that job description, use a grammar checker like ProWritingAid to offer you targeted suggestions based on your business document.
The grammar checker will show you areas for improvements beyond just grammar. You'll see suggestions to improve spelling, readability, and sentence structures so your job descriptions will always be clear and easy to read.
---