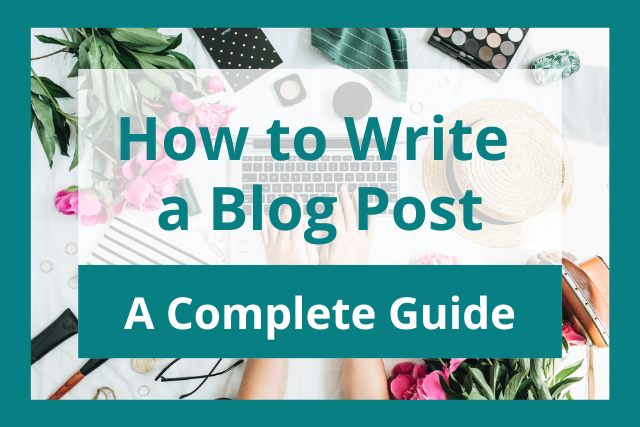 People create their own blogs about all kinds of topics, from fitness and travel to writing and publishing.
In the digital age, blogging is crucial for content marketing if you want to build an audience for your products and services. It's also a fantastic way to use your writing skills and share knowledge about a topic you love.
So, how do you write a great blog post?
This article will give you a complete guide for how to write a blog post, including our top five tips for making your blog a success.
What Is Blog Writing?
Blogs are online platforms for publishing written content. Each piece of content on a blog is called a blog post.
The word blog comes from the term weblog, a now-defunct word that referred to online platforms for written content. The video equivalent of a blog is a vlog, which is short for videolog.
There are many different types of blog posts. Here are a few of the most popular categories:
How-to blog post: gives readers a guide for how to do something
Anecdotal blog post: shares a story from the blogger's own life
Listicle blog post: compiles a list of products, quotes, images, or facts
Interview blog post: features an interview with an expert in the field
Review blog post: assesses a book, product, or experience
Most blog posts are between 1,000–2,500 words, but there are no strict word counts for blogging. The key is to make sure your blog post is long enough to explore a topic in depth, but not so long that readers feel like you're wasting their time.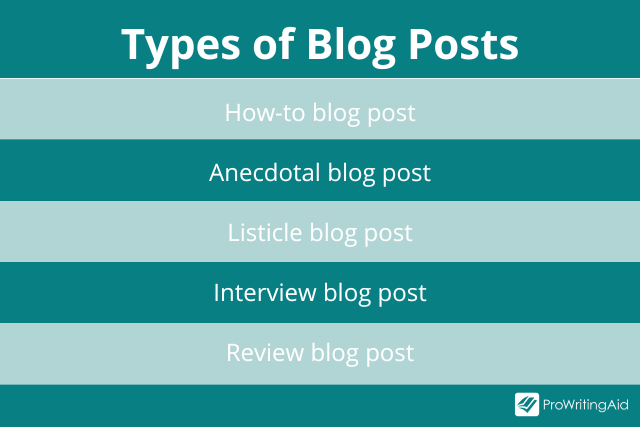 Why Do People Blog?
Blogs can serve a variety of different purposes.
For one thing, they're great for driving traffic toward your website, company, or brand. The more readers you attract, the more potential buyers you have.
Many companies run their own blogs, which allow them to share their expertise, engage with their fans, and market their products.
Blogs are also useful for showcasing your writing skills. If you want to make a habit of writing regularly and share your words with the world, a blog is a great way to do that.
Finally, your blog can also help you build a community of people interested in the same topics as you. If you love traveling and want to meet like-minded travelers, starting your own blog can provide a hub for them to connect with you.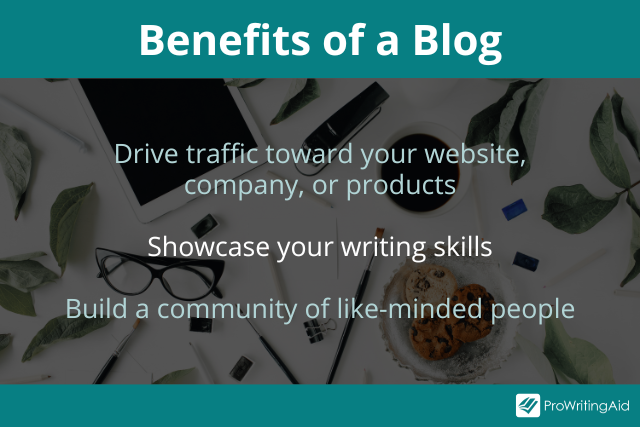 How Do I Blog?
The first step to start blogging is to figure out what you want your blog to be about.
On the most basic level, it's important to establish your blog's area of expertise. Are you writing about baking recipes, or are you writing about how to travel around the world?
Tone matters too. A reader who's looking for a funny, conversational blog about baking recipes might hate a serious, technical blog about the same topic.
Make sure your blog's topic is something you're passionate about. If you don't feel excited about your own writing, readers certainly won't.
Next, you'll need to choose a platform.
If you already have your own website, you can consider creating a blog within your existing website. Most web hosting softwares have options for adding a blog page.
If you don't have a website already, you'll need to create a new website for your blog. Some platforms, such as Squarespace and Wix, make it easy for you to create a blog using their presets, while other platforms let you build a custom site but require more technical know-how.
Most platforms let you choose from a variety of blog layouts to design your blog's homepage. As your blog grows, you can continue customizing it to match your needs.
Alternatively, you can also publish blog posts within a platform that supports writing blog posts, such as Contently, Medium, or Tumblr. You won't have your own website or a custom domain name, but the upside is that you might be able to reach more viewers by leveraging that site's audience.
Once you've got your platform set up, it's time to begin writing your first blog post!
How to Write a Blog Post
Here's our step-by-step guide for how to write a blog post.
Step 1: Choose Your Topic
You can't start writing until you know what you're writing about.
Start by brainstorming blog post ideas that will appeal to your target audience. What type of content does your blog promise readers, and how can you break that down into individual posts?
For example, if your blog is about video games, you might brainstorm the following five topic ideas:
A list of the best video games released this year
The story of the first time you ever played a video game
A how-to guide for how to win your favorite video game
A comparison of two similar video games
An article about the benefits of playing video games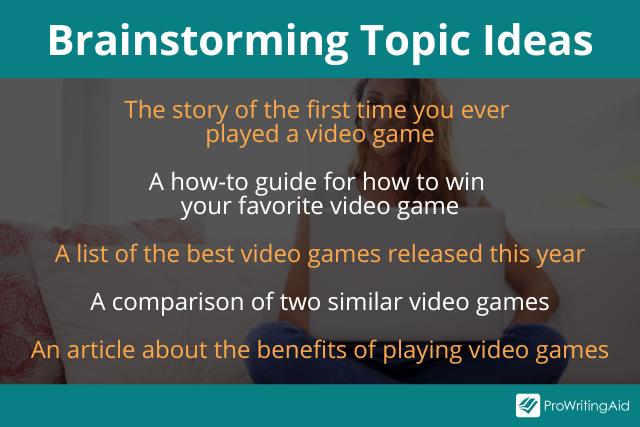 Keep a running list of ideas for new blog topics, so you can easily find a new one whenever it's time to write a blog post.
You can also ask your readers and friends if they have specific topics they'd like to read about next.
Step 2: Research the Topic
It's important to research your topic so you can write a well-informed article.
Don't make up anything you can't cite. All it takes is a single factual error for your readers to stop trusting you as a source of authority.
Make sure to choose reliable sources. As a starting point, you can look at government websites, the websites of well-known organizations, and articles written by experts in your field.
Finally, you can also read other blog posts on the same topic to draw inspiration.
Someone has probably blogged about this topic before because there's nothing new under the sun—but that doesn't mean you don't have interesting insights to add to the conversation. See what's already out there in the blogging world, and then figure out how to put your own spin on it.
Step 3: Craft an Attention-Grabbing Title
The internet is full of content. If you want your blog post to stand out from the crowd and hook readers in, you'll need to choose a great headline.
Your headline needs to accurately describe what your post will be about, so you're not misleading anyone. Nothing annoys readers more than a clickbait headline that has nothing to do with the actual article it's describing.
Whenever possible, use specific terms instead of vague ones. For example, "How I made $12,378 in 24 Hours" will grab more attention than "How I Made a Lot of Money Today."
Some readers are specifically looking for how-to blog posts, so you might consider writing headlines that start with "How to," such as "How to Build Your Own Motorcycle."
You can also consider using a question as your title, such as, "What's the Secret Behind My Company's Success?" This will generate readers' curiosity, which might convince them to keep reading—but it also runs the risk of annoying loyal readers if it feels like clickbait.
Step 4: Do Some Search Engine Optimization
If you want to grow your following and make sure new readers can find your page, you can't overlook search engine optimization, also known as SEO.
Having an SEO strategy helps your website rank higher when people search for it on search engines like Google.
Start by figuring out the search intent for your article. In other words, what are people searching for when they look up this topic online?
Then, research the SEO key terms for your blog post topic and make sure to include those keywords within your article. Understanding on-page SEO can greatly boost your blog's success.
Step 5: Create an Outline
Creating an outline before you start drafting your blog post can help you stay on topic. It will also speed up your drafting process because you won't have to stop to think about where you're going next.
Start by writing the titles of your main headings. Then, add in sub-headings as needed.
Some bloggers choose to stop there because the headings provide enough of a framework for them to write their first draft. If you want to give yourself a little more guidance, you can also add a few bullet points for each section of your outline.
Once you've created your outline, take some time to review it and move sections around if you need to. Editing in the outline stage is much easier than editing after the drafting stage.
Here are some questions to ask yourself about your outline:
Does your blog post have a clear beginning, middle, and end?
Is each section clearly organized?
Are there logical transitions between each section?
Does your article leave the reader with a clear takeaway?
Step 6: Draft a Great Blog Post
Now that you've done all your research, it's time to sit down and start writing!
You can decide what kind of writing style you want to use. A good blog post can be informative, funny, inspirational, or all three.
New bloggers often make the mistake of writing the same way they've written for school or for work, especially if they have great writing skills in those other environments.
But blog writing is different from writing short stories or academic essays.
Most blog readers prefer short, simple paragraphs that are easy to read. Make sure to leave white space.
Start by reading other blogs and seeing what kind of writing they use. Then, try to streamline your own writing to feel more like the styles of your favorite blogs.
Step 7: Revise and Proofread Your Blog Post
No first draft is perfect. This step is your chance to make your writing shine.
Here are some quick revision tips that can help you make a good blog post even better:
Vary your sentence lengths
Break down long, clunky sentences and paragraphs into shorter ones
Avoid unnecessary repetition and redundant words
You can run your blog post through ProWritingAid, which can help you catch any lingering typos and grammar errors.
ProWritingAid's plagiarism checker can also help you make sure you're not stealing any ideas from other bloggers.
Step 8: Add Relevant Images
Images can serve a variety of useful functions in your blog post.
Diagrams, infographics, graphs, and charts can serve as visual aids to help you explain complex topics. For example, you might include an image to accompany each step of your how-to guide, so your readers can see what each step is supposed to look like.
If you're writing a funny blog, you can also use images to add an element of humor. Many bloggers use memes or funny GIFs to increase reader engagement.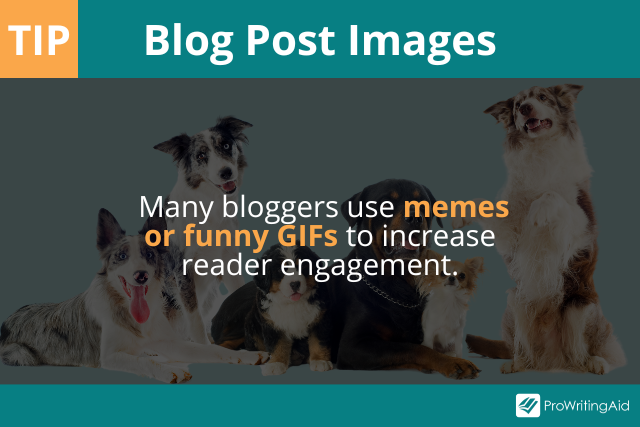 You can find images that are free to use online, or you can create your own images to suit the needs of each post.
Step 9: Hit "Publish"
Once you're done with revising and proofreading your blog post, you're ready to publish!
You should see your blog post appear on your blog after you hit the "publish" button. You can also try Googling your headline after a few days to see if your blog shows up on the first page.
Step 10: Promote Your Blog Post
The process doesn't end once you hit "publish." Now that your blog post is on the internet, it's time to make sure readers can actually find it.
Start by posting about your blog on your social media accounts. You can join Facebook groups that specialize in your blog's area of expertise.
Here are some other ways you can promote your articles:
Start a mailing list, so subscribers are notified of each new post
Appear on a podcast to talk about your blog
Guest blog on someone else's blog
Top 5 Tips to Blog Success
Even if you follow all of the above steps, you might still write a blog post that isn't as successful as you want it to be.
Here are five helpful tips that can make your blog more successful.
Tip 1: Identify Your Ideal Reader
It's impossible to write something that everybody likes. A blog that tries to please everybody will probably end up pleasing nobody.
One useful tip is to envision a single ideal reader. Who would the perfect reader for your blog be? How old are they? What other blogs do they read? What are their hobbies? What social media accounts do they use? Why are they here?
Understanding your ideal reader is crucial for figuring out what topics to write about, what type of voice to write in, and any other decision that will make your blog successful.
Tip 2: Include a Call to Action
A call to action is a sentence or paragraph that asks your reader to do something specific.
Here are some examples of calls to action you might use in a blog post:
"Like" your blog post
Leave a comment on your blog post
Click a link to another blog post
Buy a product from your website
Subscribe to your newsletter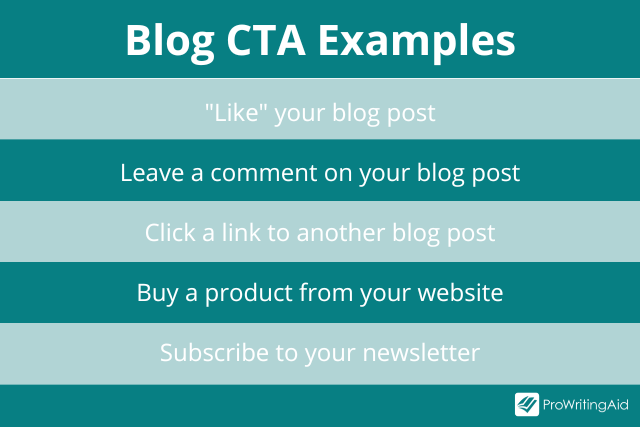 Many bloggers overlook the importance of a call to action. It's a great way to drive readers to engage with your blog more actively.
Another benefit of including a call to action is that you can use it as a metric when analyzing your blog's success. For example, you can look at how many people clicked the call to action at the end of your blog post to figure out how many people read the whole thing.
Tip 3: Establish a Personal Connection
Blogging has always been an extremely personal medium for writing. Readers love the feeling of getting to know blog writers as individuals.
You can decide how much you want to follow this tip depending on your own comfort level. Some bloggers prefer not to reveal too much about who they are as individuals, which is fine, but establishing a personal connection can greatly improve your blog.
For example, what's your own connection to the topic you're blogging about? How did you first become interested in this topic?
Are there any vulnerabilities you can share that your audience might connect with? For example, if you've struggled with something that a lot of your readers might be struggling with as well, opening up about that experience can help you build a true connection.
Tip 4: Plan Your Articles in Advance
It's useful to have a consistent posting schedule for your blog. That way, your readers will know what to expect, and they can check back in for your next post.
You can start by posting a blog article once a week. If you have capacity for more, you can scale up to twice a week.
One tip is to create a content calendar that you've pre-filled with the topics. That way, you don't have to stress about what to write about next.
You can always add, remove, or rearrange topics on your content calendar as you go. Even if it's a flexible plan, it's still a great way to streamline your process.
Tip 5: Don't Be Afraid to Experiment
The benefit of writing your own blog is that you get to see results quickly. That makes blogging a great field for experimentation.
Look at your statistics. Which articles are getting the most views? Which ones are on Google's front page when you search for relevant keywords?
It's a good idea to regularly review comments on your posts to see what readers are saying. They might even bring up questions that give you ideas for future blog posts.
Try to isolate specific factors that made your articles successful and replicate them in future articles.
You can even change your blog content to see if you get better results. For example, if you're wondering whether your readers prefer question headlines or statement headlines, try publishing a few of each and see which ones get more views.
Examples of Blog Writing
The internet is full of amazing blogs you can read and subscribe to. (In fact, you're reading one right now!)
If you want to start a blog, it's a great idea to subscribe to some similar blogs, so you can get a better feel for what blog writing looks like. This will also loop you into the blogging community, so you can connect to other bloggers and share tips and tricks.
Here are some examples of popular blogs in different categories to get you started.
Blogs about writing and publishing:
Helping Writers Become Authors by K.M. Weiland
The Jerry B. Jenkins blog by Jerry B. Jenkins
Count Blogula by Jenna Moreci
Terribleminds by Chuck Wendig
The Jane Friedman blog by Jane Friedman
Blogs about travel:
Travels of Adam by Adam Groffman
Y Travel Blog by Caz and Craig Makepeace
PS I'm on My Way by Trisha Velarmino
Hand Luggage Only by Yaya and Lloyd
Atlas and Boots by Kia and Peter
Blogs about food:
Smitten Kitchen by Deb Perelman
Rainbow Plant Life by Nisha Vora
Love and Lemons by Jeanine Donofrio and Jack Mathews
Cookie and Kate by Kathryne Taylor
Our Food Stories by Laura Muthesius and Nora Eisermann
To find more blogs, you can go to popular blog sites, such as Wordpress or Medium, and search for the topic you're interested in. You can search on a directory like Bloggeries or Bloglovin, which compile popular blogs to make them easier to find.
There you have it—our complete guide to writing a successful blog post.
Good luck, and happy writing!