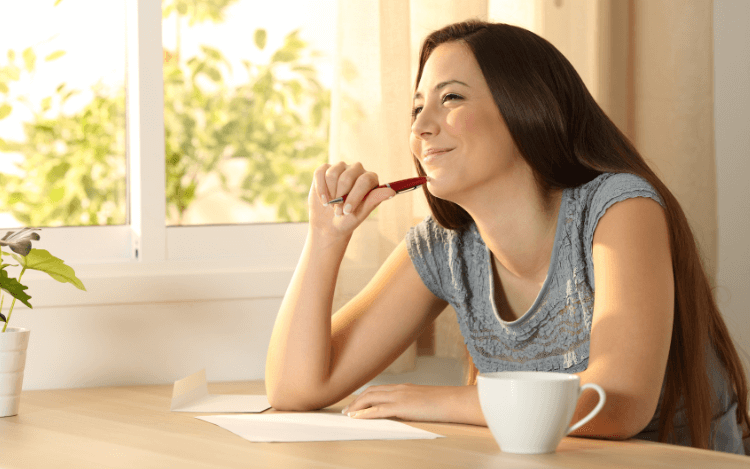 Addressing a letter is one of the first and most important steps in letter writing. A clearly written address means your letter is more likely to arrive with the correct recipient.
If you don't know how to address a letter, you're in luck because it's a straightforward process once you know what to include and how to format it.
In this article, we'll cover how to address a letter in four simple steps, and we'll share some examples of letter formats so you can see how it's done.
How to Write an Address on a Letter in 4 Steps
Letters are still a popular form of communication today, especially for important information and requests, so it's a good idea to familiarize yourself with how to address a letter. We've condensed it down to four easy steps.
Where Do I Write an Address in a Letter?
The first thing you should write in a formal or professional letter is your address at the top of the page. You can write it on the left or the right side of the page, depending on which format you intend to use in your letter.
When using a block format letter, you will need to align everything to the left. Write your address, then the date you're writing the letter, and then add your recipient's address all on the left. You'll find a lot of businesses use this format in their formal letters.
If you are using an indented paragraph format in your letter, align your address and the date to the right. Start your recipient's address on the line below the date, and align it to the left.
You should always align the receiver's address on the left because it helps if you want to use a windowed envelope to send your business letter. The window should line up perfectly with where the receiver's address is so you won't need to type or write out their address on the envelope.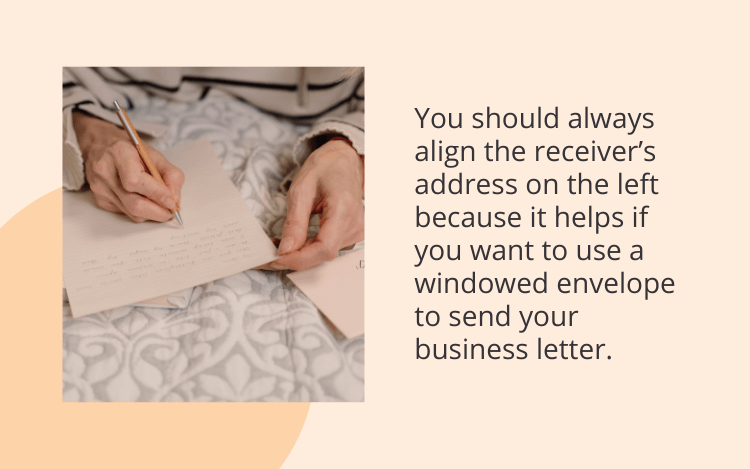 For personal and informal letter writing, both addresses are optional. If you want to include them, it is common to use the formatting style from the indented paragraph format when writing a personal letter. You'll still need to include the address on the envelope so it reaches the right destination, though.
What Should I Include When Addressing a Letter?
When you address a letter to someone, you need to include the correct information on both the letterhead and the envelope to ensure it reaches the right person. 
Your address should include the following information:
Your full name or company name

The street address, including building number or name

The city, state, and zip code

Country name
You should include the following information in your recipient's address:
Their full name

Their job title

The company name

The street address, including building number or name

The city, state, and zip code

Country name
You'll need to include the recipient's job title and company name if you are writing a formal or business letter where it is being sent to the company they work for. If you're not sure of their job title, you can call the company and ask for that information. Your letter will look more professional if you have done research to ensure the details are correct.
If you're writing your recipient's address on the envelope rather than using a windowed envelope, the job title isn't necessary because that address is for the postal service to use. The individual who processes mail for the business you're writing to should be able to identify the right person to give the letter to.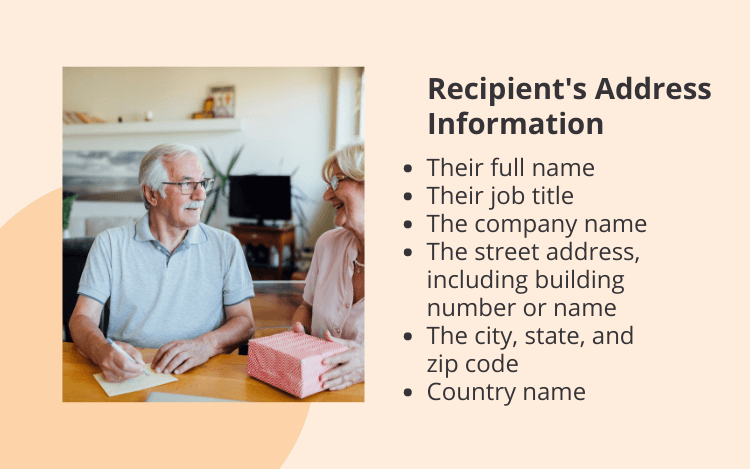 What Abbreviations Can I Use in an Address?
You don't always need to write street addresses out in full when you are addressing a letter. USPS has a list of abbreviations you can use when writing an address. Postal services are familiar with abbreviations, so you don't need to worry about them preventing your letter from being delivered to the correct address.
Here are some of the most common suffix abbreviations you should familiarize yourself with:
Avenue: AVE

Boulevard: BLVD

Creek: CRK

Crescent: CRES

Crossing: XING

Drive: DR

Estate: EST

Field: FLD

Highway: HWY

Junction: JCT

Lane: LN

Meadow: MDW

Road: RD

Square: SQ

Street: ST
You can find more abbreviations for other address suffixes on the USPS website if you don't see the one you need on our list.
When to Add a Return Address
Postal services use a return address to return your letter to you if they cannot deliver it to the receiver's address on the envelope. If you want to ensure they send the letter back to you after a failed delivery, include your address on the envelope.
With USPS reporting that they deliver 421.4 million pieces of mail on average per day, it's a good idea to include a return address in case any mistakes happen.
You can either include a return address on the back of the envelope or on the front, in the upper left-hand corner. Just make sure it's clear that the address is a return or sender's address so the postal service doesn't confuse it with the recipient's address.
Letter Address Format Examples
Readability is one of the most important parts of writing an address. The information should be correct, but if the postal service cannot read it, they might not deliver the letter. You can improve the readability by writing in block capitals if you're handwriting and following a specific format.
We've provided some formatting examples of how to address a letter so you can see what a well-formatted, readable address looks like.
Example 1:
Miss Jenny Smith
79 Blane Street
Saint Louis, MO 63108
USA
Example 2:
Mr. Chris Jones
133 Oak Way
Omaha, NE 68102
USA
Example 3:
Mrs. Sophie Doe
Director of Marketing
Big Marketing Business
1999 Ottis Street
Oklahoma City, OK 73102
USA
How to Write a Certified Letter
Certified letters are mail that needs to be signed for by the recipient to prove they have received the letter. The most common use of certified letters is by financial institutions for demand letters informing the receiver they owe the company a sum of money.
Businesses can also use a certified letter for legal mail, sensitive documents, or if a company simply wants to send you some information and they need to be sure you received it.
If you need to send an important letter to a company, you can use the certified letter service. The service costs more than standard postage, so ask for the price and options at the post office when you're sending your letter.
Sample of a Certified Letter
As a certified letter is a type of postal service and not a specific type of letter, your certified letter could be about anything of significance that needs a proof of delivery. We've provided a sample certified letter to give you an idea of how to format your letter so it looks professional and achieves the results you're hoping for.
CERTIFIED MAIL - PROOF OF DELIVERY REQUIRED
Vista City Library
3139 Carriage Court
Vista, CA 92083
USA
February 7th, 2022
Miss Janet Doe
3958 Vernon Street
Vista, CA 92083
USA
RE: UNPAID LIBRARY FEES
Dear Miss Jane Doe,
We have reviewed your Vista City Library account, and you have an outstanding amount of $200 for late fees.
I can see there are several books still checked out on your account, which is why the fees are increasing each month. I request you return the books and pay the outstanding balance on your account no later than February 21st, 2022.
You can make your payment in person at the library using cash or credit card. Alternatively, you can access your account to make a payment using our online system, which you can access from our website. If you are not sure of your login details, please contact our customer service team.
If we receive no payment by the date stated in this letter, we will serve a final notice and proceed with the legal collection process, as stated in our terms and conditions.
Please disregard this letter if you have already made the payment on your account.
Sincerely,
Mr. John Smith
Library Manager
Vista City Library
As this example is of a demand-style letter, we have used a letter format called the simplified style. The key feature of a simplified style format is that it includes a subject line under the recipient's address. It's good to include a subject line in a demand letter as it tells the reader what the letter is about straight away.
How to Address a Letter Conclusion
Addressing letters should be easy for you now if you're following the steps detailed in this article. There are several ways to format the addresses and some helpful abbreviations for when you're writing the address on the envelope.
Don't forget to make sure the recipient's street address details are correct if you want the letter to arrive at the correct location. You can always use an address checker online if you're not completely sure of the details.
We hope this article helps you with any letters you have to send.
---