Thank you so much for joining us for Crime Writer's Week! This event has now passed. Replays of all Crime Writer's Week sessions can be found on the ProWritingAid Academy course platform.
We host a full schedule of free writing events every month. Don't miss out—sign up to our newsletter to keep up to date.
---
Access the Crime Week Replays on ProWritingAid Academy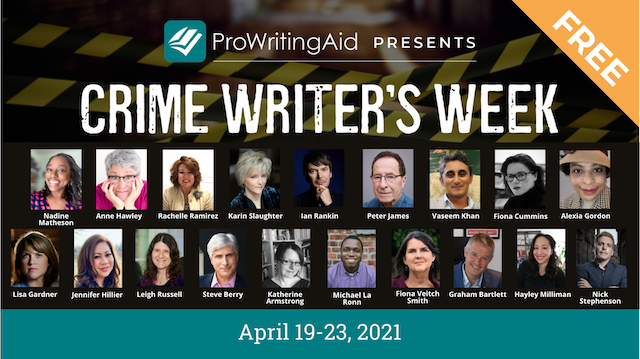 Build your writing skills, find your writing community, and get your ideas out there with our course platform, ProWritingAid Academy! Are you craving accountability and support? There's no better place to continue your writing journey. 
As a member of ProWritingAid Academy, you get access to:
Premium, on-demand courses (including Crime Writer's Week)
An exclusive writing community
A free, monthly 30-day writing challenge
Biweekly live interactive workshops 
May's 30-day writing challenge: The Perfect Crime (Novel)
Included: May's Writing Challenge
Our next live writing challenge begins on May 1, and it's especially for crime writers. The Perfect Crime Story challenge will help you:
Ratchet up the tension in your scenes
Add more depth to your characters
Ensure your plot is airtight
Deepen your book so your readers can not put it down
If you are serious about writing something unforgettable, then this is the bootcamp for you. 
Join us today to save your spot and access the replays.
---
Crime Week Schedule At a Glance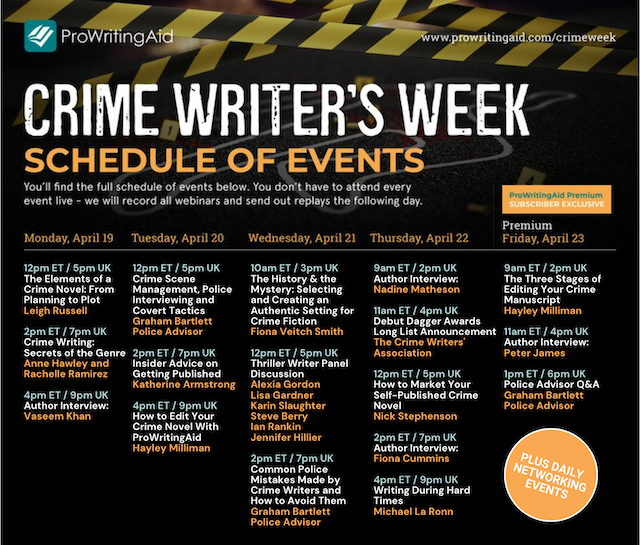 Click on the image to enlarge.
---
Access the Crime Week Replays on ProWritingAid Academy
---