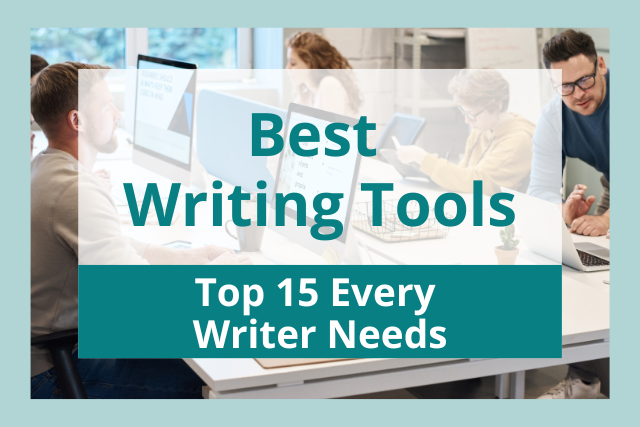 Writing is rarely easy, whether you're working on a book, an essay, a blog post, or any other type of writing.
A great writing tool can't do the actual writing for you, but it can definitely make the process a lot easier.
There are three main categories of tools that writers find useful:
Word processing and editing tools
Productivity and organization tools
Office and workspace tools
If you're looking for the best writing tools in any of these categories, you've come to the right place!
We've looked at reviews of products in each category to figure out which ones are worth investing in. Some of these writing tools are free, while others require a subscription or an upfront fee.
Without further ado, here's a collection of some of the best tools that every writer needs.
Best Writing Tools for Writers
There are countless apps, websites, and other types of writing software that can help you with the actual process of writing and editing your work.
These tools can help you polish your prose, organize your thoughts, and so much more.
1. ProWritingAid
Cost: Free, or around $70/year for the Premium version
Why we love it: It transforms your writing from good to great
ProWritingAid isn't just your average grammar checker—it's the best writing software on the market today.
In addition to catching grammar mistakes, it keeps an eye on clichés and makes sure your sentence structure flows well. It also plucks out passive writing and scores your writing for readability, showing you where you can improve your style.
The free version lets you edit up to 500 words at a time, but the premium version lets you analyze as many words as you want, with over 20 different reports—more than any other editing software.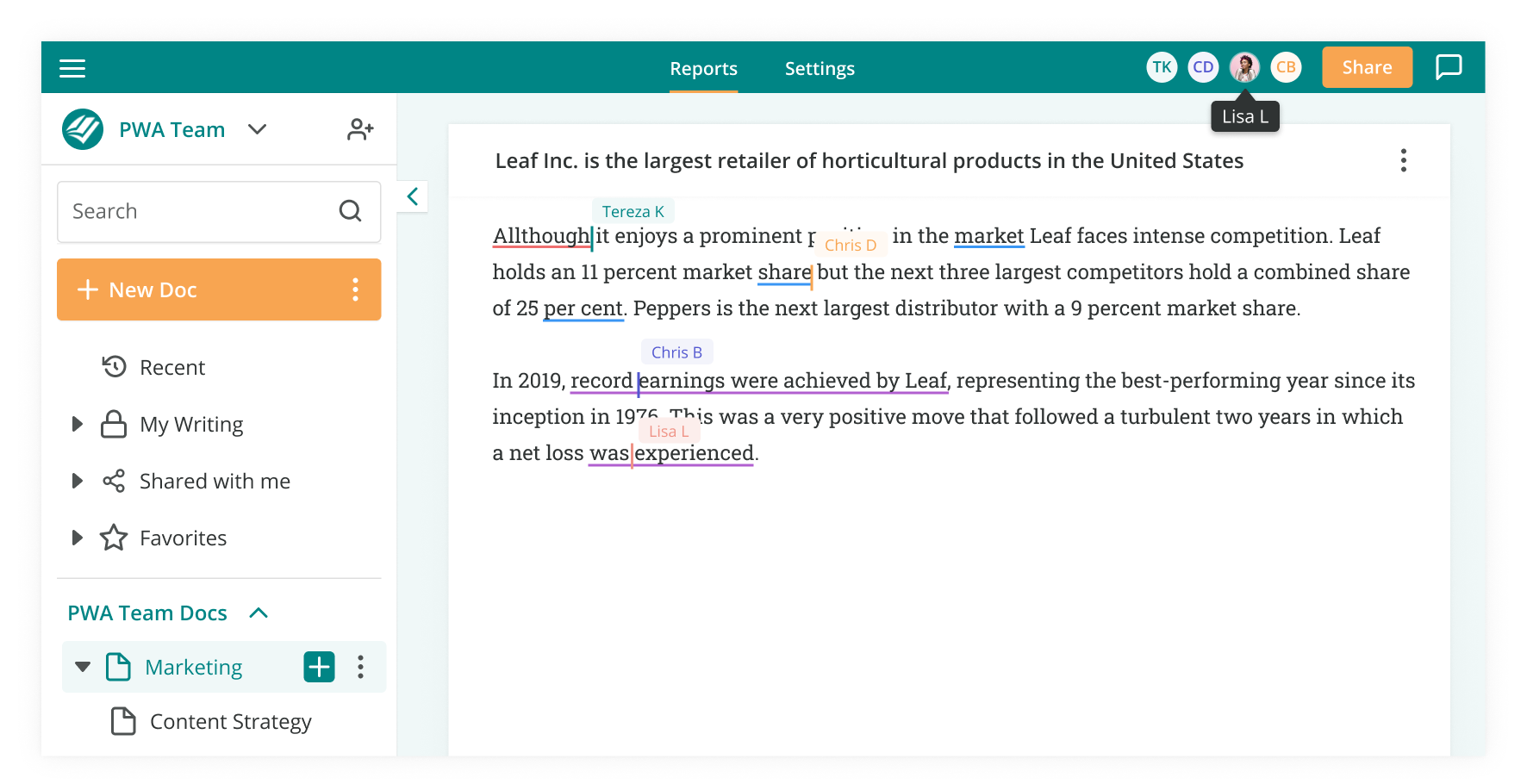 2. Scrivener
Cost: $49 for a lifetime license
Why we love it: It gives you a bird's-eye view of your project
Scrivener is a book writing software that's designed specifically for larger projects. If you're tackling a big project, the organization features of Scrivener will ensure everything goes to plan.
In addition to being a word processor, it also lets you set goals, rearrange scenes, and more.
You can keep track of your writing style with a neat integration between ProWritingAid and Scrivener, which work very well together. ProWritingAid imports your Scrivener folder into its platform and gives you a detailed analysis of how you're writing.
3. Evernote
Cost: Free, or $8.99/month for the Pro version
Why we love it: It lets you organize all your writing ideas in one place
Evernote is a writing app that helps you organize your ideas and research.
You can collect all your sources of inspiration, keep track of your to-do lists, and jot down story ideas all in one place.
The Pro version even lets you sync your notes between all your devices. That way, you can work on your writing projects while you're on the go without needing to import them to your laptop when you get home.
4. Ulysses
Cost: Free, or $5.99/month or $39.99/year for the Pro version
Why we love it: It's a great alternative to Evernote
Like Evernote, Ulysses is a note taking app that lets you organize your thoughts.
Ulysses also includes a binder-like sidebar that lets you move documents around easily, so you can keep all your thoughts organized.
Ulysses is better for Mac users than Evernote, but it's currently less popular.
5. Reedsy Book Editor
Cost: Free!
Why we love it: It lets you see what your published book will look like while you're still writing it
The Reedsy Book Editor is a free book writing software that also handles formatting and conversion while you write. It's especially useful for authors who want to self-publish their books.
It's a free alternative to expensive book formatting softwares like Atticus and Vellum, which charge a large fee to format your manuscript.
6. Hemingway
Cost: Free!
Why we love it: It's one of the most useful free editing tools
The Hemingway app is a free writing software that checks your work for readability.
When you run your work through the Hemingway editor, it will highlight sentences that are dense or overly complex, so you can find ways to shorten them. It also highlights passive voice, overused adverbs, and any other weaknesses that might make your work harder to read.
Some of the Hemingway editor's suggestions can be a bit hit-or-miss, but it's still a fun style editor to try.
7. Grammarly
Cost: Free, or $30/month, $60/quarter, or $144/year for the Premium version
Why we love it: It catches your typos and grammar errors
Like ProWritingAid, Grammarly is a grammar checker that can catch your spelling and grammar mistakes.
Some of Grammarly's top features include its plagiarism detector, its spell check, and its grammar check. It offers style suggestions related to wordy sentences, repetitive words, incorrect comma usage, and more.
It also includes a plagiarism checker, which will let you know if your work resembles any currently published written works.
8. Novel Factory
Cost: $75/year for the basic version, $198/year for the standard version, or $600/year for the Premium version
Why we love it: It helps creative writers develop characters, plot, story world, and more
Novel Factory is a word processor that can help you write your novel. It offers several features to help novelists develop elements of their stories.
For example, the Plot Manager includes plot templates for popular genres, while the character developer can help you flesh out your character's archetype, motivation, and more.
9. Google Docs
Cost: Free
Why we love it: It allows real-time collaboration with editors, beta readers, and fellow writers
If you're working on a collaboration, Google Docs is one of the best options alongside ProWritingAid and Dropbox. Multiple writers can work on the same document at the same time.
Let's say you want to get feedback on your writing from a critique partner or a beta reader. If you invite them to your Google Docs file, you can watch as they leave comments, in-line edit suggestions, and even emoji reactions on specific passages of your work.
10. Microsoft Word
Cost: around $100/year for the entire Microsoft Office suite, including Excel, PowerPoint, etc.
Why we love it: Most writers know how to use it already
Microsoft Word is one of the most widely used word processors. This simple but effective writing app is useful for all kinds of writing projects.
Its user interface is easy to use and navigate. The Track Changes feature makes it easy to edit other people's stories, while also giving them the choice to accept or reject those changes.
Best Productivity Tools for Writers
Carving out time to write can be just as difficult as actually writing. These productivity and organization tools can help you stay focused and take control of your own schedule.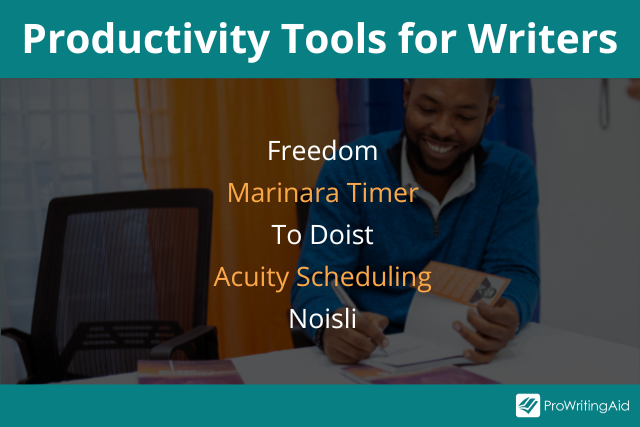 11. Freedom
Cost: $29/year for the Pro version
Why we love it: We're easily distracted
Have you ever set aside time to work on a writing project, and then found yourself scrolling through social media instead?
If you're easily distracted, like us, the Freedom app is a must-have. This tool lets you block social media, email, or whatever apps and websites you choose.
Freedom is the perfect tool for distraction free writing. You can even schedule recurring focus mode sessions in advance.
12. Marinara Timer
Cost: Free!
Why we love it: It lets you time your writing sprints
The Pomodoro Technique is a well-known technique for improving your productivity. It suggests working for 25 minutes, followed by a 5-minute break.
Many writers use timed writing sessions, also known as "writing sprints," to hit their word count goals more quickly and effectively. Some use the 25/5-minute Pomodoro Technique, while others prefer longer or shorter sprints.
The Marinara Timer is a great website for timing your writing sprints. You can use the automatic Pomodoro Timer, or you can set your own custom writing sprint lengths.
13. To Doist
Cost: Free, or $48/year for the Pro version
Why we love it: There's nothing more satisfying than crossing something off a to-do list
To Doist is a task manager app that lets you organize your tasks in a simple and intuitive way.
You can break large tasks into subtasks, organize your tasks into projects, and even share your projects with other people.
To Doist also offers project templates that can help you get started if you don't know what tasks you need to accomplish.
14. Acuity Scheduling
Cost: $14/month for the Emerging option, $23/month for the Growing option, or $45/month for the Powerhouse option
Why we love it: It lets you take control of your own schedule
Acuity Scheduling is an easy way to streamline your calendar and create appointments for customers.
If you're a freelance writer who works with clients, editors, or coworkers, Acuity's customized scheduling page can be a lifesaver. It lets you keep your schedule organized by automating processes.
It also lets you create your own client intake forms, so you can collect all the information you need upfront.
15. Noisli
Cost: Free, or $10/month for the Pro version
Why we love it: It can make your home office sound like a gentle rainforest
Noisli lets you write to a soundtrack of your choice. You can choose anything from the sound of a crackling fire to the sound of ocean tides.
These background sounds can mask annoying noises in your workspace and help you stay focused on what you're writing.
If you choose a sound that you associate with your work in progress—for example, if you listen to birdsong while writing a poem about birds—Noisli can even help improve your creativity.
Best Office Tools for Writers
So far in this article, we've focused on digital tools and other types of writing software. However, it's just as critical to create a good work environment in your physical workspace.
Here are some physical tools you can use to optimize your workspace.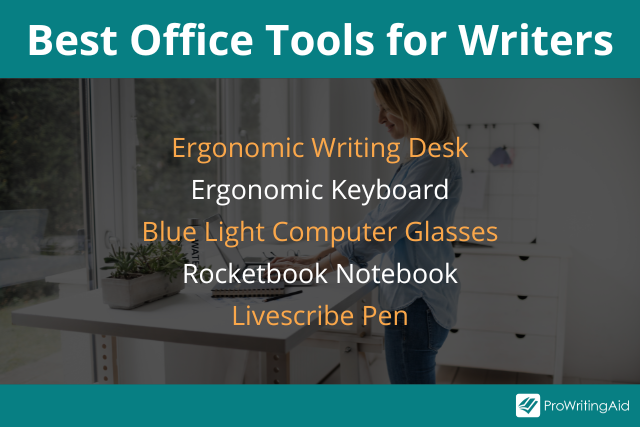 16. Ergonomic Writing Desk
Cost: $200–$800
Why we love it: It's an easy replacement for a workout
An ergonomic desk ensures you sit at a healthy angle, with enough room for your legs and knees. It prevents your back from hunching unnaturally, and can help you avoid joint pain, heart disease, and other long-term health problems.
You can choose a desk that has a standing option and a sitting option, so you can stretch your legs from time to time. That way, you can even burn extra calories.
Okay, so it's not actually a replacement for a workout. You should still take time to exercise.
But if you're worried about spending too much time sitting down, an ergonomic writing desk will certainly help.
17. Ergonomic Keyboard
Cost: $50–$200
Why we love it: It can prevent wrist injury
An ergonomic keyboard is a keyboard designed to minimize muscle strain, fatigue, and other potential health problems.
There are many options for a great writing keyboard. You should consider whether you want a wireless or corded keyboard, whether you need automatic backlighting, and which keyboard is most comfortable for you.
Some popular keyboard options for writers include the Microsoft Sculpt and the Logitech K780. If you're typing all day, it's worth investing in a keyboard that works well for you.
18. Blue Light Computer Glasses
Cost: $20–$100
Why we love it: You might get a headache without them
If you spend a long time staring at a computer screen, it's a great idea to invest in computer glasses.
Blue-light blocking glasses can reduce eye strain and prevent migraines. They also make it easier to fall asleep at night.
19. Rocketbook Notebook
Cost: $20–$40
Why we love it: You can use the same notebook for the rest of your life
The Rocketbook notebook is a digital notebook that lets you convert your handwritten notes into a digital format. You can upload each page directly into an app, so if you like to write stories or essays by hand, they will be easy to read afterwards.
Best of all, Rocketbook notebooks are reusable, so you can use the same one for life.
20. Livescribe Pen
Cost: about $100
Why we love it: It uploads your handwritten notes in a digital format
The Livescribe Symphony Smartpen is a digital pen that captures everything you write and draw in a digital format.
It even records audio and plays the recording back for you, which can make note taking a lot easier.
If you like writing by hand but also do a lot of your work on a laptop, the Livescribe pen can help you access all your work in one place.
What To Look For in the Best Writing Tools
Here are five things to consider when deciding whether a writing tool is right for you.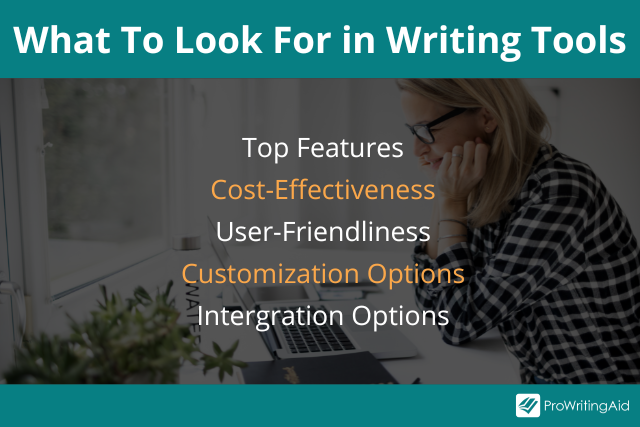 1. Top Features
The best writing tools are the ones that have all the features you want and need. It's better to spend some money on a piece of writing software that truly helps you than one that doesn't live up to the hype.
Ask yourself: What makes this particular tool stand out from the crowd? How can it help me transform my writing?
2. Cost-Effectiveness
Nobody has an endless budget, so it's important to prioritize the tools that will give you the most bang for your buck.
Expensive tools often have special features that others lack. Sometimes it's worth investing in the pricier option, while other times you can get the results you need with a cheaper alternative.
3. User-Friendliness
There's no point buying a tool that you can't figure out how to use.
Some tools have a steep learning curve, while others are very user-friendly. If you don't like working out how to use new tools, look for ones that are easy to learn and let you hit the ground running.
4. Customization Options
No two writers are exactly alike. You might be writing a lighthearted, comedic memoir, or a dark mystery novel—or maybe even both.
Ideally, you want to invest in tools you can customize to suit your preferences. Look for versatile tools that suit your unique situation.
5. Integration Options
You want to choose software that integrates smoothly into your writing routine. For example, ProWritingAid can integrate into your favorite software, like Microsoft Word, Scrivener, Final Draft, or any website on your favorite web browser.
If it doesn't work well with the other apps you use, you'll be signing up for a major headache every time you switch from one to the other.
Conclusion on the Best Writing Tools
There you have it—the 15 best writing tools and 5 best office tools that every writer should know about.
Choosing the right tools can help you curate an end-to-end writing process that works for you. You might write your project in Scrivener and edit it with ProWritingAid while listening to a soundtrack from Noisli, all on your favorite ergonomic keyboard.
What are your favorite writing tools? Let us know in the comments.
Happy writing!
---