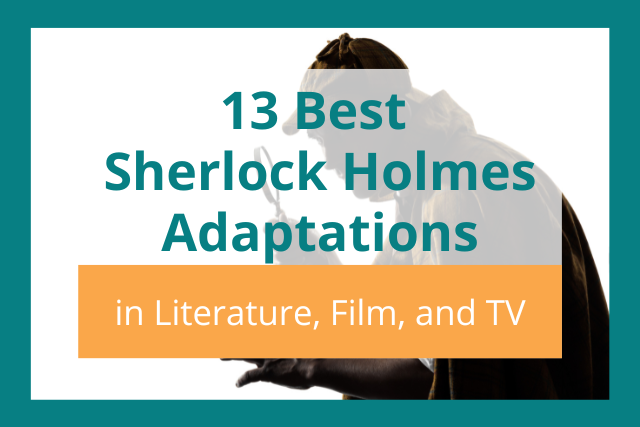 If you think of the adage "genius tends to run in the family," we're sure a few people from your own personal life come up. It's certainly true for Enola Homes, younger sister to the infamous Sherlock Holmes.
We first get a look at Enola in the detective novel series written by Nancy Springer—The Enola Holmes Mysteries. The story was so well received that in 2020, Netflix released a mystery film Enola Holmes, based on the first book of the fiction series.
Starring Millie Bobby Brown as Enola Holmes, the movie chronicles Enola's own growth as a formidable detective—just like her older brother, Sherlock Holmes, played by Henry Cavill.
Netflix recently announced that the sequel will be released on its platform on November 4, 2022. Like many other mystery lovers, we wait with bated breath to see Enola again in all her crime fighting glory.
Enola Holmes is just the most recent installment in the Sherlock Holmes universe. Sherlock Holmes was first introduced to the word in the 1887 publication of A Study in Scarlet by Sir Arthur Conan Doyle.
Since then, we've seen the beloved character of Mr. Holmes in hundreds of plays, films, and books. In fact, the Guinness World Records lists him as the most portrayed literary human character in film and television history.
We wanted to take a look at some of the best adaptations that exist. Of course, with hundreds out there, we couldn't possibly feature them all. So here are a few of our favorites.
Our Favorite Sherlock Holmes Book Adaptations
From the original works of Arthur Conan Doyle to modern romance novels, Sherlock Holmes is a beloved book character. Here are some of our favorite novels featuring the clever detective.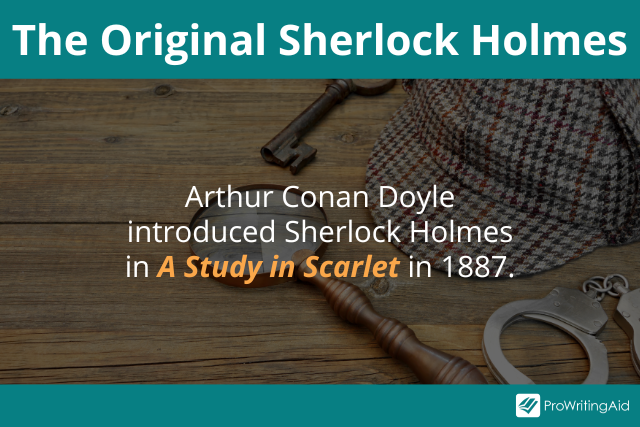 A Study in Scarlet by Sherlock Holmes
It would be remiss to not pay homage to the original manuscript that gave the world Sherlock Holmes. It's a mystery about a corpse found at a derelict house in Brixton, England. We're then introduced to Sherlock Holmes—investigator extraordinaire—known for his proficiency with observation, deduction, forensic science and logical reasoning.
Not only is it the first look into the character of Holmes, we also get our introduction to the friendship of Holmes and Dr. John Watson, who act as mystery-solving duo.
A Study in Scarlet also opens the door to the subsequent series of literary works by Doyle, which span 56 short stories and four novels that center around Holmes' many mystery adventures.
Young Sherlock Holmes by Andrew Lane
British Author Andrew Lane uses Doyle's character as inspiration to create a series of young adult thriller novels where Sherlock Holmes is a teenager.
Throughout the series we see Sherlock as more than just an analytical detective who uses his prowess to solve mysteries, but also a moody and brooding adolescent.
Since Holmes is a teenager, Lane's adaptation allows us to have an appreciation of the foundation years of Holmes to better understand the complexities of his personality. There are eight books in the series. With the holidays coming up, we recommend this as a must-have for any young adult mystery lover.
Lady Sherlock by Sherry Thomas
The Lady Sherlock series is a delightful addition to the Sherlock Holmes world. In this adaptation, author Sherry Thomas reimagines Holmes as a woman. When the genders are swapped, we find the protagonist, Charlotte, faced with a number of new challenges that Sherlock Holmes never had to face. This creates an added layer to the Sherlock Holmes fantasy.
Written over a series of five books—with a sixth releasing in 2023—Charlotte investigates crimes under the assumed identity of Sherlock Holmes in Victorian-age London. Thomas's adaptation is not just a simple gender-swap.
Of course, there are still the elements that you'd expect in a Sherlock Holmes story, but there is also a deeper look into a world that is more diverse with character composition and explored storylines.
Mary Russell and Sherlock Holmes by Laurie R. King
This adaptation is endearing because we see Sherlock Holmes as a retiree more than an active mystery solver. Laurie R. King has written 20 books which chronicle the partnership between young detective Mary Russell and Sherlock Holmes.
The story begins with their introduction—Mary is 15 and is seemingly as intellectually impressive as Holmes. She stumbles into Sherlock Holmes, who is now retired from the world of mystery. Holmes is quite taken with Mary and very impressed by her wit and gawky personality.
Though initially reluctant, he eventually agrees to take her under his wings as his protégé, and she does not disappoint.
The books show Holmes as a key figure but Mary is clearly the protagonist. As they work together, we see a more evolved addition to the Holmes fantasy, set in a 20th century world that has been changed by war and culture.
The Best Sherlock Holmes–Inspired Movies
Who doesn't love a great mystery movie? Here are some of the best Sherlock Holmes movies for all ages.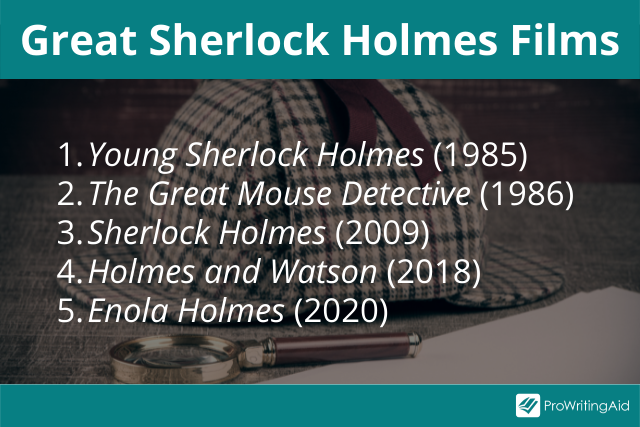 Young Sherlock Holmes
Most adaptations of Doyle's character show us Holmes as a detective well into his adult years. Few pastiches allow us to see how Holmes really started out, much less an insight into his younger years.
Unrelated to the series of the same name, Young Sherlock Holmes is a 1985 American mystery film that depicts young Sherlock Holmes and John Watson.
During their first semester of boarding school, a string of deaths occur on campus. Holmes, by nature, is intrigued by the crime and becomes invested in it, eventually coming to his own conclusions on what really happened.
He and Watson conduct their investigations together, which causes them to stumble upon a bizarre cult.
The Great Mouse Detective
Disney fans will remember this adaptation fondly. The Great Mouse Detective was an animated spin on the adventures of Sherlock Holmes.
Though the lead was a mouse called Basil, he displays several similarities to our well-known hero. The movie shows Basil as he works to solve the case of a missing toy maker.
As he investigates, he realizes the culprit is no other than his longtime nemesis, Professor Ratigan. If you haven't seen it already, it's a classic and a feel-good movie that you can watch with your family.
Sherlock Holmes
If you're an action hero movie fan, then you'll definitely know about Robert Downey Jr as Iron man. But did you know he also starred as Sherlock Holmes? In the 2009 American film, Holmes and his partner John Watson, played by Jude Law, attempt to foil the plan of a villain who dabbles in the dark arts.
As they investigate a series of mysterious murders, they discover a secret world of occultism and must work to save Britain from falling under their control.
The movie was well-received. Critics claimed Downey helped to breathe a whole new dynamic to the Sherlock Holmes character, effectively reintroducing him as a modern-day superhero.
Holmes and Watson
One of the best aspects of Sherlock stories is the partnership between our well-known detective and John Watson. Their friendship has transcended time and is a key feature in most, if not all, Holmes adaptations.
Holmes and Watson is a 2018 mystery-comedy film that offers a humorous take on Sir Arthur Conan Doyle's classic mysteries.
Holmes, played by Will Ferrell, and Watson, played by John C. Reilly, are called to investigate a mysterious murder at Buckingham Palace.
What initially seemed like an open-and-shut case with a clear perpetrator turns out to be anything but. The mystery is complicated, full of new twists and turns, and they must race to solve it before the Queen becomes the next victim.
Enola Holmes
Enola Holmes is the most recent addition to the Holmes-inspired movie world. Based on the first book of the same name, this mystery film takes a new spin on the Holmes fantasy. Enola Holmes is actually the younger sister of the already famous Sherlock Holmes.
Enola is an unconventional teenager, but she possesses the same sleuthing skills and grit as her older brother. She searches for her missing mother while simultaneously avoiding her older brothers who believe she'd be better off doing lady-like activities—crocheting maybe—than putting herself in danger.
As she follows the clues left by her missing mother, Enola learns she must follow her own path. Enola Holmes 2 drops on November 4, 2022 and will follow Enola as she steps even more into her role as a detective.
Great Sherlock Holmes TV Adaptations
Sherlock Holmes makes a great TV series because his character has so much depth. These four TV shows are some of our favorites.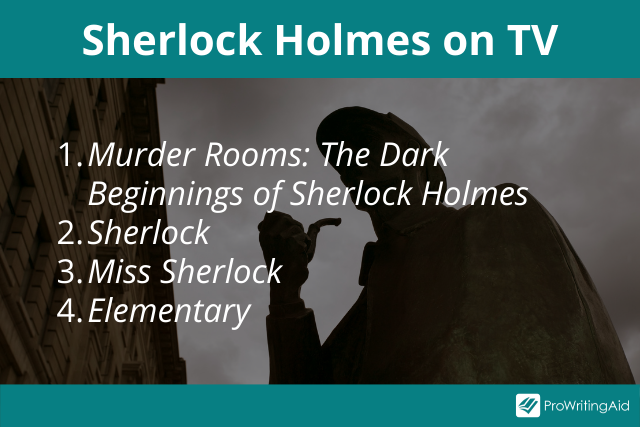 Murder Rooms: The Dark Beginnings of Sherlock Holmes
If you're up to it, this can easily be a quick weekend binge. Murder Rooms is a miniseries produced by BBC between 2000 and 2001. There are six episodes which show the dynamic duo of Conan Doyle and his mentor, Dr. Joseph Bell as they solve mysteries together.
The series is loosely based on the fact that Doyle's Sherlock Holmes character was based on his real life mentor, Dr. Joseph Bell. Dr. Bell occasionally did forensic work for the Edinburgh police.
The series reimagines what crime-fighting would have looked like if Doyle carried out murder investigations under Bell's tutelage.
Sherlock
This series stars Benedict Cumberbatch as Sherlock Holmes and Martin Freeman as Dr. John Watson. Produced by the BBC, Sherlock aired from 2010 to 2017 and follows Holmes as he uses his quick thinking and investigative skills to solve mysteries in modern-day London.
He teams up with his flatmate and friend, Dr. John Watson—who also chronicles Holmes' many adventures in his blog, making Holmes a local celebrity. Together, they solve an array of bizarre crimes. Sherlock is critically acclaimed and has a loyal fandom.
Miss Sherlock
Miss Sherlock is a Japanese series that showcases just how diverse Holmes adaptations are. The series is a female-led adaptation that follows Sara Shelly "Sherlock" Futaba as she sleuths her way through some pretty bizarre cases.
A good Sherlock story isn't complete without a sidekick, and Miss Sherlock doesn't disappoint in this regard. Our protagonist teams up with her flatmate, Wato Tachibana, and together they solve various mysteries in modern-day Tokyo.
Elementary
Elementary is an American drama television series that offers a modern perspective to the Sherlock Holmes character. Our lead was previously a consulting detective for both the NYPD's 11th Precinct and Scotland Yard.
He has all the traits that are characteristically Sherlock Holmes—brilliant insight, great reasoning and deduction skills, and an incredible knack for seeing those minor details that most people gloss over.
But Sherlock doesn't have the best past, having fallen from grace in London and reeling from a stint in drug rehabilitation, so New York serves as a fresh beginning.
He currently lives with Dr. Joan Watson, who was hired by his father to help keep him sober. Together, they both assist the NYPD in solving crimes.
Final Thoughts
These recommendations are just the tip of the Sherlock iceberg. But they're a good place to start if you're a Holmes fan and want to explore how the beloved character been reimagined over the years.
Did you see any of your favorites in the article? Let us know in the comments.
---