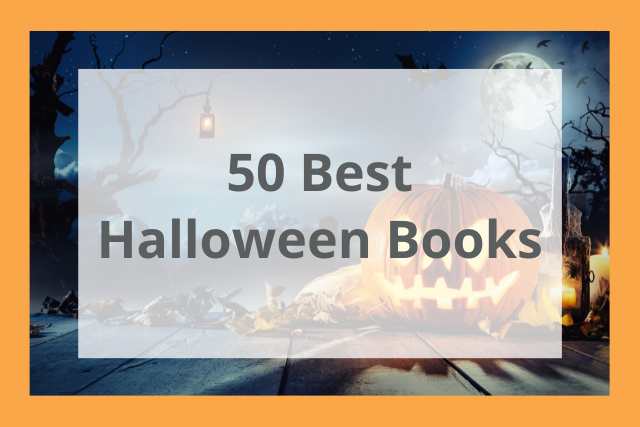 Halloween has always been one of our favorite holidays here at ProWritingAid—we love carving pumpkins, putting up eerie decorations, and of course, getting dressed up in a fun costume.
But the best thing about this holiday is the chance to read Halloween books.
In this article, we've rounded up our favorite Halloween books in five different categories: classic books, modern horror, cozy mystery, dark fantasy, and young adult. There's something here for everyone, no matter what your reading tastes are.
Classic Books to Read for Halloween
Many spooky books are tales as old as time. Here are some fantastic books published over fifty years ago that are still wonderful reads today.
Frankenstein by Mary Shelley
Why we love it: It's one of the books that birthed the horror and sci-fi genres.
In this classic tale, a man-made monster searches for his place in the world.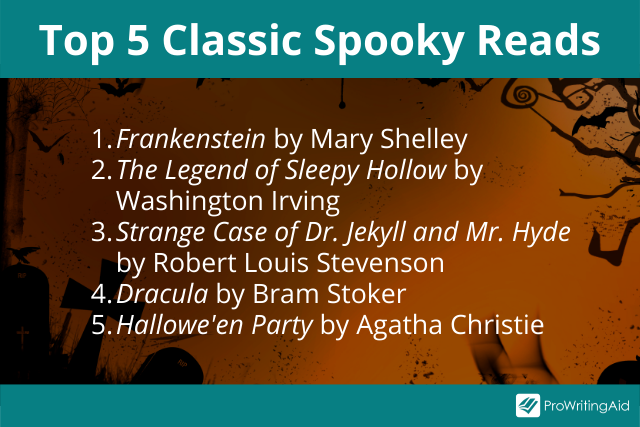 The Collected Tales and Poems of Edgar Allan Poe by Edgar Allan Poe
Why we love it: It's perfect for reading aloud at a Halloween party.
This is a collection of chilling gothic stories and poems, such as "The Tell-Tale Heart" and "The Raven."
The Legend of Sleepy Hollow by Washington Irving
Why we love it: It features the iconic Headless Horseman.
A schoolmaster named Ichabod Crane has a terrifying ride home.
The Haunting of Hill House by Shirley Jackson
Why we love it: It's a beautifully written haunted house story.
Four occult seekers investigate Hill House and leave forever changed.
Strange Case of Dr. Jekyll and Mr. Hyde by Robert Louis Stevenson
Why we love it: It reminds us we all have a darker side.
A normal man transforms into his own evil doppelgänger each night.
Dracula by Bram Stoker
Why we love it: It's the world's most famous vampire story.
Count Dracula leaves Transylvania for England, where he hunts for fresh blood.
Hallowe'en Party by Agatha Christie
Why we love it: It stars the iconic detective Hercule Poirot.
At a Halloween party, a teenager brags about witnessing a murder—and then gets murdered.
The Turn of the Screw by Henry James
Why we love it: It's a Halloween book and a Christmas book at the same time.
Guests at a Christmas party tell each other ghost stories, including one particularly chilling tale.
Something Wicked This Way Comes by Ray Bradbury
Why we love it: It features a mysterious traveling carnival.
Two thirteen-year-old boys have a nightmarish experience the week before Halloween.
The Picture of Dorian Gray by Oscar Wilde
Why we love it: It reminds us that surface appearances often hide the truth.
A corrupt man keeps his youthful beauty, while a portrait of him reflects his true self.
Modern Horror Books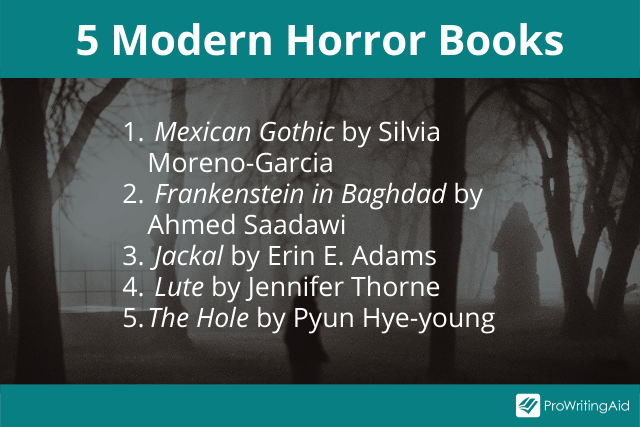 There's nothing like a good scary story to quicken your pulse. These twenty-first century horror books will have you on the edge of your seat.
Mexican Gothic by Silvia Moreno-Garcia
Why we love it: It's a gothic horror story set in 1950s Mexico.
A woman moves to a rural mining town to check on her recently married cousin, where she finds out that all is not as it seems.
Her Body and Other Parties by Carmen Maria Machado
Why we love it: It's a genre-bending examination of the violence inflicted on women's bodies.
This is a collection of exquisite short stories, starting with a woman who refuses her husband's desire to remove the green ribbon around her neck.
House of Leaves by Mark Z. Danielewski
Why we love it: It has a unique typographical form, including upside-down passages.
A young family moves into a house where something is terribly wrong.
Frankenstein in Baghdad by Ahmed Saadawi
Why we love it: It's a fresh and diverse retelling of a classic novel.
A man living in Baghdad accidentally creates a monster.
Nothing But Blackened Teeth by Cassandra Khaw
Why we love it: It's a haunted house tale inspired by Japanese folklore.
A group of friends spend a night in a Heian-era mansion.
Jackal by Erin E. Adams
Why we love it: It's a bold examination of American racism.
A young Black girl goes missing in the woods—and she's not the first.
Lute by Jennifer Thorne
Why we love it: It's a folk horror novel about community and survival.
On the island of Lute, seven people die every seventh summer.
Such Sharp Teeth by Rachel Harrison
Why we love it: It's a new take on a werewolf story.
Rory crashes her car, gets attacked by an animal, and starts undergoing a strange transformation.
The Hacienda by Isabel Cañas
Why we love it: It's historical, supernatural, and suspenseful at the same time.
After the Mexican War of Independence, a woman finds out her home might be haunted.
The Hole by Pyun Hye-young
Why we love it: It's full of creepy, atmospheric tension.
After a man gets paralyzed in a car crash, he's cared for by his mother-in-law, who blames him for the death of her daughter.
Cozy Mystery Halloween Books
If you're looking for a book that feels like a warm blanket on a chilly October night, a cozy mystery might be the perfect choice. Here are some light-hearted, comforting mysteries to try.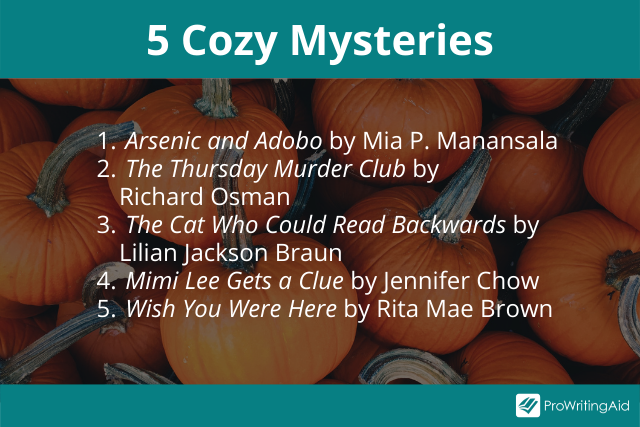 Arsenic and Adobo by Mia P. Manansala
Why we love it: It includes mouthwatering Filipino recipes perfect for mystery-reading foodies.
A woman must solve a food critic's murder after someone drops dead in her family restaurant.
Under Lock & Skeleton Key by Gigi Pandian
Why we love it: The heroine lives in a house filled with secret rooms and staircases.
The crew of the Secret Staircase Construction company finds a body behind a wall.
The Thursday Murder Club by Richard Osman
Why we love it: It's about quirky crime-solving retirees.
A group of senior citizens meets up to investigate murders in their retirement village.
Chocolate Chip Cookie Murder by Joanna Fluke
Why we love it: It includes descriptions of delicious baked goods.
A baker finds the delivery man dead and does her best to track down his killer.
The Secret, Book & Scone Society by Ellery Adams
Why we love it: It's about a sisterhood of women healing from trauma.
A bibliotherapist, who always recommends the right books to those in need of guidance, starts a small community.
The Cat Who Could Read Backwards by Lilian Jackson Braun
Why we love it: It features a very intelligent Siamese cat.
A prizewinning reporter finds a corpse behind his house.
Mimi Lee Gets a Clue by Jennifer Chow
Why we love it: It's a light, upbeat mystery with lots of lovable animals.
When a local pet breeder drops dead, an animal groomer must solve his murder.
Homicide in Hardcover by Kate Carlisle
Why we love it: It's a love story to books and bibliophiles.
A book restorer reunites with her mentor, only to find him murdered shortly afterward.
The No. 1 Ladies' Detective Agency by Alexander McCall Smith
Why we love it: It's about a middle-aged female detective.
Mma Precious Ramotswe sets up shop as Botswana's No.1 (and only) lady detective.
Wish You Were Here by Rita Mae Brown
Why we love it: A tiger cat and a Welsh Corgi help solve mysteries.
When citizens in a small Virginia town turn up murdered, the pets are on the case.
Fantasy Halloween Books
Some of these fantasy books lurk on the border between fantasy and horror, mixing magic and monsters. Others are lighter in tone but feature witchcraft, ghosts, or other spooky elements, making them perfect for Halloween.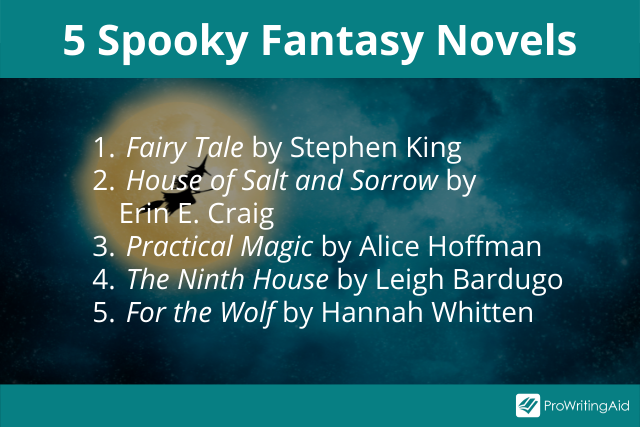 Fairy Tale by Stephen King
Why we love it: It's a tribute to classic fairy tales, from "Hansel and Gretel" to "Rumpelstiltskin."
A troubled teenager is left a strange inheritance by the rich local recluse.
Gideon the Ninth by Tamsyn Muir
Why we love it: It's about lesbian necromancers…in space!
The Emperor invites the heirs of each of nine necromancer Houses to compete in a deadly trial.
House of Salt and Sorrows by Erin A. Craig
Why we love it: It's a retelling of the fairy tale "The Twelve Dancing Princesses."
Twelve sisters live with a strange and terrible curse, which is causing them to die off one by one.
The Bone Houses by Emily Lloyd-Jones
Why we love it: It includes an adorable pet goat named Goat.
A gravedigger in a medieval village must figure out how to stop the risen dead.
Practical Magic by Alice Hoffman
Why we love it: It's a heartwarming, feel-good story about the power of sisterhood.
Two sisters in a small Massachusetts town try to flee their family's legacy of witchery.
Winterwood by Shea Earnshaw
Why we love it: It feels like a fairy tale.
A girl finds a missing boy in the woods—a boy who should have been dead long ago.
The Once and Future Witches by Alix E. Harrow
Why we love it: It's a historical tale about magical female suffragists.
Three estranged sisters in 1890s Salem revive the art of witchcraft.
The Ninth House by Leigh Bardugo
Why we love it: It's set in the secret societies of Yale.
A Yale freshman who can see ghosts finds out about strange occult activities on campus.
Wicked Saints by Emily A. Duncan
Why we love it: It's dark and holy at the same time.
A girl who can speak to gods tries to save her people from a centuries-long war.
For the Wolf by Hannah Whitten
Why we love it: It's a dark retelling of "Little Red Riding Hood."
Red enters the Wilderwood, looking for the Wolf.
Young Adult Halloween Books
Halloween books aren't only for grownups—kids and teenagers have plenty of fantastic options, too! Here are ten of our favorite Halloween books for younger readers.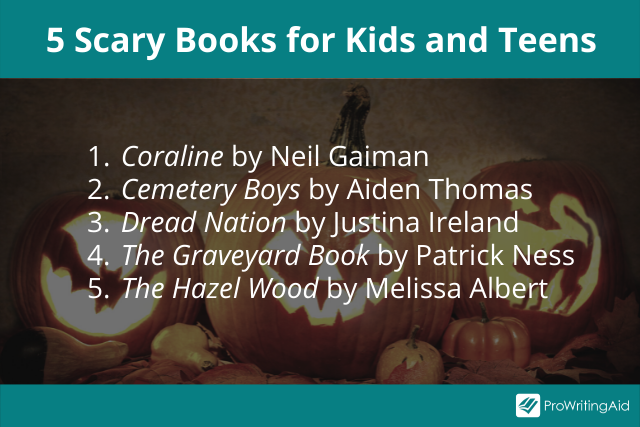 Coraline by Neil Gaiman
Why we love it: It features a strange mother who wants to sew buttons onto our eyes.
Coraline finds a strange reflection of her own house with an Other Mother and Other Father who never want to let her go.
Cemetery Boys by Aiden Thomas
Why we love it: It's a coming-of-age ghost story.
A trans Latinx boy accidentally summons the wrong spirit before Día de Muertos.
Wilder Girls by Rory Power
Why we love it: It feels like a feminist Lord of the Flies.
The Tox hits the Raxter School for Girls, causing the teachers to die and the students' bodies to change.
Dread Nation by Justina Ireland
Why we love it: It's a post-Civil War story—with zombies.
African-American children are forced to attend combat schools to learn to kill the living dead.
The Graveyard Book by Neil Gaiman
Why we love it: It's The Jungle Book set in a cemetery instead of a jungle.
A boy raised by spirits in a graveyard must find the courage to face his family's killer.
A Monster Calls by Patrick Ness
Why we love it: It has themes of overcoming loss and grief.
A thirteen-year-old boy with a very ill mother meets a monster outside his bedroom window.
The Raven Boys by Maggie Stiefvater
Why we love it: It's full of found family and strong friendships.
A girl with a clairvoyant mother has been warned that she will cause her true love to die.
The Forest of Hands and Teeth by Carrie Ryan
Why we love it: It's about sheltered characters slowly figuring out the truth.
The fence protecting Mary's village from the Forest of Hands and Teeth gets breached.
The Hazel Wood by Melissa Albert
Why we love it: It's a tribute to dark fairy tales and supernatural stories.
Alice's mother disappears, leaving only one message: "Stay away from the Hazel Wood."
House of Hollow by Krystal Sutherland
Why we love it: It has strange, creepy twists.
Three sisters try to overcome a childhood trauma they can't quite remember.
Conclusion on Best Halloween Books
There you have it—our top fifty favorite Halloween books. We hope this article helped you find some new books to explore this October.
Happy reading!
---