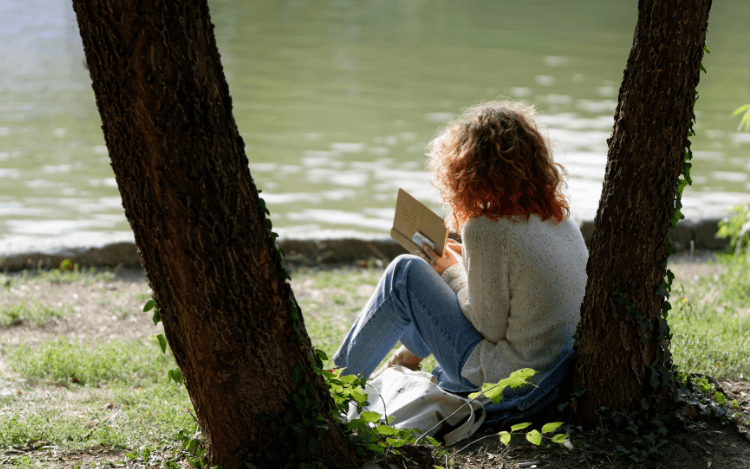 Reading books is one of the most enjoyable hobbies available to us today, especially if you pick up one of the best fiction books ever written. If you're looking for a book recommendation for any of the best fiction books, this list is for you.
The title of "best fiction book" is certainly subjective, as everyone has their own taste for reading. Critics award some books for their excellence, while others become bestsellers because of large sales numbers.
In this article, we'll give you our list of the 80 best fiction books in several genre categories.
The 10 Best Fiction Books to Read
The first books in our list are a mix of classic and contemporary literature that are critically acclaimed or incredibly popular with readers.
1.
Wolf Hall
by Hilary Mantel
Thomas Cromwell proves he is an ambitious man by becoming the chief advisor to King Henry VII.
2.
The Great Gatsby
by F. Scott Fitzgerald
Millionaire Jay Gatsby longs to be with the woman he loves, even though she's married to someone else.
3.
American Psycho
by Bret Easton Ellis
Patrick Bateman appears to have the perfect life, but under the surface lurks a psychopath with a lesson for all of us.
4.
Nineteen Eighty-Four
by George Orwell
In a dystopian society where Big Brother watches everyone, Winston Smith attempts to rebel against the Party in the name of liberty and truth.
5.
The Road
by Cormac McCarthy
A father and son walk through a post-apocalyptic America trying to survive.
6.
To Kill a Mockingbird
by Harper Lee
Scout Finch narrates the story of how her father defended a black man in a case where he was falsely accused of raping a white girl. 
7.
Moby Dick
by Herman Melville
Ishmael, a sailor, joins the crew of a whaling ship and sets sail under the direction of a captain who is obsessed with killing the famous whale, Moby Dick.
8.
One Flew Over the Cuckoo's Nest
by Ken Kesey
Chief Bromden narrates the story about how a new patient at the Oregon State mental hospital challenges the powers which aim to keep the patients imprisoned.
9.
Catch-22
by Joseph Heller
Stationed in the Mediterranean Sea toward the end of World War II, Yossarian sees no escape from the enemy or from the army he's a part of.
10.
One Hundred Years of Solitude
by Gabriel García Márquez
The Colombian town of Macondo, founded by Jose Arcadio Buendia, is the place of many strange and magical events that affect several generations of the Buendia family.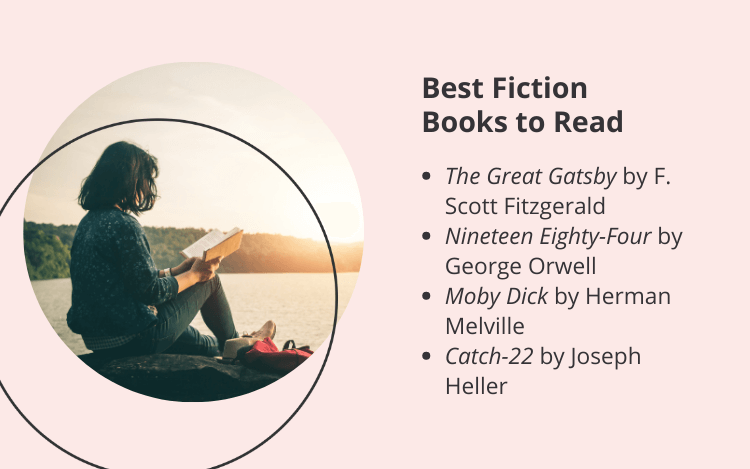 10 Popular Fiction Books in the Romance Genre
Whether you want to read a timeless story about love or a beautifully written account of how romance can restore faith in yourself, the romance genre has it all. Here's our list of the top ten romance books.
11.
The Notebook
by Nicholas Sparks
Noah Calhoun and Allie Hamilton meet again after seven years of separation, but she's engaged to someone else.
12.
Pride and Prejudice
by Jane Austen
The arrogance of Mr. Darcy initially shocked and repulsed Elizabeth Bennet, but she learns first impressions aren't always correct in this timeless classic.
13.
Bridget Jones's Diary
by Helen Fielding
In her thirties, Bridget Jones feels pressure to secure a long-term relationship while also maintaining a career and keeping her family together.
14.
Normal People
by Sally Rooney
Connell and Marianne aim to prove that mismatched friendships can grow into something more, but the journey tests them more than they expected. 
15.
The Color Purple
by Alice Walker
When Celie meets Shrug Avery, she finds inspiration to escape her life of hardship and reunite with those she's lost along the way.
16.
The Time Traveler's Wife
by Audrey Niffenegger
Faced with Henry's condition that causes him to time travel arbitrarily through his timeline, is it possible for the love of Clare and Henry to remain strong?
17.
It Ends With Us
by Colleen Hoover
Lily's relationship with Ryle becomes dangerous when a man she once loved comes back into her life.
18.
The Duke and I
by Julia Quinn
The Duke of Hastings, Simon Basset, begins a fake relationship with Daphne Bridgerton so he can avoid the ambitious mamas of the Ton and Daphne will appear more attractive to potential suitors. 
19.
Call Me By Your Name
by André Aciman
Elio falls in love with a visiting student, but Oliver is reluctant to admit he has similar feelings for him.
20.
Love Story
by Erich Segal
Oliver and Jenny come from different social backgrounds, but they don't let that stop their love for each other as they try to work through everything life throws at them.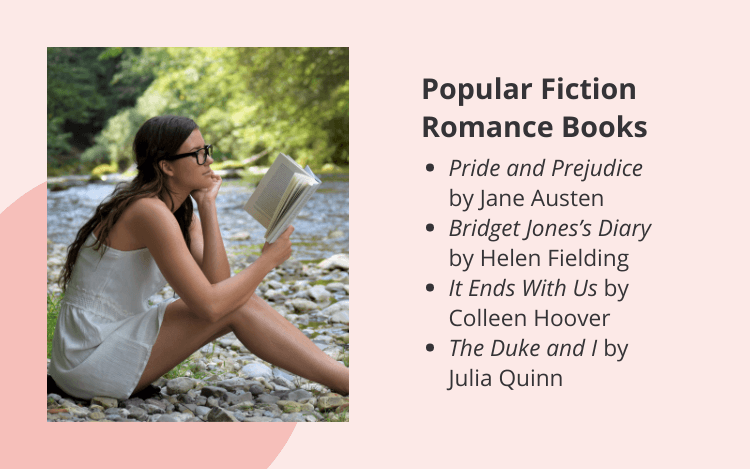 10 Must-Read Fiction Books in the Crime Genre
Crime is one of the most popular genres of novels today, so it was really difficult to pin down ten of the best fiction books in the crime genre.
21.
And Then There Were None
by Agatha Christie
Ten strangers arrive on Soldier Island, and they're accused of horrific crimes. When one of them dies, they aim to locate the murderer amongst their party.
22.
The Da Vinci Code
by Dan Brown
Robert Langdon has to decipher a coded message left by a homicide victim, which sends him on a journey to solve a puzzle that's centuries old.  
23.
Where the Crawdads Sing
by Delia Owens
Kya, known as the "Marsh Girl," becomes the prime suspect after her lover, Chase Andrews, turns up dead.
24.
Gone Girl
by Gillian Flynn
When Nick's wife, Amy, goes missing, he aims to solve the mystery while also being a suspect and discovering his wife's dark secrets.
25.
Silence of the Lambs
by Thomas Harris
Clarice Starling enlists the help of forensic psychiatrist Hannibal Lecter, despite his conviction as a cannibal, as she hunts down the serial killer called "Buffalo Bill."
26.
Killing Floor
by Lee Child
The cops arrest Jack Reacher as a prime suspect in a murder investigation. He is proven innocent as more murders turn up.
27.
The Girl with the Dragon Tattoo
by Stieg Larsson
Journalist Mikael Blomkvist and computer hacker Lisbeth Salander join forces to investigate the disappearance of Harriet Vanger.
28.
Cover Her Face
by P.D. James
DCI Adam Dalgliesh investigates the violent murder of Sally Jupp, a newly engaged parlor maid. 
29.
The Girl on the Train
by Paula Hawkins
Rachel is a young woman who takes the same train every morning, watching the lives of the people in the houses she passes. Until one day, when she sees something shocking and everything changes as she is dragged into their lives.
30.
Fingersmith
by Sarah Waters
Sue Trinder and Maud Lilly, two orphans, have a complicated narrative created by people they've had faith in since they were young.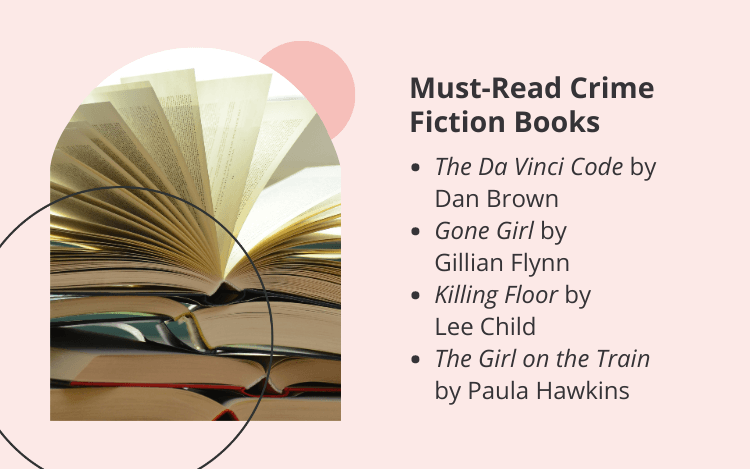 10 Fiction Books to Read in the Fantasy Genre
We love escaping to a fantasy world when we sit down to read a good novel, so here's our ten best fiction books in the fantasy genre.
31.
The Hobbit
by J.R.R. Tolkien
A hobbit named Bilbo Baggins embarks on an adventure with dwarves and a wizard, as they intend to unseat a dragon from its control over the dwarven stronghold. 
32.
A Court of Thorns and Roses
by Sarah J. Maas
Feyre is a mortal who finds herself the prisoner of Tamlin for the crimes of killing a faerie.
33.
A Wizard of Earthsea
by Ursula K. Le Guin
When he was young and naive, Ged accidentally released a shadow-beast into the world of Earthsea. Now Ged is older and wiser, only he can rid the world of the evil creature.
34.
Mort
by Terry Pratchett
Death recruits Mortimer to become his apprentice, much to the disapproval of Death's daughter, Ysabell. 
35.
The Golden Compass
by Philip Pullman
When Lyra receives a truth-telling device called an alethiometer, she sets out to solve the mystery of how a group of child abductors keeps stealing children.
36.
The Night Circus
by Erin Morgenstern
A magical circus of dreams appears one day. It opens at night and closes by dawn.
37.
A Game of Thrones
by George R.R. Martin
The great houses clash, as they each play a part in the game of who will take the Iron Throne and rule the kingdom as a horrible winter looms on the horizon.
38.
Assassin's Apprentice
by Robin Hobb
Fitz, a bastard son of the crown prince, must train to become an assassin so he can save the kingdom.
39.
Stardust
by Neil Gaiman
When Tristan promises to retrieve a fallen star for his love, Victoria, he finds himself in a dangerous, magical world beyond the ancient wall at the edge of town.
40.
Six of Crows
by Leigh Bardugo
A crew of six outcasts attempt a deadly heist that will test how well they can work as a team.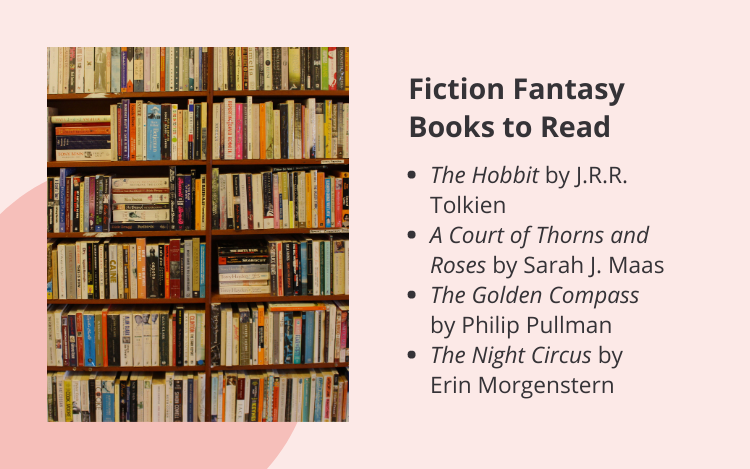 10 Good Fiction Books to Read in the Science-Fiction Genre
Science-fiction books are perfect for book lovers wanting to escape to a new planet, a dystopian world, or an alternate reality where everything is different and interesting. Here's our ten best books from the science-fiction genre.
41.
Dune
by Frank Herbert
Paul sets out to avenge his father and take back control of the planet Arrakis, where the most precious resource in the universe is located.
42.
Do Androids Dream of Electric Sheep?
By Philip K. Dick
Rick Deckard is a bounty hunter who dreams of owning a live animal. One day, he's given an assignment that should pay him enough to achieve his dream. 
43.
The Hitchhiker's Guide to the Galaxy
by Douglas Adams
One day, Arthur Dent's house is demolished, his best friend admits he's an alien, and then Earth is destroyed to clear a path for a hyperspace express route. That's just the start of Arthur's journey.
44.
The Martian
by Andy Weir
Mark is stranded in a habitat on Mars and has to overcome the dangers of the planet if he's going to survive.
45.
The War of the Worlds
by H. G. Wells
When Martians invade Earth, destroying everything in their way, the narrator shows us the strength of humanity's will to survive. 
46.
Fahrenheit 451
by Ray Bradbury
In a dystopian world, where books are forbidden, Guy Montag is a fireman tasked with burning books.
47.
Ready Player One
by Ernest Cline
Wade Watts escapes into a virtual world where everyone is hunting for a lottery ticket, which will give them control of the reality they would all prefer to live in.
48.
The Handmaid's Tale
by Margaret Atwood
In Gilead, everyone is given a purpose. Offred's purpose is to breed.
49.
20,000 Leagues Under the Sea
by Jules Verne
Pierre Aronnax and his crew search for a sea monster until they are caught by Captain Nemo and board the Nautilus submarine.
50.
Ender's Game
by Orson Scott Card
Ender Wiggin must survive brutal training to become humanity's savior from an alien threat.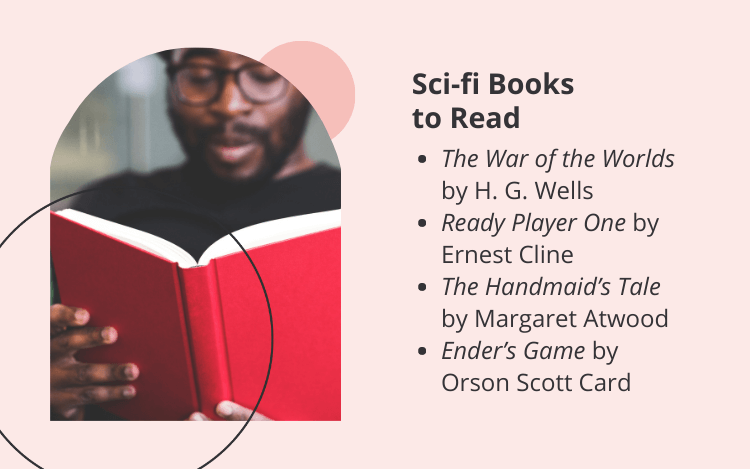 10 Top Fiction Books in the Horror Genre
There are so many bone-chilling horror novels that will keep you up at night in fear of what's within their pages. Here are the ones we've picked as the ten best horror fiction books.
51.
The Shining
by Stephen King
Jack Torrance and his family move into the Overlook Hotel as he becomes the caretaker, and supernatural events suggest the hotel has a mind of its own.
52.
Frankenstein
by Mary Shelley
Young scientist, Victor Frankenstein, aims to create a humanoid creature using his secret method for reanimating non-living matter.
53.
The Haunting of Hill House
by Shirley Jackson
Four people decide to stay at Hill House to find out once and for all if it is haunted.
54.
The Exorcist
by William Peter Blatty
Father Damien Karras is asked to perform an exorcism on a child who is believed to be possessed by a demon.
55.
The Woman in Black
by Susan Hill
Arthur Kipps visits a small town to attend a funeral and finds himself haunted by a mysterious woman in black.
56.
World War Z: An Oral History of the Zombie War
by Max Brooks
A new pandemic quickly escalates to become a horrific fight for survival against the horde.
57.
Mexican Gothic
by Silvia Moreno-Garcia
When Catalina reaches out to Noemi with suspicions that her husband is trying to kill her, Noemi investigates.
58.
NOS4A2
by Joe Hill
Vic McQueen has a special ability that comes in handy as she tracks down a serial killer known as the Wraith.
59.
Dracula
by Bram Stoker
Jonathan Harker travels to Transylvania to help a nobleman purchase a house near London. He finds there's more to Count Dracula than he initially thought.
60.
Let the Right One In
by John Ajvide Lindqvist
Oskar and Eli begin an unlikely friendship. One is a 12-year-old boy, and the other is a 200-year-old vampire.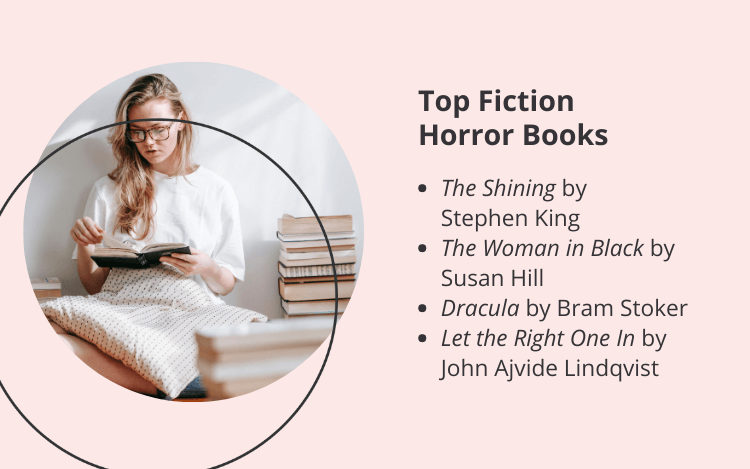 10 Best Children's Fiction Books to Read
Reading is one of the best ways to develop your mind and learn about the world. Here are ten of the best fiction books for children, which are perfect for developing a love for reading.
61.
The Lion, the Witch, and the Wardrobe
by C.S. Lewis
Lucy works with her siblings and a lion in her quest to free Narnia from the clutches of the White Witch.
62.
Charlie and the Chocolate Factory
by Roald Dahl
Charlie wins a ticket to visit Willy Wonka's famous chocolate factory.
63.
Skellig
by David Almond
A 10-year-old boy finds a creature living in the garage of his new house. He helps by bringing food so he can learn more about the strange person.
64.
Charlotte's Web
by E.B. White
Charlotte is a spider who creates amazing webs with words in them to spare the life of a pig she becomes friends with.
65.
The Tale of Peter Rabbit
by Beatrix Potter
Peter Rabbit gets into trouble as he dares to go into Mr. McGregor's vegetable garden.
66.
The Very Hungry Caterpillar
by Eric Carle
A starving caterpillar goes on an adventure to eat as much as he can.
67.
Where the Wild Things Are
by Maurice Sendak
After being sent to his room, Max finds himself transported to an island where monsters called Wild Things live.
68.
Curious George
by Hans Augusto Rey and Margret Rey
The Man with the Yellow Hat adopts an orphaned monkey named George.
69.
Oh, the Places You'll Go!
By Dr. Seuss
The narrator tells a beautiful story about all the places you, the protagonist, will go.
70.
Wonder
by R.J. Palacio
August Pullman has Treacher-Collins syndrome and tells of how people react to seeing his disfigured face as he starts school life.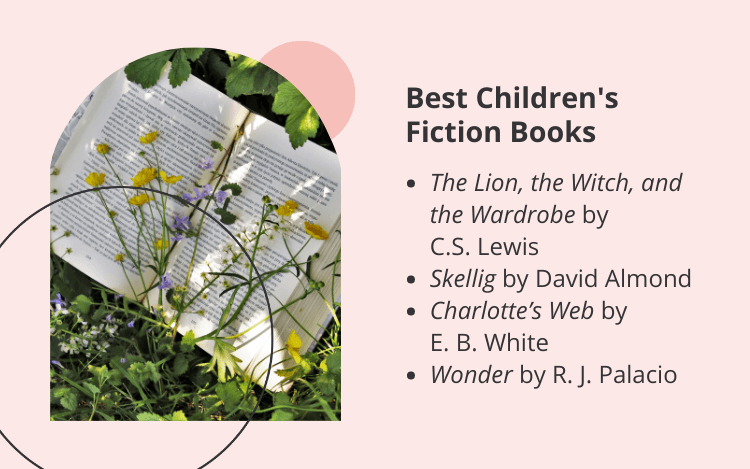 The 10 Best Young Adult Fiction Books
Young adult fiction has become one of the biggest categories of books in today's publishing world, so there's a massive selection to choose from. Here are our choices for the ten best novels in the young adult category.
71.
The Fault in Our Stars
by John Green
Hazel hates going to her Cancer Support Group until the day when Augustus attends.
72.
The Hunger Games
by Suzanne Collins
Katniss Everdeen volunteers as tribute for her district in the Hunger Games competition, held every year, where 24 children must fight to the death until there's only one victor.
73.
The Book Thief
by Markus Zusak
In 1939 Germany, Liesel discovers a love for books and steals them from Nazi book-burnings.
74.
Divergent
by Veronica Roth
In a world split into five factions, sixteen-year-olds must pick a side and then complete an intense initiation that pushes them to their limits.
75.
Noughts & Crosses
by Malorie Blackman
Even though noughts are the enemies of crosses, Callum and Sephy develop a loving relationship from either side of the divide.
76.
The Perks of Being a Wallflower
by Stephen Chbosky
Charlie is an introverted teen who shares his thoughts and emotions as he grows and develops from an adolescent to an adult.
77.
City of Bones
by Cassandra Clare
Clary Fray is thrust into a world full of Shadowhunters and demons in New York when she witnesses a murder in a club appropriately named Pandemonium.
78.
Stormbreaker
by Anthony Horowitz
Alex Rider becomes a teenage spy for MI6.
79.
Angus, Thongs, and Full-Frontal Snogging
by Louise Rennison
Georgia Nicolson shares details of all the challenges she faces as a teenage girl trying to catch the attention of the boy she has a crush on.
80.
Eleanor & Park
by Rainbow Rowell
Eleanor meets Park on her first day at a new school and their relationship develops thanks to their shared love for comic books and mixtapes.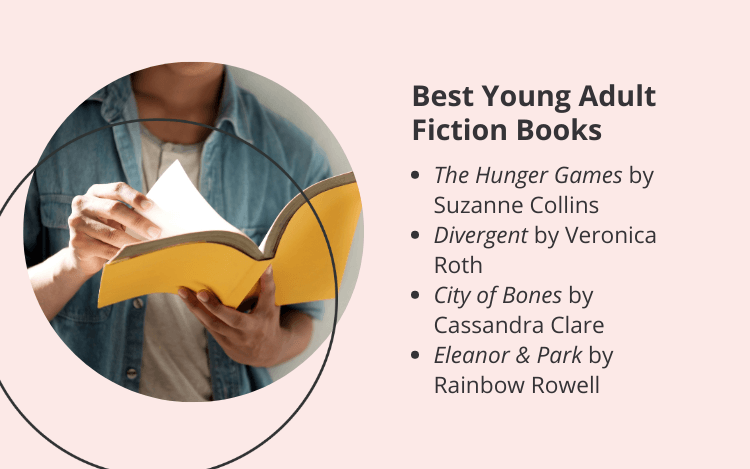 How We Selected the Top Fiction Books
It's difficult picking just 80 titles out of the millions of published books in the world.
According to a Google study conducted in 2010, there were about 130 million published books. Since then, millions more writers have published novels, but it's hard to track the figures, as there's no one definitive way to do it.
The books we chose for our list were those that received awards for their excellence, those with a high number of sales, and those that readers have deemed to be some of the top books in each area we sorted them into.
If the books you think are the best do not appear on our list, it doesn't mean they aren't the best. Our list is small and certainly not objective, so it's likely that there are many more amazing books we could have included. However, that list would probably go on forever.
We hope our list of the best fiction books has given you some titles to add to your to-be-read list.
---