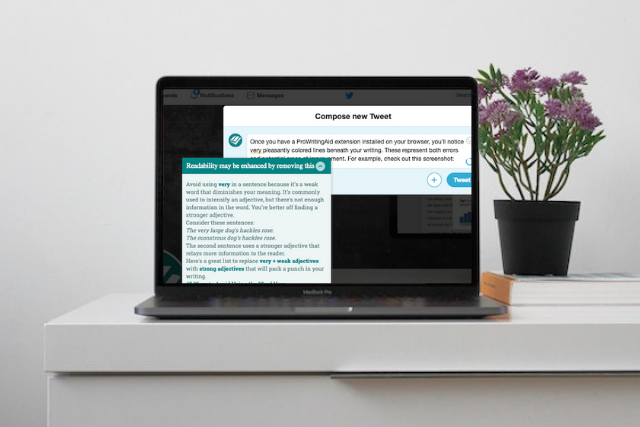 Love Twitter? Us too. It's one of the best places to learn, read, and discuss. Where else can you have live chats about the latest Game of Thrones episode?
For writers, Twitter also offers a unique opportunity to meet like-minded people. And if we interact with other writers, we want to make sure we write well, right? ProWritingAid can help with that.
Our Google Chrome and Apple Safari extensions work beautifully within Twitter's web client. They give you fast edits, writing improvement tips, and a clean workspace. Let's see how it works!
Edit Your Tweets
Once you have a ProWritingAid extension installed on your browser, you'll notice very pleasantly colored lines beneath your writing. These represent both errors and potential areas of improvement. For example, check out this screenshot: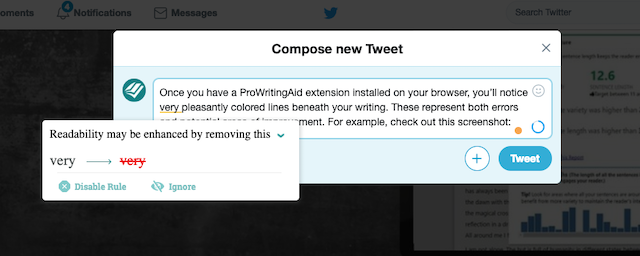 While it's not technically incorrect to use the word "very," most writers agree that adverbs add length to a sentence without adding much meaning. Plus, cutting needless words gives you more flexibility with Twitter's all-important character count.
Learn More About Writing
Suggestions aren't worth as much without details. That's why most of our suggestions come with explanations. Try hovering over an error like in the previous step. If you see a down arrow in the upper right-hand corner, click it. You'll see something like this: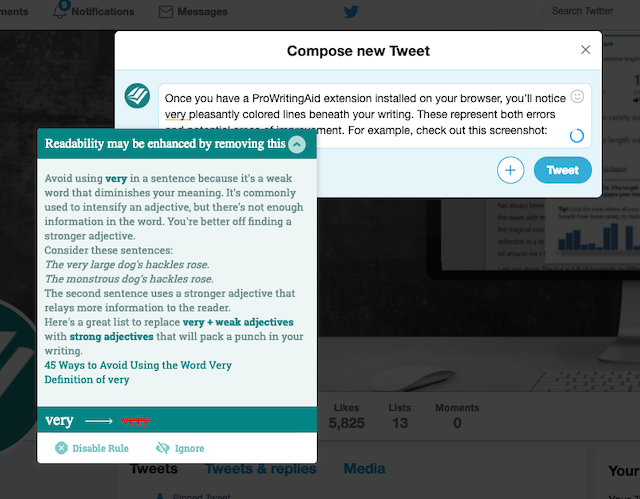 Knowing is good, but knowing why is better. Some online editors might identify errors, but ours is one of the few apps on the market that explains them. We believe this is an essential step toward improving your writing skills. We even add links to relevant articles when possible, such as in the example above.
Clean Your Space
All these edits and suggestions are helpful, but you might prefer tweeting first and editing later. If so, click the ProWritingAid icon to the right of your address bar.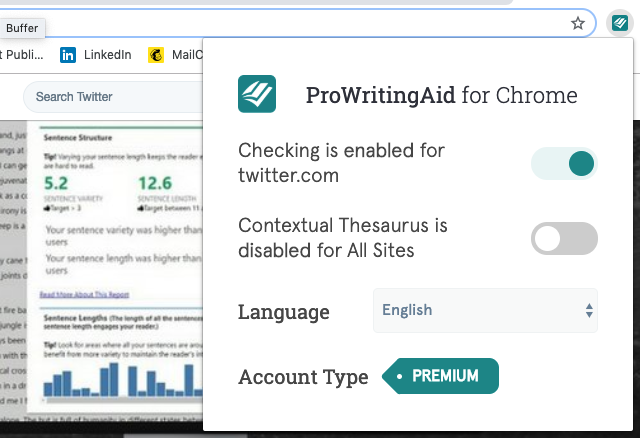 Click the slider next to "Checking is enabled for www.twitter.com" so that it switches from right to left. Doing so will turn off edits—at least for a while. When you're finished composing and ready for edits, just switch the slider back on. Edit away and tweet when ready!
Try ProWritingAid on Twitter Today!
Time to delight your followers with your flawless grammar. Download our Chrome or Safari extensions today, then get started. Happy editing!
---