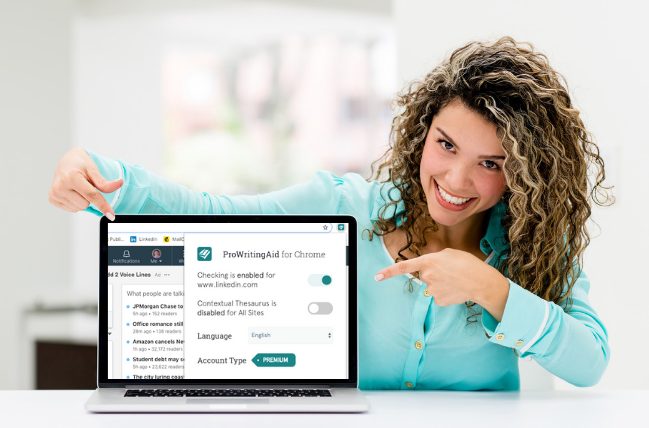 "Helo. My name is Kyle Im applying to bee a writer at ProwritingAid."
Would you hire me? I wouldn't!
Nothing says "unprofessional" like grammatical mistakes. We know you care about your writing, but errors like the ones above say otherwise. In your professional world, you want to be known as meticulous and detail-oriented—not careless and haphazard.
For most writers, a LinkedIn profile is the best representation of their professional persona. As such, it should be error free. ProWritingAid can help with that! Think of us like your personal quality assurance department.
Our Chrome and Safari extensions are perfect for real-time editing, distraction-free writing, and overall improvement. In this article, we'll show you how the extensions work and how they can help you.
Immediate Edits
Whether you're crafting a LinkedIn Pulse article or commenting on a colleague's update, you don't have time to waste. Fortunately, our app gives you edits as you type—no extra button-pressing needed.
While you type, look for lines like these: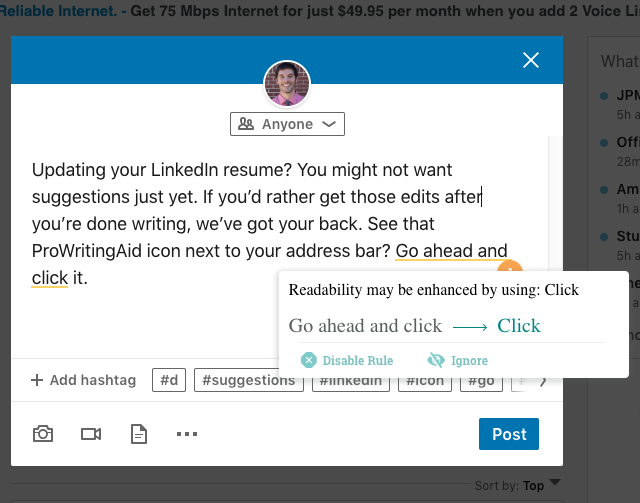 Each underline represents a potential error or stylistic suggestion. Simply hover over them to get suggestions like the one in the screenshot above. If you like it, click it. Our app will automatically correct your text. If you don't like the suggestion, click ignore. Save time and get back to networking!
Clean Workspace
Updating your LinkedIn resume? You might not want suggestions just yet. If you'd rather get those edits after you're done writing, we've got your back. See that ProWritingAid icon next to your address bar? Click it.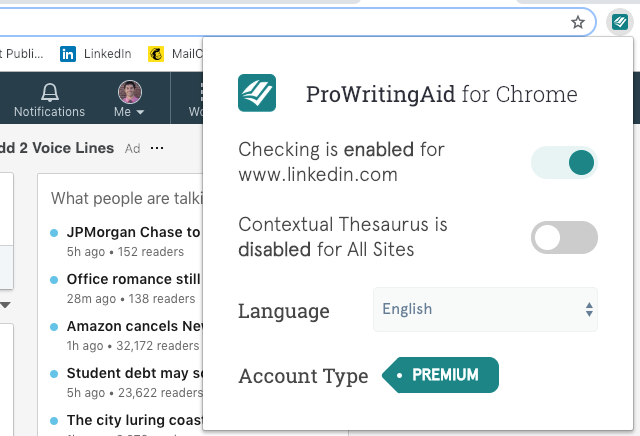 Next, click the slider to the right of "Checking is enabled for www.linkedin.com." Doing so disables suggestions for as long as you'd like. Continue with your work, distraction free. When you're ready for edits, follow the same procedure to switch ProWritingAid back on.
Writing Improvements
Spell checkers do their jobs. But they don't go above and beyond like ProWritingAid does. Our app not only edits your work—it helps make you a better writer!
Remember when you hovered over those suggestions for your work? Try that again. Sometimes you'll notice a down arrow in the upper right-hand corner. Click it!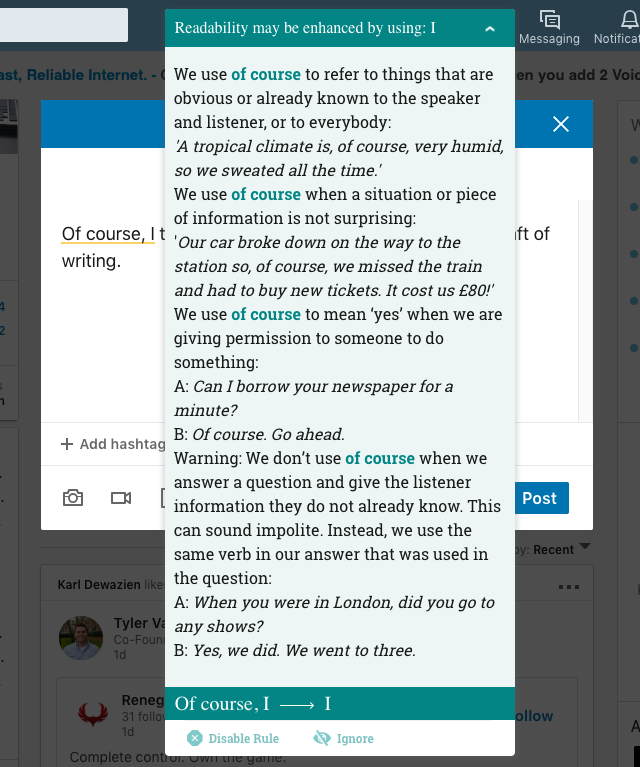 We think these explanations are the difference between giving a person a fish and teaching them how to fish. Each one explains not just what the error is, but why it's incorrect. We even offer examples when applicable, along with advice on when it's okay to break certain rules. It's one of the top items on ProWritingAid's resume.
Try ProWritingAid on LinkedIn Today!
Download our Chrome or Safari extensions, then try ProWritingAid free for 14 days.
Happy editing!
---