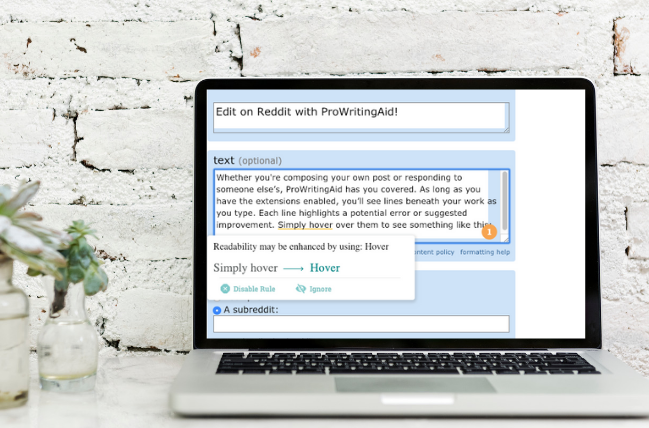 Whether you're looking for writing tips, genre discussion, or Star Wars prequel memes, you can find it all (and more) on Reddit.
If you're reading this post, you've probably visited the site before. So have we! We know it's one of the best places for writers to gather. That's why we designed our Chrome and Safari extensions to work so well with it.
Next time you're on Reddit, here's why you'll want to use ProWritingAid.
Edit As You Type
Whether you're composing your own post or responding to someone else's, ProWritingAid has you covered. As long as you have the extensions enabled, you'll see lines beneath your work as you type. Each line highlights a potential error or suggested improvement. Simply hover over them to see something like this: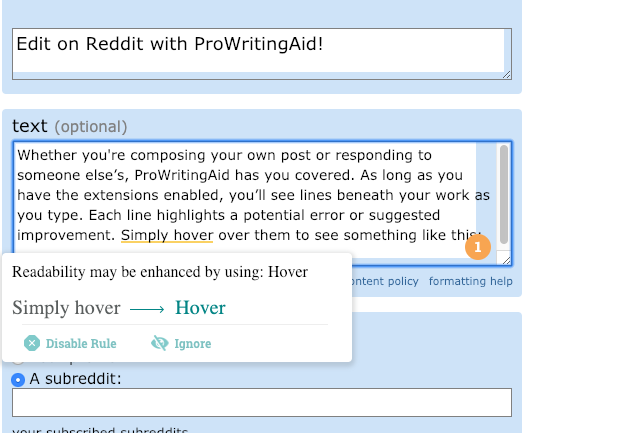 If you'd like to make the suggested correction, click it. ProWritingAid will automatically fix your text. If you want to keep things the way they are, just click "Ignore."
Mitigate Distractions
Working on a lengthy post for r/cats? I know, me too. Though you need those ProWritingAid suggestions, you might not want them appearing while you're working. No worries! We've made it easy to switch our suggestions on and off.
See that ProWritingAid icon to the right of your address bar? Go ahead and click that. You'll see this pop-up window: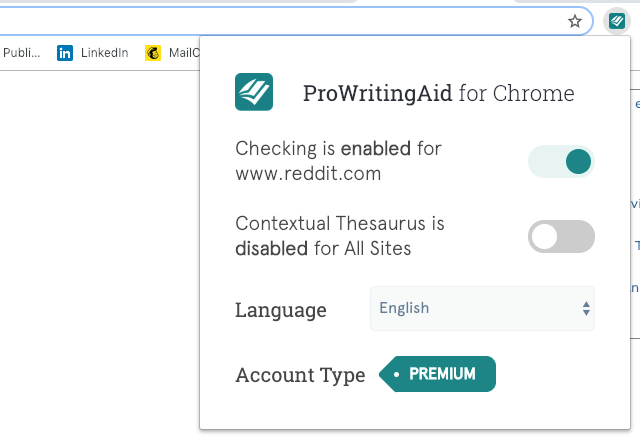 Where it reads "Checking is enabled for www.reddit.com," just click that slider to the right. Doing so shuts off our suggestions.
Still, we know you'd never abandon us! When you're done writing and ready to edit, just follow the same procedure to turn edits back on. All set with just a few clicks.
Improve Your Writing
Fear not, Redditors. ProWritingAid is way more than just a spellchecker. It also makes you a better writer.
To find out how, hover over errors in your work and look for a down arrow in the upper right-hand corner. If it's there, click it. You'll see something like this.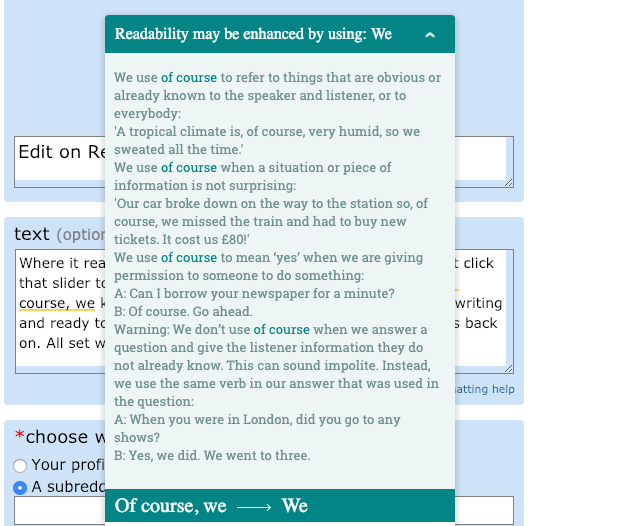 For most grammatical or stylistic errors, we provide in-depth explanations of why they're flagged. It's sort of like asking your teacher for extra help (only this teacher is online whenever you are). We believe that taking the extra step to explain the error, rather than just pointing it out, helps improve your writing in the long term.
Try ProWritingAid on Reddit!
Download our Chrome or Safari extensions, then try ProWritingAid free for 14 days.
Happy editing, Redditors!
---