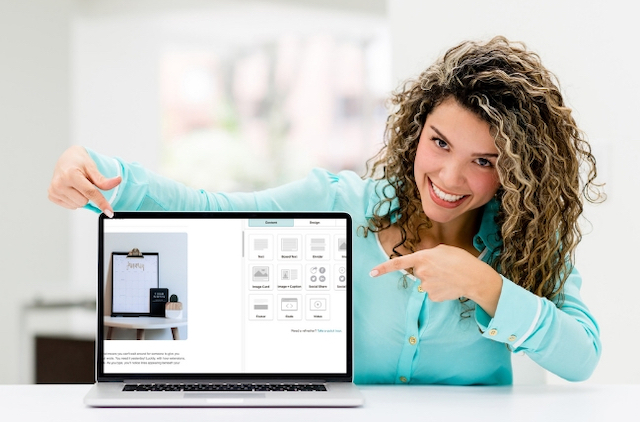 Writing emails on MailChimp? You've got to be sure they're concise, compelling, and above all, clean. Errors in your copy (and perhaps worst of all, your subject line), aren't going to fly. That's where ProWritingAid can help!
We designed our Google Chrome and Safari extensions to work within MailChimp so you never have to leave your email client. We'll catch all the grammatical and spelling errors you'd expect, plus way more. Let's take a look at three reasons you'll love our editor.
Quick Response
Email is all about timing. That means you can't wait around for someone to give you feedback on the draft you just wrote. You need to send that newsletter, stat! Luckily, with our extensions, you get immediate feedback. As you type, you'll notice lines appearing beneath your work, like these.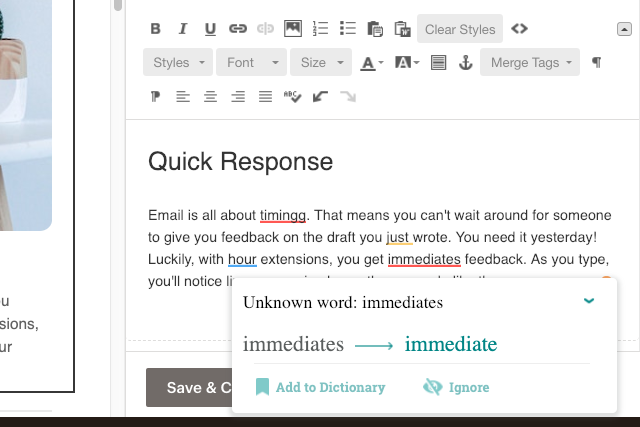 Just hover over the underlined errors and you'll get a pop-up window like the one above. It describes the potential issue and suggests a fix. If you like the suggestions, you can click it and ProWritingAid will correct the error for you. If not, you can just click "ignore" and move on with your email crafting. (Note: We can't correct gratuitous use of the party emoji in subject lines. At least not yet.)
Advanced Suggestions
We know what you might be thinking. There are tons of spellcheckers and grammar bots in the world. Why use this one? Well, ProWritingAid makes improvements to your email content that no other software can. Take, for example, this subject line:
"How Businesses Are Taken to the Next Level"
Not bad. I'd probably open that email. However, if you're using ProWritingAid, you'll notice a yellow line beneath parts of this sentence. Scroll over it to see what's happening.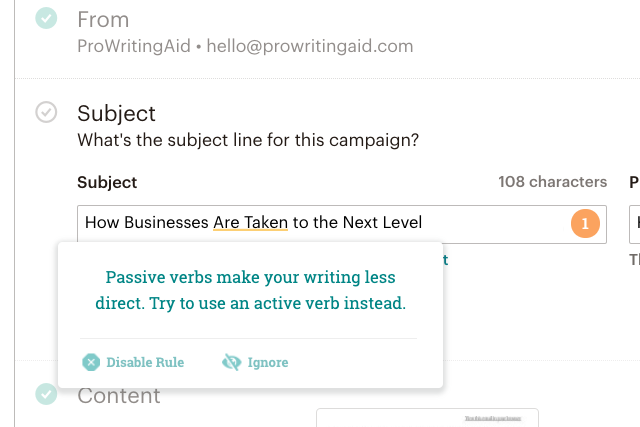 Passive voice isn't always bad, but here, we want to change it. This subject line removes any active participant from the event, which is not what we want. Let's get our readers feeling like they're part of the action.
"How to Take Your Business to the Next Level"
Now that reads like something I can picture myself doing. A seemingly small change like this might raise an email's open rate by several percentage points, which could be huge! You won't get that kind of help from any old spellchecker.
No Distractions
Finally, we know that sometimes you just have to bang out that weekend email. Or, you might be the sort of email marketer who prefers a cleaner approach. No matter which you are, we can help.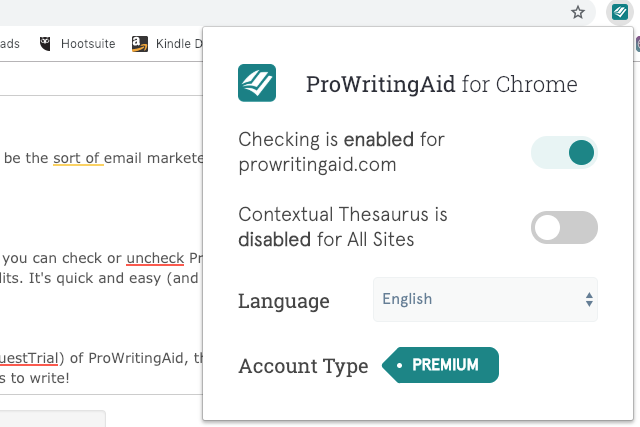 Click the ProWritingAid icon near your address bar. Doing so will open a little dialog box where you can check or uncheck ProWritingAid's suggestions. Feel free to switch off our suggestions while you write, then turn them back on when you're ready for edits. It's quick and easy (and we promise we won't be offended).
Edit Those Emails!
What are you waiting for? Download our free Google Chrome or Safari extensions, then start your free 14-day trial. Happy editing!