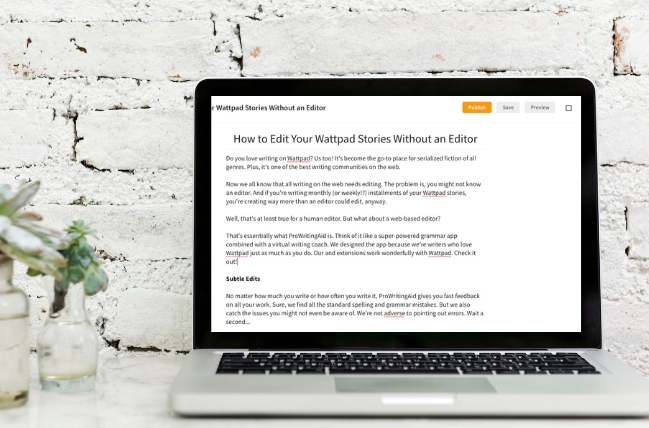 Do you love writing on Wattpad? Us too! It's become the go-to place for serialized fiction of all genres. Plus, it's one of the best writing communities on the web.
We know that all writing on the web needs editing. The problem is, you might not know an editor. And if you're writing monthly (or weekly!?) installments of your Wattpad stories, you're creating way more than an editor could edit, anyway.
Well, that's at least true for a human editor. But what about a web-based editor?
That's what ProWritingAid is. Think of it like a super-powered grammar app combined with a virtual writing coach. We designed the app because we're writers who love Wattpad just as much as you do. Our Google Chrome and Mac OS Safari extensions work wonderfully with Wattpad. Check it out!
Subtle Edits
No matter how much you write or how often you write it, ProWritingAid gives you in-depth feedback on your work. Sure, we find all the standard spelling and grammar mistakes. But we also catch the issues you might not even be aware of. We're not adverse to pointing out errors. Wait a second...

Subtle errors like this won't be noticed by standard spellcheckers, but they will be noticed by careful readers. If you make enough of these errors, you might get negative comments and lose a portion of your readership.
Instant Feedback
Wattpad readers want clean, consistent, and excellent writing. We know you've got the last one covered, but the first two can be a bit trickier. For clean work, you need an editor. For consistent output, you need a fast editor. We've got you covered.
Our browser extensions edit as you write, so you need not switch windows, run special reports, or really do anything except continue writing. It's very cool.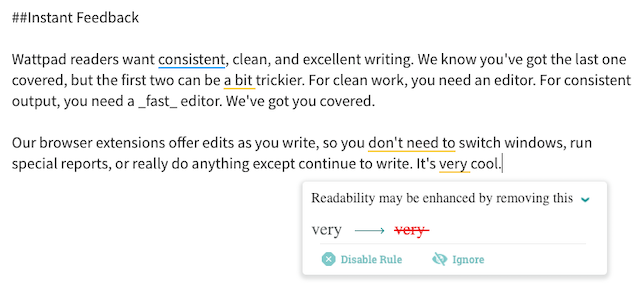 Sorry. It's just cool.
Distraction-Free Writing (When You Need It)
During the writing process, some Wattpad authors might prefer to hide ProWritingAid's suggestions—at least for a little while. If that's you, it's okay. We promise you won't hurt our feelings. In fact, we've made it easy to switch edits on and off. Simply navigate up to the ProWritingAid icon near the address bar and click it.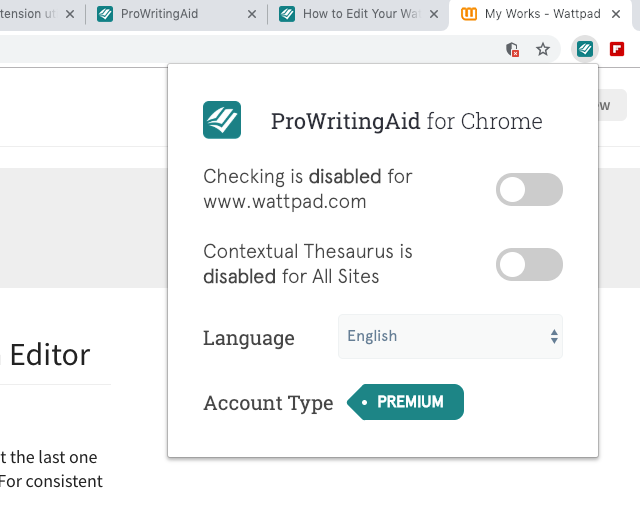 Doing so shuts off writing suggestions for as long as you'd like. Feel free to write without distractions. Then, when you're ready, flip ProWritingAid back on and make those edits. We think it's easy, quick, and fun—just like Wattpad!
Ready, Wattpad Fans?
So now you really do have an editor for your work...ProWritingAid! Take the Chrome or Safari extensions for a spin. Enjoy!
---