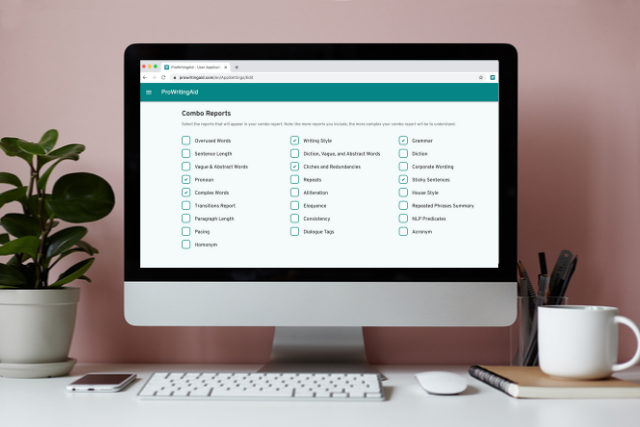 ProWritingAid has customizable reports that help you find any manner of technical or stylistic gaffes in your work. In previous versions of ProWritingAid, the House Style report allowed you to set your own patterns and rules for situations specific to your writing. This report is being phased out now, but never fear! The House report is reborn in Style Guides, which allow even more personalization.
In this article, we'll look at the Combo Report, Style Guides, and what will happen if you've already got saved House Style patterns.
The Combo Check
The Combo Check lets you customize a report to look for your own specific problem areas. This is the perfect feature for copywriters, content specialists, bloggers, and others who edit a lot of shorter documents.
Who knows your bad writing habits better than anyone else? You do! So you choose the key reports you need to run every single time before you send anything out to a client or an editor.
You can change your Combo Report in your App Settings. In the Web Editor, just go to 'Menu', then 'Settings' as in the screenshot below: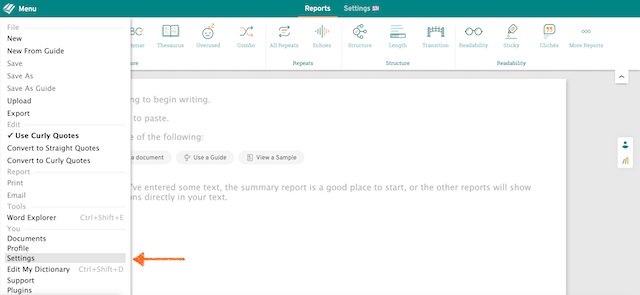 In the Desktop App, go to 'ProWritingAid', and then to 'Preferences'.
You can choose from any ProWritingAid report with the Combo Check. I have a bad habit of writing sticky and extra long sentences, plus some other annoying errors. I've created a Combo Check report that looks like this: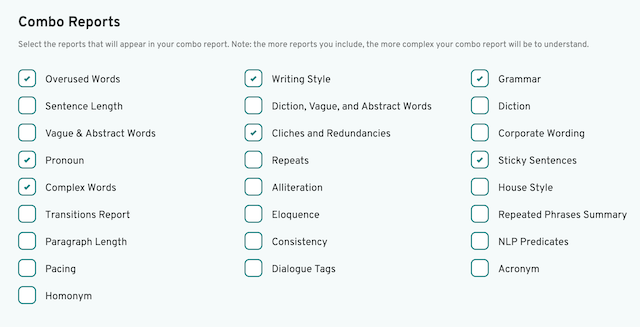 The more reports you include in your Combo Check, the more complex your report will be to interpret. But generally I recommend including a maximum of 4-5 reports, otherwise it can become overwhelming.
Consider how you could change the Combo Check depending on what you're writing. You may have problems with corporate wording when you write blog posts and adverbs in dialogue when writing fiction. Just change up your Combo Check settings for each type of writing you're editing.
Style Guides (Formerly the House Style Report)
If you're a premium user, you can create your own Style Guide. Use the Style Guide for specific situations where you need to write in a certain way. For example, if your 9-to-5 job is working in a law firm, they may want all lawyers referred to as "attorney." You can create a rule that flags anytime you write "lawyer" and ask you if you meant to write "attorney" instead.
You can add and remove Style Guide rules as you please in your App Settings. Just go to 'Menu' in the Web Editor to access them. Here is what it looked like in the ProWritingAid settings when I created the 'lawyer' rule: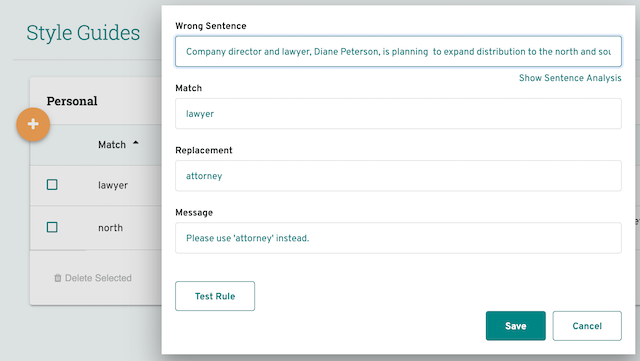 And this is how that rule appears in ProWritingAid: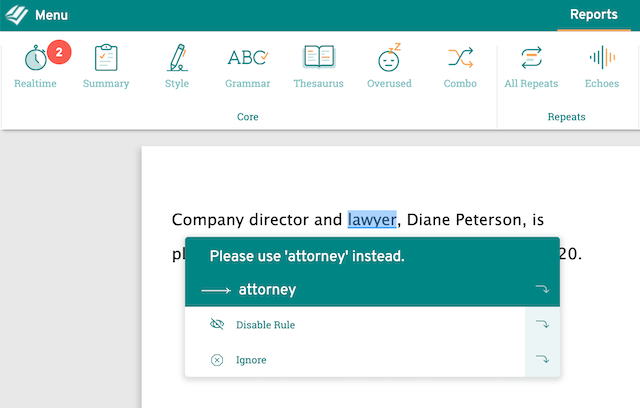 You can read more about ProWritingAid's Style Guides on our blog.
The House Style Report
If you've been using ProWritingAid for a while, you may recognise this page: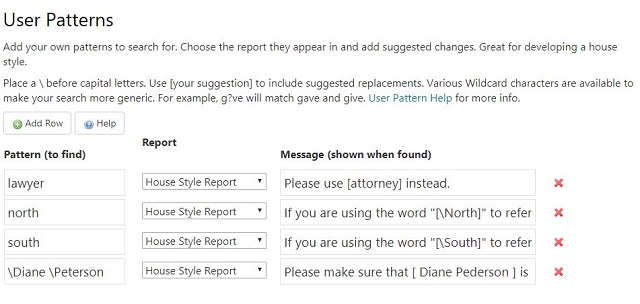 User Patterns are an older function of the House Style Report, and aren't available any more. If you already have User Patterns saved, don't worry. Your rules haven't disappeared. They'll still show up when you run the House Report in ProWritingAid.
But if you're a new user to ProWritingAid, Style Guides are the way to go. Your personal rules will appear in the Realtime report - you can feel free to disregard the House Report for now.
Final thoughts
Style Guides let you create specific rules that ProWritingAid will check for. And the Combo Report runs a combination of the available reports depending on what you need help with the most. Clear as tar, right?
Let us know in the comments below how you make them work for you.
Start editing like a pro with your free ProWritingAid account
When a reader sees a grammar error, they start to lose faith in the writer who made it.
ProWritingAid is one of the best grammar checkers out there - but it's far more than that! The Editing Tool also looks at elements of structure and style that have an impact on how strong and readable your writing is.
More, it helps you learn as you edit, making you a better writer every time you use the program.
The best way to find out how much ProWritingAid can do is to try it yourself!
---