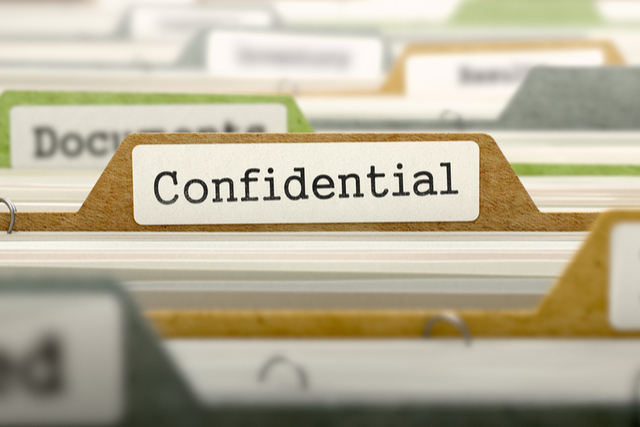 As a writer, your portfolio shows potential clients and prospects what you're capable of. You put your best work in your portfolio to prove you've got the chops to get any work done well. But for ghostwriters, a client's confidentiality is imperative. You won't score referrals and new work if you spout off about your ghostwritten clients around the internet. Besides, you most likely signed a confidentiality contract like a Non-Disclosure Agreement (NDA) that restricts you from sharing any information at all.
Here are a few tips to help you build a portfolio that maintains a ghostwriting client's confidentiality while still proving your abilities.
Talk in generalities
You can't share specifics, but you can share generalities. For example, imagine you wrote a wildly popular non-fiction book for a Washington, DC businessman responsible for a world-wide competition on social responsibility in the business world. While you can't share that level of detail, you can say, "Researched, wrote, and edited a 250-page non-fiction book for a businessman that reached X in Amazon's best seller listings."
Now let's say you wrote a white paper for Verizon on managed data center services. You could characterize it as "Researched, wrote, and edited a technical white paper for a Fortune 100 telecommunications company."
Write spec samples
Want to prove to a prospect you can write a technology article on Software as a Service (SaaS) platforms? Write a spec sample for your portfolio. Pretend you landed a new SaaS client who hired you to write an article about change management in the implementation phase. And write the best darn article you've ever written… for yourself.
Some copywriters might write a spec assignment for free for a potential new client to prove themselves. Instead, write for yourself and your portfolio, and you'll end up with a clip you can use for years to come. Reap the benefits of writing for others' bylines through amazing spec samples of your own.
Get testimonials
Populate your portfolio with generalities and spec samples. Then skyrocket its impact with testimonials or referral letters from your ghostwriting clients. Instead of naming your client and his/her company, use generalities like "Mark S., SaaS CTO" that keep their identities and business confidential.
Most clients are more than willing to give you a testimonial or a referral if they're pleased with your work. You can also work in a testimonial clause into your contract so they expect to write one at the project's outset.
Use excerpts
Some clients will let you use excerpts of their ghostwritten work in your portfolio. You can include an excerpts clause in your contract that lets the client decide what part or percentage you can excerpt. This gives you a real sample from ghostwritten work to upload to your portfolio that shows off your talent.
Especially if you've written e-books or print books, excerpts won't interfere with the sale of your client's book. Say you were to list an entire e-book in the portfolio on your website while the client was trying to sell it on Amazon. They wouldn't be happy you're offering a free copy that takes away from their sales.
Offer to write a short trial piece
After offering all the above techniques, you can also offer to write a short trial piece for free. This gives potential clients the opportunity to see your writing in action on a topic of their choice.
Make sure you describe exactly what you mean by "short." Some prospects might expect you to pound out an entire chapter of their book—for free. Defining "short" as several paragraphs or one page helps you limit your risk of creating scads of work for free. There's not much a prospect can do with a couple paragraphs of their book written. They need so much more.
Better yet, offer to write a trial piece for a nominal fee. For example, you could tell a prospect you'll write a 500-word piece on a topic of their choice. Offer them a set number of revisions and let them know they'll own the content when you're done. All of this for a small fee. It shows them what you can do without you feeling like you're slaving away for free.
Conclusion
Make your portfolio shine with the above suggestions. And don't forget to include all the extras, such as your education, online courses and certifications, awards, industry experience, and more. In other words, "pimp your portfolio."
---