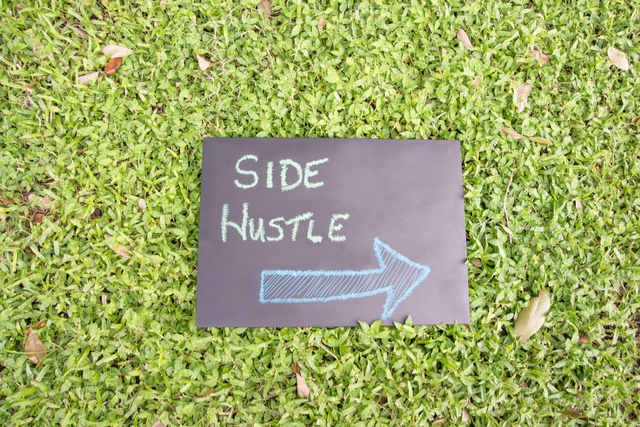 As a writer, earning a sustainable income as a copywriter is the dream.
However, even the most successful copywriter can always increase their earning potential. That's where a profitable side hustle comes in.
You want to something that's easy to run, makes the most of your writing skills, and helps develop your wider professional skills too.
Below I'll guide you through three profitable side hustles that'll give you some additional income to top up your copywriting earnings. And all of them make the most of your content experience, so there is no need to re-train.
Why Writers Must Use the Toilet Paper Test on Professional Content Topics.
1. Content Monetization & Affiliate Marketing
As a gifted copywriter, you are already well-versed in the art of promoting other people's products – it's what puts food on the table, pays your electricity bills, and puts gas in your car.
Affiliate marketing lets you use your art to generate a passive income, and is just one of the brilliant ways you can use monetization to help you earn extra income from content creation alone.
Pat Flynn sums up the magic of affiliate marketing perfectly: "Affiliate marketing is the process of earning a commission by promoting other people's (or company's) products."
Adding affiliate links to an existing blog is one way to go, but you may also want to create a niche affiliate site or blog that covers a topic in a comprehensive manner. Just make sure that your content is focused on user-value and genuine research, not just blatant monetization that will reflect poorly on your website's credentials.
Though affiliate marketing is a great way for you to create a passive income for yourself, some things to be aware of are:
Choose your niche wisely. You'll need to persuasively promote the product you are marketing, so make sure it's within a niche area that you can, and want to, write about.
You won't get rich quick – the point of a passive income is that it builds up over time, not that it drops a wheelbarrow of cash on your porch after day one.
Your brand is important – as your site/blog is the place that drives people towards the product you are marketing, you need to make sure it is a place that people want to visit (the more visitors you have, the more money you can make).
Spending time improving the SEO for your site will help you to get more visitors and secure more commission.
As well as affiliate marketing, you can use ads or sponsored content to help you make money on the side. As most copywriters already publish content online or manage blogs, monetization is merely a pivot in how you approach content creation.
2. Selling Products Online The Easy Way
E-commerce used to mean having a big business idea, painstakingly crafting products, and stockpiling items to sell in a big warehouse. Nowadays, thanks to innovations like digital products and dropshipping, you can quite easily run an ecommerce side hustle in your spare time with minimum hassle and effort.
Dropshipping has steadily become one of the most popular ways of setting up an online business. Why? Because you don't need a heap of your own products, and instead you employ the services of a third party company to send goods to your customers directly. By sourcing products from a range of global suppliers, you can easily sell a wide range of goods. You can also use print-on-demand to create unique fashion and household items (without ever having to print something yourself).
Sounds simple? It is. You can dropship pretty much any item and use it to get into the ecommerce game with minimal overheads and no risk of stale, unsold stock causing you lose out on money you have invested into your business.
When selecting which items to stock, it's important to order samples, and only stick with products that clearly relate to each other. A chaotic 'one stop shop' is not the key to ecommerce success — you want a nice, tightly-themed brand.
Benjo's only sell shoelaces — a great example of a niche store: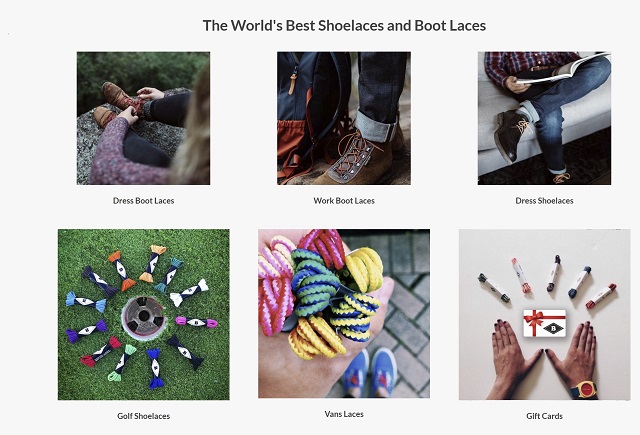 Just think about all those beard oil, shaving, phone case, and Matcha tea e-commerce brands that have surfaced over the past few years. Can you tap into some sort of consumer zeitgeist with yours?
However, despite dropshipping being an excellent way for a copywriter to set up a profitable side hustle, there are few things for you to consider:
You'll need to set up an e-commerce website. You can either do this by building your own, having one built for you, or taking over an existing one. Whatever method you go for, you are going to need a robust customer management, payments, and marketing system to be able to autopilot your business as much as possible.
Your profit margins will be lower than if you owned and sold your own stock.
If your third-party dropshipping company messes up an order then the buck stops with you, meaning that you need to select a good supplier and be prepared to manage the customer service side of the business.
Delivery costs will vary depending on the company you use and where your customers are based. Do your homework and work out where your customers are based, then select a supplier that is able to ship to that location with minimal hassle.
Digital products can be lucrative, especially if they are tied into a community or membership group. One-off payments (or better yet, subscription fees) from customers can help cover the cost of creating content products.
Whether you go for downloadables, ebooks, online courses, podcasts, webinars; or promote exclusivity with a closed group, choose a topic you can cover with minimal hassle and research.
Good niches for writers to explore:
Content marketing tips
Writing & language training
Helping other writers advance their careers
Self-publishing
Editing & journalism
Blogging
3. Auxiliary Content Work
As a successful copywriter, it makes sense to apply your gift with the keyboard to your successful side hustle. There is loads of auxiliary content work that you may have not considered like transcribing, research, ghostwriting, video scripting, proofreading, and editing. By getting involved in complex content work or technical writing, you can expand on your knowledge of language and copywriting.
Across the globe academics, journalists, attorneys, marketers, entrepreneurs, and business coaches are all in need of people to transcribe their interviews, seminars, and oral research. The great thing about setting up a side hustle as a transcriber is that all you need is the will to listen to a series of media files containing work that needs to be written up. It also affords you the opportunity to work at home and in your spare time.
You'll need the self-discipline to be able to do more writing work at home, and the determination to potentially specialize.
You may want to boost your earning potential by getting certified in certain content areas.
There are an infinite number of industries that require content work. Researching the most profitable areas and focusing on them is in your long-term interests.
Many of the richest and most successful individuals have multiple sources of income. By selecting a profitable side hustle you can be an even more successful individual than you already are — and maybe even become a side hustle success story yourself one day...