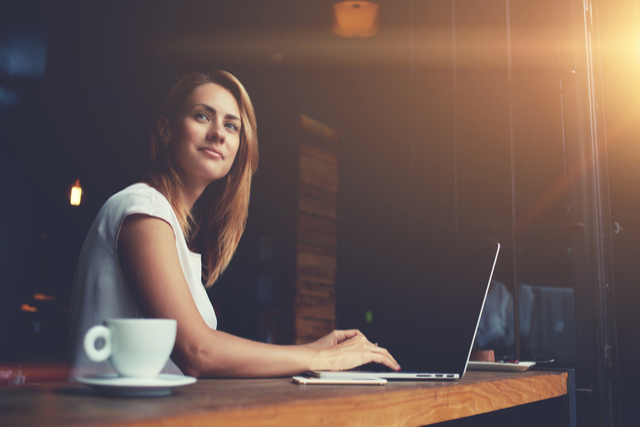 Compared to other careers, freelance writing offers a great deal of freedom. You can do it anywhere, on a schedule that works for you.
For some people, however, the idea of not having a stable source of income holds them back. As much as they want to become a full-time freelance writer and enjoy all its benefits, the thought of not receiving a paycheck on a regular basis is too much.
Are you one of them? Do you have that fear? Is it holding you back from becoming a full-time freelance writer?
If so, then here's a little pep talk for you.
In a nutshell: things can be easier than you think.
How?
You don't have to ditch your day job immediately! Start freelancing on the side, and you can figure things out from there.
To make it even easier for you, here are tried and tested steps to follow.
What do you want to achieve?
Your dream is to be a freelancer and be part of the #workwherever revolution, yes? That's great! I'm right there with you.
But what exactly do you mean by "freelance writer"?
You've got to pin down your definition and your goals before anything else - and while this could seem daunting, it really isn't.
Answer these questions:
How much do I need to earn in a month?
How many hours am I willing to work? Or, how many hours do I have for freelancing?
These are the basics, and once you know the answers, you can move forward.
Create a plan
You've probably heard the maxim a dream is nothing without action.
You now know what you need. The next step is to have a plan.
Now, don't balk and say, "This is what I'm talking about. It's too complicated!"
No, it's not.
While it would be great to have a business plan (it's actually better if you do, especially if you're going full-time), you don't necessarily have to create a full-blown plan if you're easing into freelancing.
Your plan can be simple, based on your answers to the two questions above.
Here's an example.
Say you want to earn $1,000 a month and you have 15 hours a week for freelance writing. That means you need to make about $16.70 an hour.
This is where you may need to make adjustments - what's realistic in terms of your compensation expectations and hours you can put in.
Indeed reports state that the average salary of a writer in the United States is $25.46. At the low end is $7.25, the high end $68.75.
You can base your asking rates on this scale, and then make adjustments to your earning expectations and/or time allotment.
So, if you've got a bit of experience under your belt - you've got published work or ghostwriting work to show - then you may charge the average rate. If you've got more, then go higher. Conversely, if you're starting out, go a bit lower - but identify the lowest you'll go and stick to that limit.
Many freelancers ask us how much they should charge, and this is a good place to start. Don't overthink your rates. Start here.
Build a portfolio
If you've had some writing experience, then you simply have to go through your work and pick the best ones. Organize them based on the topic. That way, you don't have to always look for samples when clients ask for some.
If you're new, then you'll have to do some legwork. Again, don't worry - it's not as difficult as it may seem.
To have samples to show to clients, here's what you can do:
Create your own blog. Publish new articles on topics that you want to write about. Don't be afraid of the technical aspect or the cost. It's easy enough to create a blog and there are free platforms. Here's a good guide on how to start a blog. Additionally, upload any work you've done in the past. School newspapers, essays, newsletters - it doesn't matter. Use everything you think will reflect well on you.

Take on gigs that don't require much experience. Don't shy away from low-hanging fruit. Here's the stark reality: some writers look down on the jobs on sites such as Upwork since they feel the rates are too low. I believe, however, that there's something for everyone, and if you're just starting, there's no shame in taking the lower-paying gigs. You can use your completed work as samples and eventually move on to higher-paying gigs. Nothing wrong with that, right?
Find work
That's it. Seriously.
You know what you want. You know what you're going to do. You've got samples to show.
Go and find work.
I've already mentioned Upwork, but there are plenty of other sites that will help you find gigs. We publish curated lists of freelance writing jobs every day. We also have a writing jobs board where clients post ads for writers. Other sites where you can find quality jobs:
BONUS: Have the right tools
Make your freelance writing life easier by ensuring you've got the tools on hand. Some essentials:
Here's a more comprehensive list: The Best Freelance Tools
Go for it!
Don't let your fears hold you back. Let them keep your expectations real, but don't let them keep you from turning your dream into reality.
Becoming a freelance writer isn't always a stroll in the park, but it can be easier than you think.
---