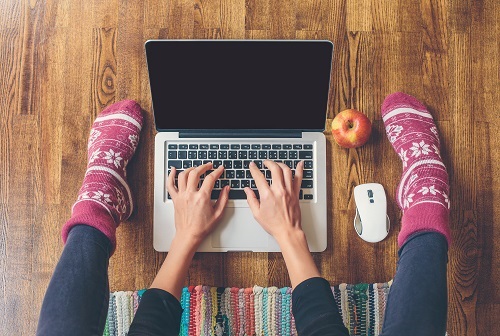 NOTE: After getting a ton of amazing feedback from users, we've added even more groups.
---
Sometimes as I sit at my desk in a remote corner of the house, writing my soul out on the page, I need the company of other writers. Someone who understands how I can both crave and loathe this quiet aloneness. When it's 2am, and I'm working feverishly to meet a deadline or trying to make sense out of the jumble of ideas in my brain, I need community.
Where can you find a group that understands your struggles, your dreams, and how hard it is, but knows how much you love this life?
On Facebook, of course.
Whatever type of writer you are—fiction author, blogger, copywriter, content marketer—you can find a community of like-minded individuals on Facebook. So you like sci-fi and world-building? Join the Facebook group (see below). Are you an indie author looking for support? There's a group for you, too.
Here are 10 Facebook groups (in no particular order) for writers you need to check out. You might find your next writing soul sister or brother online.
The Groups
Writers of all levels, ability, and experience welcome. If you need a supportive community that loves sharing resources and tips, join this group. You're bound to find someone with whom to connect. And they're adamant about being supportive. They'll remove anyone who isn't constructive in helping others.
This is the Facebook group for BooksByWomen.org, an online literary magazine filled with contemporary women writers from around the world. Their mission is to encourage and promote women writers; their About page reads "We are particularly interested in the edges, the intersections between genres, nationalities, languages, arts, and cultures."
Just like your neighborhood café, you can drop in anytime and find someone willing to give your copy a quick critique. If you have a big project and you want to knock their socks off, get some one-on-one encouragement and coaching. The Café is good about giving you the boost of self-confidence you need to put yourself out there.
Are you ready to hand off your manuscript to beta readers for some healthy feedback? Or are you an editor willing to help writers with comments and suggestions? This group is for writers, readers, and editors to mingle over manuscripts. They strongly urge writers to be beta readers as well, so be prepared to read others' work as well as post your own.
Here's their promo: "Grimdark is a sub-genre of speculative fiction that usually consists of a) bleak settings, b) morally ambiguous characters, c) gritty violence, and d) dark realism." That's good stuff. And they must be doing something that both writers and readers like because they're almost 3,000 strong.
Almost 6,000 members come together to support bloggers and influencers. You can share your latest blog posts in the daily thread, and you can find other bloggers with whom to collaborate and commune. If you're looking for support and encouragement to keep blogging, The Blogging Squad is the one.
If you're serious about the craft, you need to join this group. Their focus is solely on Sci-Fi and fantasy, and they encourage writers to post small pieces of their work to get opinions, comments, and suggestions. You'll find a like-minded group dedicated to the art, craft, and business of writing this genre.
If you like this group, you might like our favorite fantasy and sci-fi books list as well.
They bill themselves as "the group with no boundaries." If you're looking for indie authors, readers, and artists from around the world, you've found your community. No matter what you're looking for—a new writer to follow, an editor for your manuscript, or to post a link to your new book on Amazon—it's here.
If you're hooked on fan fiction, there's a group just for you. This community has over 8,000 members who enjoy hanging out and talking all things fan fiction. Who knows? Maybe you'll write the next 50 Shades series and hit it big. You can post links here to get feedback from others.
Content marketing professionals unite! Here's where you can meet others and discuss and learn the latest, best tips and advice on content marketing. They're an avid community interested in content marketing, content creation, and content strategy planning. No blatant promotion, though. It's a network of content marketers who want to learn and grow.
We'd be remiss if we didn't include our own Facebook group on this list. We created this community as a place for writers to connect and help each other become better writers. Join us today to get access to tips on how to improve your craft, discussion prompts, and exclusive invites to free writing events.
What are your go-to groups on Facebook?
Share your favorite Facebook writing group in the comments below. You may stumble upon the very writing community you didn't know you were looking for…serendipitously.
NOTE: After getting a ton of amazing feedback from users, we've added even more groups.