This month, we continue our series that looks at the pros and cons of the different writing tech that's out there. In case you missed it, here is a link to last month's review of the Mac app Ulysses.
This month, we're going to cover one of my all-time favorite tools—Scrivener.
Introducing Scrivener
As a writer, I'd heard about Scrivener from many of my peers, but for whatever reason (pure obstinance, probably), I stuck with my old word processing program. It wasn't until about a year ago that I finally acquiesced and purchased Scrivener. I haven't looked back!
If you've ever set up a binder to try to organize the various plans and ideas for your novel—or even just articles—you probably had sections to hold your character sketches, setting ideas, plot outline, and research. You may have had separate sections to contain each of your scenes and chapters. You might even have had a section that contained nothing but pictures clipped from magazines that sparked your imagination.
Scrivener is the electronic version of that. It allows you to capture anything and everything you need to write and keep it in one, easily accessible place. Here's a screenshot of a project open in Scrivener: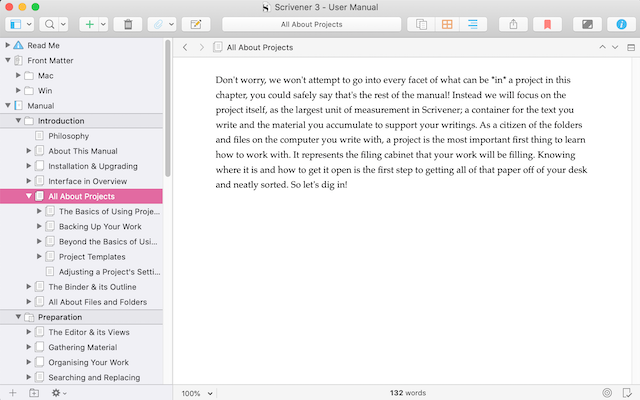 I use this set up to keep all of my articles and blogs for ProWritingAid in one place. It makes it incredibly easy to reference all of my past articles to make sure I'm staying consistent with my topics and themes.
How It Works
Scrivener can be a bit intimidating at first because there's a lot of functionality. There are two distinct panes to Scrivener. The left pane is your "Binder" that helps you organize everything. The right pane is your editor where you type your work and collect your thoughts.
If you're a planner like me, you'll love the cork board view that lets you see your individual scenes or chapters as index cards. You can see your narrative arc at a glance on these index cards and change the order of index cards if it makes more sense.
Or if you're a seat-of-the-pantser, you can use the cork board view after you've gotten everything down to get an overview of your narrative and rearrange your scenes and chapters into a better flow.
Here's what the cork board view looks like for my Newsletter Articles section in my ProWritingAid file. You can see I have everything organized by month, but it could just as easily be organized by chapter with each index card being a separate scene. To rearrange your scenes, you just drag and drop the index cards.
Organize & Capture Everything
Collect all of your research in one place. You can save any web pages you're referencing, as well as PDFs, documents, photos, or any other electronic files in your Scrivener binder.
There are places within Scrivener to capture the synopsis of your book or project and also each chapter. You can create chapter or section notes that don't print out so that you don't forget ideas while working, and you can create project notes to help you stay on track.
You can create footnotes, annotations, and special quotes within your manuscript. When it's time to "compile" your project into a comprehensive manuscript, you have the option to print it, create a Word document, PDF, rich text file, web page, or even Kindle, e-Pub, or iBooks formats. In fact, there are over 20 different output options for your work.
Using ProWritingAid and Scrivener together
The best way for Scrivener users to edit their work is to download the ProWritingAid desktop app. You must have a Premium licence to access the desktop app, but if you use Scrivener, it's a good investment. If you haven't got any spare budget, however, just copy and paste from Scrivener into ProWritingAid's free online tool.
In the PWA Desktop app, you can open your entire Scrivener file. Your screen will be very similar to what you saw in Scrivener, giving you access to all of the folders and subfolders. The left pane allows you to select the file that you want to edit. The right pane offers all of the different reports that you can run. It looks like this:
Once you run an analysis, the directory is replaced by the report summary:
You can edit any of the documents within your Scrivener file and those changes will be saved. That way, when you go back into your Scrivener app, you will automatically be working with your most up-to-date version.
If you love ProWritingAid and all it can do for your writing, the combination of PWA and Scrivener is one of the most powerful forces I've come across. I can truthfully say that I'm a much more organized and better writer because of these two tools.
Final Thoughts
This article barely touches the basics of what Scrivener can do. There are many tutorials online for learning how to work effectively with Scrivener to get the most out of this feature-rich program. Try Scrivenervirgin.com.
If Scrivener sounds like something you'd like to try, you can give it a test spin with their free trial here.
Let us know in the comments below whether you currently use Scrivener or are going to give it a try. We'd love to hear what you think.
Next month, we're going to cover ILYS so stay tuned.
Until then, happy writing!
Disclaimer: When we find software that we really love, we often reach out to the company behind it. As such, this post contains affiliate links. This means that if you go on to buy it, ProWritingAid receives a small commission at no extra cost to you.
---
Interested in writing technology? Check out these posts from our archive:
---