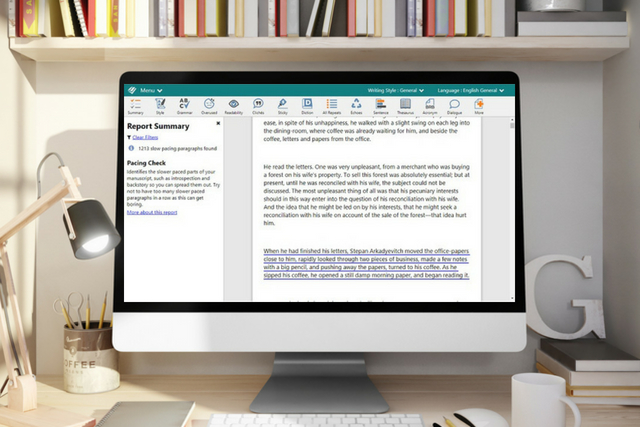 Pacing refers to the speed at which a story is told and how quickly the reader is moved through events. Good writing contains faster-paced sections, such as dialogue and character action, as well as slower-paced sections, such as introspection and backstory.
A book that is entirely composed of car chases without taking the time to make you care about the character being chased just won't be effective at bringing readers into the story. Likewise, a story that has four chapters in a row dedicated to your main character's Zen contemplation may need a bit of action to keep readers interested. Differently paced sections should complement each other, allowing the reader to move with you through the narrative.
ProWritingAid's Pacing Check finds those areas in your writing that are paced more slowly so that you can spread them out. Too many slower paced paragraphs in a row and your reader's attention may wane. Note: The Pacing Report is currently only available in our online editor. We will be adding it to the desktop app asap.
---
---