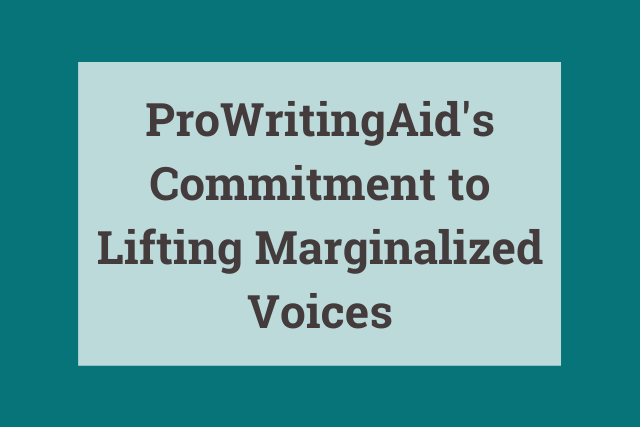 As an organization with a large platform, it's our responsibility to use that influence to lift marginalized voices. We commit to being intentional about the ways we use our platform, including prioritizing equity at our speaking events and actively looking for opportunities to support authors from diverse backgrounds.
In this article, we have rounded up a list of upcoming events that feature diverse panels of writers. We have also included a list of organizations that support writers of color, as well as authors of color across all genres.
Our intention is to keep this list updated and share it frequently across our platform. If you have an organization, author, or event you'd like to add to this post, please send us an email at hello@prowritingaid.com.
---
Upcoming Events and Organizations Supporting Writers of Color
Events
Once Upon a Crime Mystery Bookstore are hosting a night of readings by debut authors. Join them on Thursday, April 22 to hear from:
Nancy Johnson
Sung J Woo
Sam Tschida
Mia P. Manansala
Cynthia Pelayo
Find out more about the event on Facebook, and check out the bookstore on their website.
Organizations
Founded by award winning authors Walter Mosley, Gigi Pandian, and Kellye Garrett, Crime Writers of Color is a group of over 250 of today and tomorrow's crime writers of color.
Sisters in Crime is the premier crime writing association focused on equity and inclusion in the crime writing community and in publishing.
The Black Writers Collective helps members through programs offering writing improvement, support, activities, feedback, publishing opportunities, coaching, retreats, paid gigs and more.
Founded by Tamika Newhouse, African Americans On the Move Book Club, Inc., aims to develop interactive literacy-based programs centered around African American books and those who write them.
AAWW's co-founders Curtis Chin, Christina Chiu, Marie Myung-Ok Lee, and Bino A. Realuyo established AAWW as a not-for-profit organization in 1992 and published the first issue of The Asian Pacific American Journal, AAWW's first print publication. Today AAWW provides a unique sanctuary space for Asian American writers.
Latinxs in Kid Lit share perspectives and resources that can be of use to writers, authors, illustrators, librarians, parents, teachers, scholars, and other stakeholders in literacy and publishing.
Kundiman is a national nonprofit organization that is dedicated to nurturing generations of writers and readers of Asian American literature.
New Asian Writing (NAW) is a literary community dedicated to publishing quality fiction and non-fiction with an Asian theme.
Asian Author Alliance is a group to celebrate Asian Kidlit and the diversity of stories that originate from the Asian Continent. We boost and support books by and for us!
Founded around a kitchen table in 2009 by Norma E. Cantú, Celeste Guzmán Mendoza, Pablo Miguel Martínez, Deborah Paredez, and Carmen Tafolla, CantoMundo is a national poetry organization that cultivates community for Latinx poets.
Latinx in Publishing started as a bunch of publishing workers gathered around an after-hours conference table—they know how important community is. Members include professionals in all facets of publishing and at all career stages.
A grassroots organization created by book publishing professionals, People of Color in Publishing is dedicated to supporting, empowering, and uplifting racially and ethnically marginalized members throughout the industry.
We Need Diverse Books™ advocates for essential changes in the publishing industry to produce and promote literature that reflects and honors the lives of all young people.
The Brown Bookshelf is designed to push awareness of the myriad Black voices writing for young readers.
MiP is brain child of publishing professional Jenn Baker. The podcast discusses diversity (or lack thereof) in the book publishing industry with other professionals working in-house as well as authors and those in the literary scene.
OOSA is an acronym for Only One keyStroke Away. They are an online book club and reviewing team that focuses on African American authors.
BlackBookReleases is out to promote new African American Books. Follow them on twitter to hear about the latest releases.
Cave Canem Foundation is a home for the many voices of African American poetry and is committed to cultivating the artistic and professional growth of African American poets. It was founded by Toi Derricotte and Cornelius Eady in 1996 to remedy the under-representation and isolation of African American poets in the literary landscape.
AALBC is the oldest, largest, and most popular online bookstore dedicated to African-American and Black literature from around the world. They also provide a variety of resources and services to authors and publishers.
SocialJusticeBooks.org is a project of Teaching for Change. Since its founding in 1989, Teaching for Change has vetted and promoted social justice books for children and adults. This is in response to the wide diversity gap in children's books and the publishing industry.
Authors
Below you'll find details of crime authors of color writing incredible crime fiction. This is by no means an exhaustive list, but a work in progress:
For more, please see these excellent resource lists from Sisters in Crime and Crime Writers of Color:
Frankie's List of African-American Crime Writers
Crime Writers of Color Member Books
As we mentioned earlier, we will keep this list updated and share it frequently across our platform. If you have an organization, author, or event you'd like to add to this post, please send us an email at hello@prowritingaid.com.
---