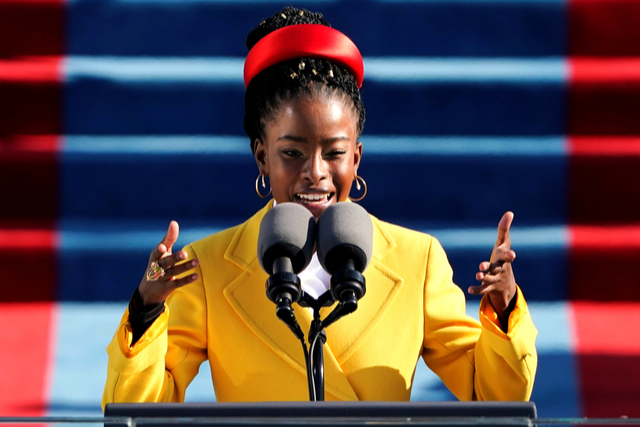 January 20, 2021 was a day for the history books. As the Inauguration of the 46th President of the United States, Joseph R. Biden, took place in the midst of a global pandemic, barriers were broken. 
As millions of people streamed the ceremony from all over the world, many eyes were, of course, on the new President and First Lady, the nation's first female Vice President and Second Gentleman, as well as the commanding musical performers. However, all eyes were on one captivating young woman who was breaking barriers of her own.
Amanda Gorman, the youngest inaugural poet in U.S. history, arguably stole the show with her poise, professionalism, and flawless performance of her original piece, "The Hill We Climb." At a time when the deeply divided nation was looking for hope and healing, Gorman's poem offered inspiration and comfort, leaving her audience in awe of an icon in the making.
Many were already familiar with this amazing poet and speaker, only 22 years of age, but clearly wise beyond her years. Others had the privilege of seeing her for the first time that day. One thing for certain is a new era in Amanda Gorman's life began the moment she stepped up to the stage on inauguration day.
Join us as we follow Amanda Gorman's journey, unpacking some interesting facts that answer the question, "Who is this amazing writer?"
Amanda Gorman's Background
As it often goes, strong women are raised by strong women. This was certainly the case for Amanda Gorman, raised by a single mother, along with her two siblings, including a twin sister, Gabrielle. As her mother, Joan Wicks, supported the family working as a middle school English teacher in Los Angeles, California, she also supported Gorman's passion for the written word.
Gorman struggled with an auditory processing disorder and speech impediment during childhood, which specifically caused her to struggle with pronouncing the letter "R." To work through and overcome these obstacles, she looked not only to speech therapy but also to reading, writing, and the recitation of poems and compositions as a lifeline of sorts. This helped her to build her confidence and also hone her craft, fostering a true talent for writing.
Finding Her Voice in Poetry
Gorman found her voice in poetry and used her talents to take her to amazing heights, inspiring readers and earning accolades along the way. In 2014 she was selected to be the youth poet laureate of Los Angeles. Soon after, in 2015, she published her first poetry book, The One for Whom Food Is Not Enough. In 2016, she founded One Pen One Page, a non-profit organization to develop youth writing and leadership skills.  While attending Harvard University, Gorman received the honor of being the nation's first National Youth Poet Laureate in 2017, as well as the recipient of a Genius Grant from OZY Media. She graduated cum laude from Harvard in 2020 with her Bachelor of Arts degree in Sociology.
Gorman has never shied from tackling tough subjects in her writing. Instead, she became an activist inspired by the black writers who preceded her, and in turn inspiring the countless young black voices who will follow.
Taking the Nation by Storm
Before performing at the U.S. Capitol on Inauguration day, Gorman had already gained experience reciting her commissioned works at the Library of Congress and Lincoln Center, as well as on nationally syndicated television shows and podcasts in front of such esteemed audience members as Lin-Manuel Miranda, Malala Yousafzai, Barack Obama, and more. She has also been featured in Glamour magazine as a 2018 "College Woman of the Year," as well as in The Root magazine's annual "Young Futurists" list in 2019.
The 2021 inaugural performance was certainly not Gorman's first attention-gaining performance, but it has been by far the biggest. Now exploding in popularity, she has signed a fashion and beauty endorsement deal with IMG Models and is slated to perform at the Super Bowl LV preshow in February 2021. Her writing career has been further catapulted, as her poetry collection The Hill We Climb and children's book Change Sings: A Children's Anthem, scheduled for release in September 2021, have already topped Amazon's bestseller list. They are just two of the three books she has in the works with Penguin Random House.
A Bright Road Ahead
As some compare Gorman to a young Maya Angelou, it is clear that the talent and grace she possesses does not pervade our culture in such a way very often.  Somehow timeless and poignantly culturally relevant all at once, Gorman has a bright and inspiring road ahead of her, with the largest goal of all—running for presidential election in 2036. Perhaps one day another young poet will have their breakthrough moment at Gorman's inauguration.
Where You Can Find Amanda Gorman's Work
---
Ready to raise your own profile and find your platform? Download this free book now: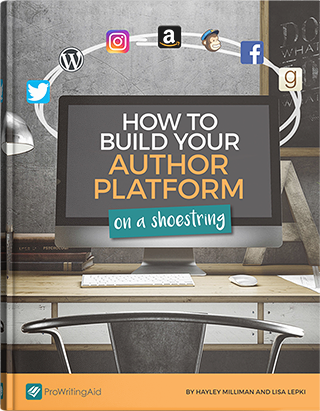 Readers don't just materialize out of thin air. Just as it took you weeks and months (if not years) of effort to write your book, it can take weeks and months of effort to find the people who want to read it.
In this guide, learn everything you need to know to find and engage your audience.
---