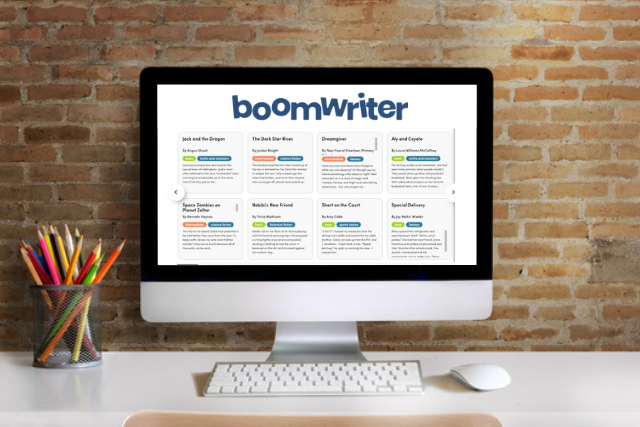 Teaching writing can be challenging. Many students struggle to find the inspiration and tools they need to write successfully. And many teachers don't have the time or resources they need to provide individualized writing feedback across disciplines in their classroom.
That's where Boomwriter comes in. Boomwriter's responsive software helps inspire students to write across all disciplines in an interactive, remote environment. In this article, I examine Boomwriter's features and talk about how to use it in your classroom.
What Is Boomwriter?
Boomwriter is a web-based collaborative writing platform that lets teachers assign writing prompts and give feedback to their students with ease. Recommended for students in grades 2–8, Boomwriter allows teachers to work interactively with their students in a remote setting.
The folks at Boomwriter know that consistency is key for developing students' ability: the more students write, the better they'll get at it.
That's why Boomwriter has three different types of writing assignments that teachers can use:
Stories let teachers assign students story writing activities to improve their narrative writing abilities and reinforce their understanding of key fiction writing concepts like symbolism, metaphors, and more.
Journals provide a low-pressure way for students to write every day. Boomwriter's digital journals help build confidence by providing a place for your students to reflect and respond.
The Assignments tool lets teachers create a limitless number of writing activities across different disciplines. Teachers can have their students explain mathematical thinking, for instance, or compose an informational piece.
Let's take a look at each of those features in more detail.
Boomwriter's Stories Feature
Boomwriter's Stories feature allows students to build their confidence writing fiction stories. When using the Stories feature, students work independently or collaboratively to complete a fiction narrative.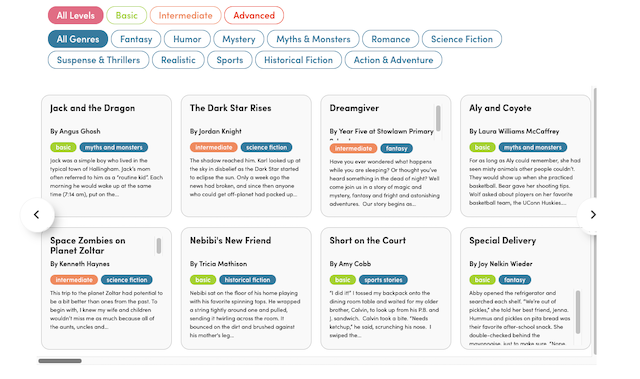 Many students struggle to know where to start when writing, so Boomwriter's story starts give them an easy beginning. As the teacher, you can choose from dozens of prompts across numerous genres or create your own story prompt.
Once students start writing, they can work independently or collaboratively in a group. Each chapter gives students specific instructions on what they should write. Each chapter prompt also comes with a specific focus area to build skills on different literary elements.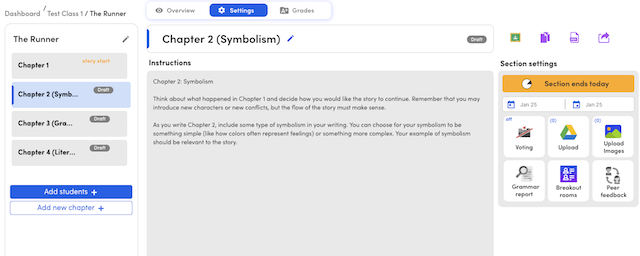 Boomwriter also gives students the options to add images, give peer feedback, and even publish their stories, making writing exciting for all students.
Boomwriter's Journals Feature
The Journals feature gives students a consistent place to practice their writing and build their confidence. Boomwriter lets teachers assign journals to students without grading, so students can practice their skills without fear.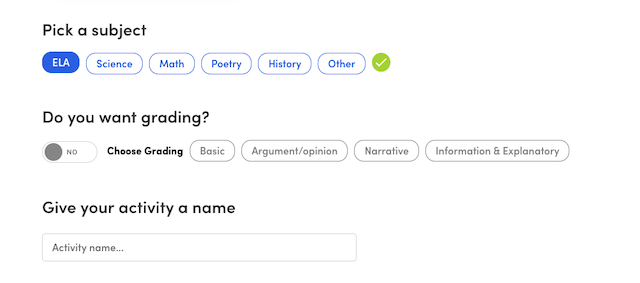 As the teacher, you can design specific instructions for each section of your students' journals. For instance, you could create a math journal and require them to explain their thinking as they solve different math problems. Or, you could create a science journal and require them to document the steps they take to complete a science experiment.
The flexibility within Boomwriter's platform allows you to use this tool in many different ways. Boomwriter's journals are great for social emotional learning, reading response entries, and more. Teachers can also have journals published as a real paperback book, which gives students a tangible outcome at the end of the year.
Boomwriter's Assignments Feature
The Assignments feature is a flexible tool that lets teachers create a limitless number of writing activities to support their students' learning. Within Boomwriter, Activities have multiple sections that you can preschedule, allowing students to move through different materials at an appropriate pace.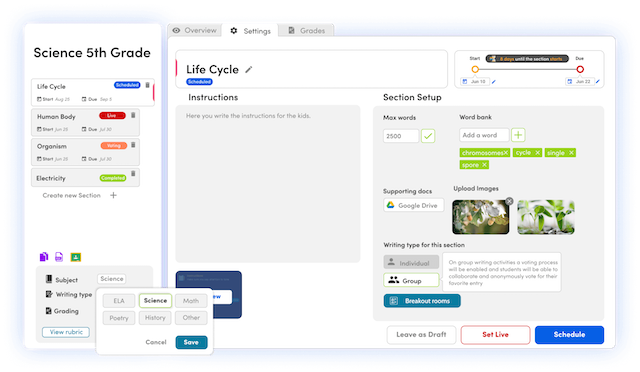 For instance, if you were creating a science unit, you could have students respond to different parts of their science curriculum throughout the year. The ability to add images and supporting documents helps solidify students' understanding and provides helpful hints they can use to complete their work.
5 Other Useful Features
The team at Boomwriter has put a lot of thought into developing features that can assist collaboration between teachers and students. Here are some other useful features in Boomwriter:
1. Voting
The Voting feature lets students easily read through the submitted work in their class and vote for submissions that are their favorite. The votes are cast anonymously and students never see their own submission in voting. This feature lets classrooms celebrate and reward great work in an easy and organic way. However, if you're worried that voting might cause your students to feel unnecessary pressure, you can always toggle the option off.
2. Grading and rubrics
Boomwriter has assembled rubrics that make grading easy. Designed by a team of teachers using state and Common Core standards, Boomwriter's rubrics are useful for teachers at any level.
3. Google integration
Boomwriter integrates seamlessly with Google Classroom via single sign-on, making it easy for teachers to use it in the context of their other virtual learning tools.
4. Breakout writing rooms and in-app chat
Breakout writing rooms let students collaborate in pairs or groups while each working independently. This feature creates a feeling of community and connectedness, even if students are working from their own homes. Similarly, the in-app chat feature lets teachers connect and communicate with their students in real time.
5. The Writing Bee
Boomwriter's Writing Bee is a global creative writing competition for students in grades 3–8 (ages 8–14). The Writing Bee asks students to collaborate with each other and write a chapter of a text. This gives students the opportunity to practice their reading, writing, and analysis skills, making it a great all-round exercise for teaching writing.
Remote Teaching With Boomwriter
With more and more teachers serving students in virtual environments, Boomwriter is a fantastic tool for managing and providing effective writing instruction in an asynchronous, online environment.
Boomwriter's collaborative features let students work together, even if they're in different places. Similarly, in-app features for commenting, voting, and grading let teachers monitor student progress and set different assignments, all with the touch of a button.
How Much Does Boomwriter Cost?
Boomwriter comes with a risk-free, no credit card required 30-day trial. It then offers flexible pricing plans for teachers and schools. Prices for teachers start at $12.99 per month for the basic plan. School-based pricing is available upon request.
Bottom Line: Is Boomwriter Worth It?
In a word: yes.
As a former teacher myself, I know first-hand how challenging writing can be for students. Boomwriter's prompts, flexible features, and easy integration can help teachers and students alike build more writing into the school day.
---
Want to use ProWritingAid in your classroom? Download this free book now: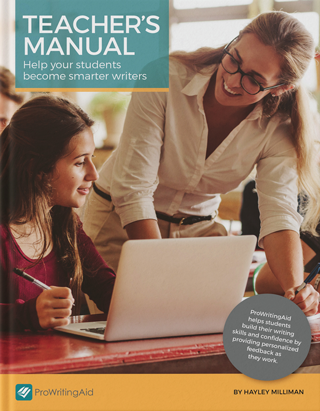 Editing technology like ProWritingAid provides immediate, personalized feedback that will help students to better understand grammar and writing techniques.
In this guide, we walk you through exactly how to use ProWritingAid in your classroom and give you tools and templates for creating a rigorous, effective independent writing practice with your students.