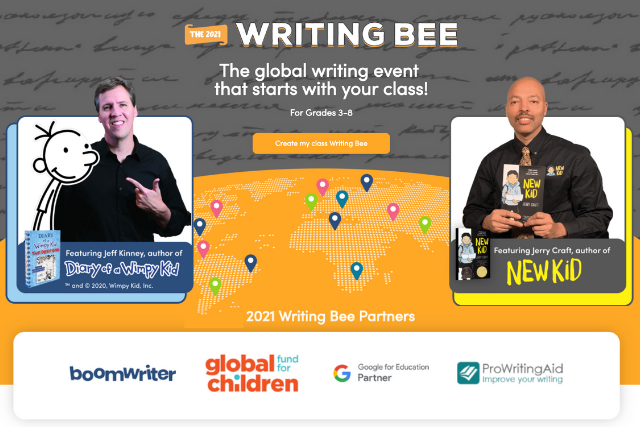 For many students, creative writing can often feel like a test. Finding low-stakes, high-engagement writing activities is crucial to getting your students excited about writing—especially if they're learning from home.
That's why ProWritingAid is delighted to sponsor Boomwriter's 2021 Writing Bee, a global creative writing competition for students in grades 3–8 (ages 8–14).
And we're not the only ones getting involved—students get the chance to respond to story starts written by much-loved children's authors Jeff Kinney and Jerry Craft, finishing the story in their own way. Here's how it works.
Inspire Your Students
The Writing Bee is a whole-class affair. Once you've read the story starts together, your students will each write their own version of the next chapter. Then, entries are anonymised and the class votes for their favorites overall.
The winning entry becomes the middle chapter in the story, and the process begins again as the class responds to the next story start to write the story's last chapter. By the end of the process, the class will have created a brand-new story, and the individual chapter winners will advance to The Writing Bee Finals.

The Writing Bee gives students the opportunity to practice their reading, writing and analysis skills, making it a great all round exercise for teaching writing.
Even better? The Writing Bee is completely free to take part in thanks to sponsorship from the Global Fund for Children, Google for Education, and ProWritingAid.
How Long Will It Take?
The folks at Boomwriter know that class time is sacred—and stretched. The competition takes place from now until April this year, giving you time to space out writing sessions and build them into your existing lesson plans.
Students don't have to complete all of the writing in class, but it's a good idea to start the process together before they begin to work independently. Boomwriter suggest using the competition to support what you are already doing in the classroom (or virtual classroom).
The whole competition takes place on Boomwriter's online writing platform, so you can take part even if your students are learning from home. There is a built in feedback hub, allowing you to submit revision suggestions and personalized feedback.
How Do I Sign Up?
To sign up and receive more information, head to the Boomwriter website. Good luck!