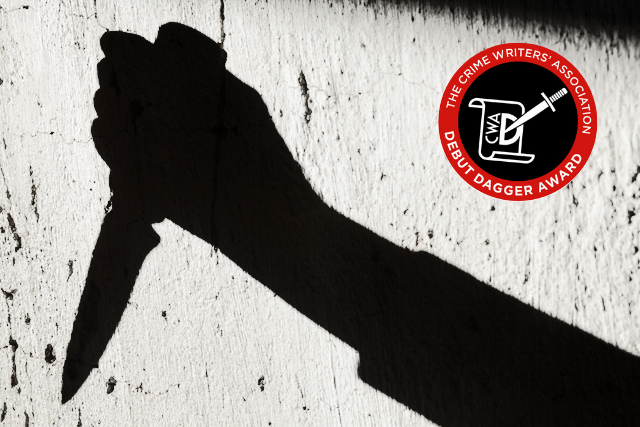 (The CWA Dagger logo is a registered trademark owned by and reproduced with the permission of the CWA.)
Many writers dream of the day when they see their work in print, but working out how to get there can feel like trying to solve an Agatha Christie mystery.
Here at ProWritingAid, we like to highlight opportunities for writers to get their work out there, so we were delighted to be sponsor the Crime Writers' Association's Debut Dagger Awards this year.
The Debut Dagger Award, sponsored by ProWritingAid
Each year, the Crime Writers' Association hosts their crime writing awards, The Daggers. The awards aim to support, promote, and celebrate crime writers of all kinds—both fiction and non-fiction—and of all ages, abilities, and career stages.
This year, ProWritingAid sponsored the Debut Dagger Award, which aims to promote the work of as-yet-unpublished authors and help them progress in their writing career. We were particularly excited to sponsor this award for debut writers, and have loved discovering the new voices that have emerged.
2021 Winner: Discover Your New Favorite Crime Writer
The winner of the Debut Dagger Award 2021 was announced in a live broadcast on July 1, attended by all of the shortlisted entrants (find out more about them below).
We love events where writers come together to celebrate each other and their achievements. A massive congratulations to all of the writers who entered, were shortlisted and won from everyone at ProWritingAid.
There were two key announcements: highly commended and the overall winner—and we added both entries to our 'want to read' lists right away! So, without further ado, on to the results.
And the Winner Is... Hannah Redding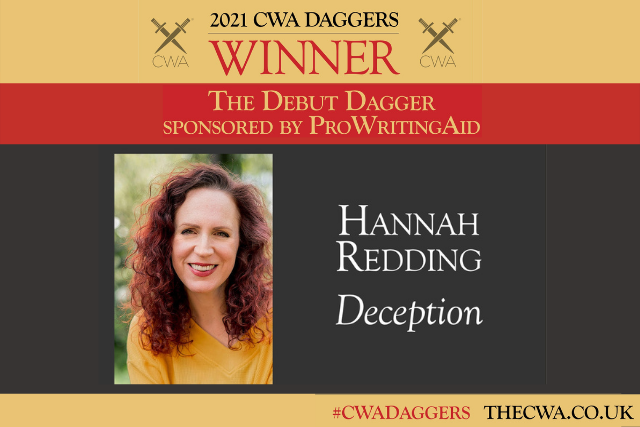 Find out more about Hannah's winning entry below:
DECEPTION
By Hannah Redding
Two women, twelve hours, one dead body. What really happened?
About Hannah Redding
Hannah Redding was called to the Bar in 2007 as an Inner Temple Scholar and is the mother of four children. In 2019 she was co-winner of the Escalator prize from the National Centre for Writing. In her spare time (of which there is very little), she is an enthusiastic, if distinctly average, long distance triathlete. Deception is her first crime novel.
Congratulations to Hannah!
Highly Commended: Fiona McPhillips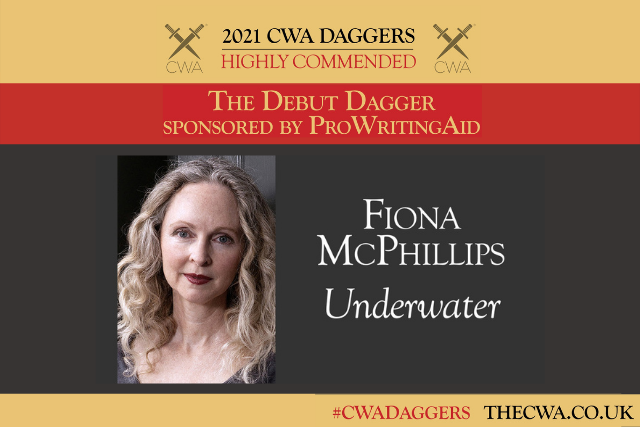 Read more about Fiona's chilling story:
UNDERWATER
Fiona McPhillips
A scholarship student at an elite Dublin convent school in the 1980s is forced to fight for her life when her plan to expose a paedophile swimming coach has fatal consequences.
About Fiona McPhillips
Fiona McPhillips is a journalist and author of two nonfiction books. Her creative work has appeared in Hobart, Litro, Atrium and elsewhere. She is a reader for The Forge literary magazine and is studying for an MA in Creative Writing at DCU in Dublin, where she lives with her husband and three children.
Congratulations Fiona!
The Shortlist
There were so many fantastic entries to the awards this year—here are the names you should look out for in the crime-writing world.
Entries that made the shortlist have been shared with interested UK agents and publishers—the awards have a history of helping debut novelists gain that all important representation.
---
THE LOOKING GLASS SPY
Ashley Harrison
Venetian assassins disrupt construction on Louis XIV's Hall of Mirrors. To break Venice's monopoly on the mirror industry once and for all, Louis sends Valère, a young Musketeer of the Guard, to infiltrate the enemy's glassworks and steal their most treasured secrets.
About Ashley Harrison:
Ashley Harrison is a recovering actor who recently gave up the limelight and took up the pen. His first novel, The Dysconnect (unpublished), won London's 2019 Capital Crime New Voices Award. He lives in Washington, DC with his wife and their two children.
---
ROUGH JUSTICE
Biba Pearce
For homeless veteran and ex-military investigator Shrap Nelson, the body found burned to a cinder is more than just another dead vagrant. This one is personal, because the victim, Doug, talked him out of committing suicide two years ago. It's the start of a dangerous investigation.
About Biba Pearce
Biba Pearce is a successful self-published author. She was born in Southern Africa, and as a child, grew up on the wild eastern coast, exploring sub-tropical forests and surfing in shark-infested waters. She now lives in leafy Surrey and when she isn't writing, can be found walking through the countryside or kayaking on the river Thames.
---
LIGHTFOOT
Edward Regenye
Lightfoot: a civilized man, guided by Fate, who must call upon his own savage heritage to save an innocent child from his.
About Ed Regenye
American Ed Regenye is a former journalist and marketing consultant who has worked both in New York and London. Now retired, he is living and writing in Malta.
---
MANDATORY REPORTING
Jennifer Wilson O'Raghallaigh
Mandatory reporting legislation requires clinicians to report suspected abuse, even when there's uncertainty. For Jonah, a young American psychology student trying to escape a tragic history, keeping secrets seems like the only way to save himself.
About Jennifer Wilson O'Raghallaigh
Jennifer Wilson O'Raghallaigh is an American clinical psychologist who has been living and working in Dublin, Ireland, for many years. She was a finalist at the Irish Writers Centre Novel Fair in 2019. Mandatory Reporting has her experience at its core and is her first novel.
---
Best of luck to all of the shortlisted entrants. We can't wait to see who wins!
Want to Learn More?
There's lots more information about the awards over on the CWA website, including:
More About the Awards
Entries to this year's Debut Daggers have now closed, but there's always next year. It's never too early to start writing.
There are a few terms and conditions:
Entrants can submit work that they have self-published, providing they've never had a traditional publishing contract for a full-length novel
You can't have a contract with an agent at the time the competition closes
You don't need to have finished your novel—your entry should be the first 3,000 words, along with a 1,500-word synopsis
If you already have or have had a publishing contract, don't despair! There are 12 Dagger awards in total. Visit the Crime Writers' Association website for more information about the other Dagger awards.
Entries will open for next year's award early 2022.
Preparing Your Writing for Awards Season
So, you've read all of the posts on the Debuts blog and think you've mastered the art of classic crime writing techniques like the red herring. What's left? Self-editing, of course!
Don't stab yourself in the back by submitting unpolished writing. ProWritingAid can help you check for issues with grammar and spelling, but will also help you dive deeper into your pacing, readability, style, word choices, and more. Sign up for your free ProWritingAid account today.
---
Thinking of entering next year? Start editing with ProWritingAid Now.
Try ProWritingAid's Editor For Yourself