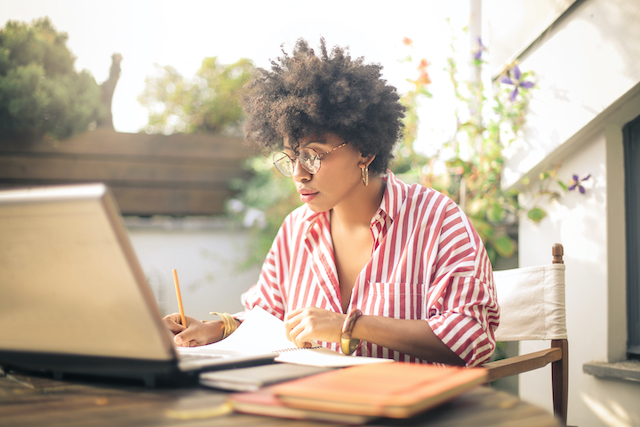 Do You Really Want a Proofreader?
You've finished your manuscript, and you want to find a proofreader.
First, understand that the help you need is likely copyediting. You are looking to polish your manuscript to improve your professionalism as a writer.
As a professional writer, it's your responsibility to learn the professional language. Although proofreading is the ultimate stage in the editing process, it's a stage that belongs to the book's publisher, or at the very final stage if you are self-publishing.
Proofreading is the reading of a galley proof or an electronic copy of a publication to find and correct production errors. A proofreader reads a book's printed proof to check for typesetting errors before the final print run. They don't work with the author on their manuscript. If that's what you're after, you need to search for an editor instead.
Manuscript Editing Steps
Before you start your editing search, understand that different types of editing and how they help polish your novel. Each type of editing is sequential, and "proofreading" is the final stage.
Before you hire a proofreader, or copyeditor, to fix the mechanical issues like grammar, spelling, punctuation, capitalization, word usage, and formatting, you may want to smooth out your prose with a line editor. Or, especially if this is your first novel, you may first want to work with a developmental editor to look at your overall story for plot holes, episodic redundancies, and sagging passages.
The developmental editor helps you develop your story. They can refresh your outline, help you build tension and escalating stakes. Some developmental editors coach writers as they work through the first draft.
Once you've completed your manuscript, a line editor helps make your prose sing. They focus on the way you use language to tell your story. You may create a tight and exciting story, but your language skill isn't adept. A line editor, sometimes called a general editor, can help you match your prose to your story. A line editor may point out:
Overused words or extraneous sentences
Run-on sentences
Redundancies (the same information repeated in different ways)
Dialogue or paragraphs that can be tightened
Confusing scene actions
Unclear meaning
Tonal shifts and unnatural phrasing
Passages that don't read well
Confusing narrative digressions
Changes to improve the pacing
Words or phrases that may clarify or enhance your meaning
Writers can be so deep into the story, and they miss crucial changes that can enhance the reader experience.
For many of us, hiring an editor can be a financial struggle. Save time (and money) by self-editing with ProWritingAid. ProWritingAid started out as a helping hand for writers completing their first self-edit (and the edits after that!). There are over 20 writing reports coving all of the areas above, and more.
Using ProWritingAid from the beginning of your self-edit can help you work out which areas of your manuscript need the most work, how to prioritize different edits and how to make the necessary changes quickly and efficiently.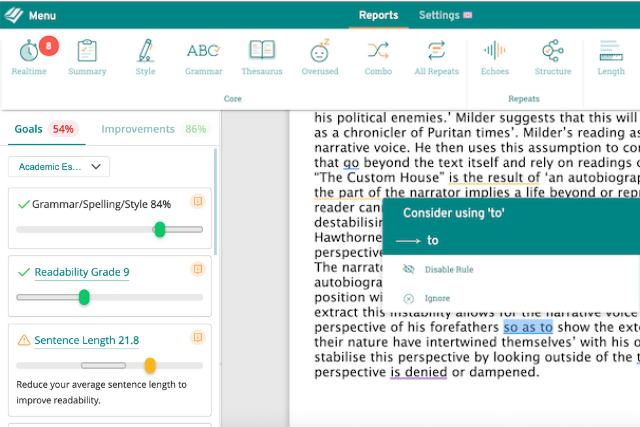 From spelling, grammar, and style edits to in-depth pacing, dialogue, readability, and structure reports, ProWritingAid is here to help at every stage of your self-edit.
Once you have a solid storyline and polished prose, then you can look for a copyeditor. Copyediting is the final stage of editing to avoid mechanical errors. Your copyeditor will go through sentence by sentence to:
Correct spelling, grammar, punctuation, and syntax
Ensure consistency in spelling, hyphenation, numerals, fonts, and capitalization
Flag ambiguous or factually incorrect statements
Track internal consistency of plot, characters, and setting
The copyeditor focuses on minute details. So, if a character has a scar on the left cheek on page 40 and then on the right cheek on page 230, they will point out that inconsistency.
You can see that this page-by-page, sentence-by-sentence examination should come at a late-draft stage. There's no point in hiring a copyeditor if your manuscript is not finished.
How to Find a Copyediting Match for Your Story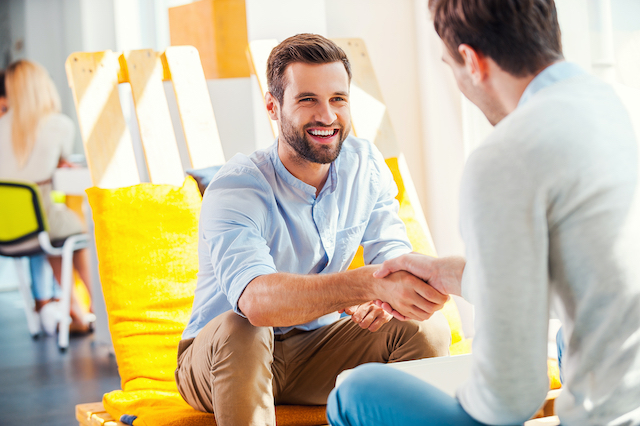 First, copyeditors work on different manuscript types. You'll be looking for someone who specializes in fiction, not academic papers, journalistic articles, blog articles, and the like. And, you want to find a copyeditor who is familiar with your genre. For example, a copyeditor familiar with crime novels will catch a phrase like "she pulled out the big Beretta." As handguns go, a Beretta is compact. It's not tiny, but it's not big either. A romance editor might miss this detail.
You and your editor work together on your manuscript, so you want to be compatible. Most editors want to see a sample of your writing and usually offer a complimentary edit of a small portion of your manuscript. That way, you each get a feel for the other's style.
Determine the editor's availability. Some editors are scheduled months in advance. Copyediting usually takes three to five weeks. You'll want to coordinate your planned publishing date with the editor's availability. Start your search as you work on the line edits.
Many editors combine line and copyediting. If that's the case, you will streamline your editing process. Once you've worked with the line edits, you can go back for copyediting.
The key to a successful relationship with your editor is communication. Just as you expect professional communication from your editor, be sure to reciprocate in a professional manner. Iron out your compatibility at the beginning.
PRO TIP: You and your editor work as a team to polish your manuscript. Avoid anyone who talks down to you, belittles your writing, or attempts to humiliate you as a writer. This is not professional behavior.
Where to Search for a Copyeditor
Don't wait until you finish your manuscript to look for an editor. Start your search by setting up a file of potential editors with notes about pricing, availability, turnaround times, etc.
Word of mouth is a good place to start. Ask writing friends for recommendations. Those friends can also steer you away from a bad experience. But if your friend writes Sci-Fi Fantasy and you write Cozy Mysteries, the great match for them may not be right for you. Make sure your copyeditor works in your genre.
Search the Editorial Freelancers Association, which lists editors. You can filter your search for copyediting, novels, and even preferred formats like Google Docs or Microsoft Word. Once you filter your choice, you have a wide selection of editors who are more likely to be a great match.
NY Book Editors matches writers and genre with editors. You submit information about your book, the genre, and the type of editing you need. They will match you with an editor. There's no commitment to making the request. Once they suggest an editor, go through the steps to see if the two of you are compatible.
Reedsy is a service for independent writers. You need to join Reedsy in order to look for a copyeditor. Then, search the Reedsy Marketplace for the type of editor you need. It's up to you to initiate an inquiry.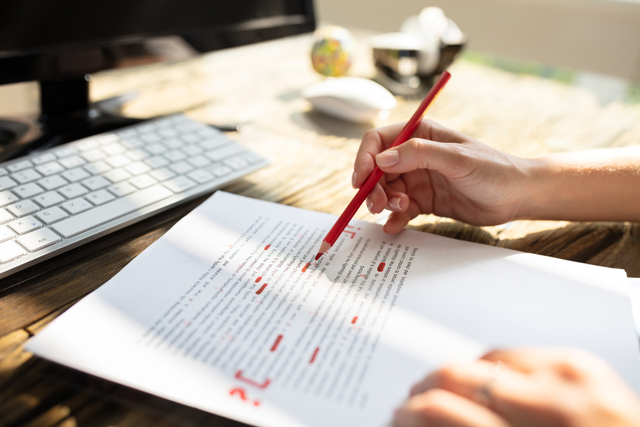 If you feel challenged by sorting through hundreds of editors to find the right match, use a service like Editcetera. This is a group of over 100 vetted editing professionals. They match your project with the right editor from within the group. Each professional must have been working for at least four years, and all references are verified. You submit your requirements and a sample, and the Editcetera team matches you with the best editor for the project. If you find your match isn't compatible, you can request a different editor.
Taking time to find the right copyeditor for your manuscript, gives you the best final edit for your book. Your readers won't be pulled out of the story by misspellings, odd punctuation, or inconsistent wording. You will feel confident submitting your manuscript for publication or formatting for self-publishing.
Modern Streamlined Copyediting
Digital documents facilitate modern editing. You and your editor work on the same document. Your editor will mark all suggested changes and may add comments in the digital margin. You have the choice of accepting the editor's suggestions or not. In most cases, your manuscript will benefit from the editor's professional recommendations.
Once you've made the final revisions, your manuscript is ready for the next stage in publishing. You can send it to an agent or publishing house confident that your story is free from the common errors that prevent a story from being accepted. And indie authors can transform the manuscript into a digital format for publishing.
Congratulate yourself on taking a professional approach to your manuscript, down to the last detail. Your story will benefit, and readers will enjoy your book.
---
Should I go with traditional, indie, or hybrid publishing? Download this free book now: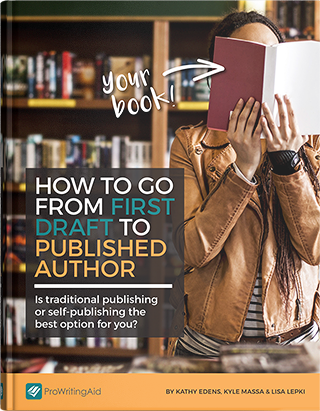 How do I write a pitch? What kind of royalties should I expect? What the heck are beta readers and why do I need them?
This guide will take you through the entire process, from refining your manuscript to choosing a publishing track to releasing your book into the world.
---