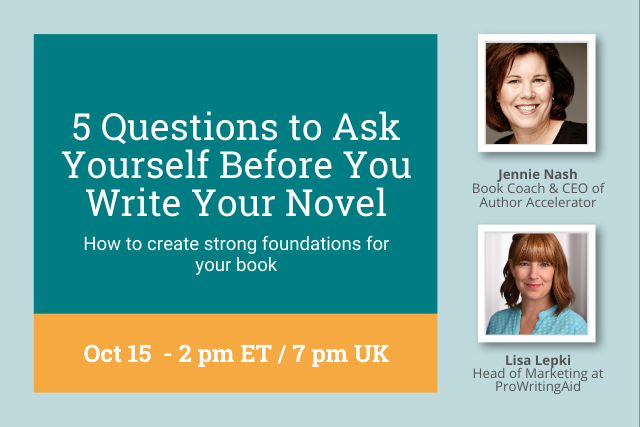 5 Questions to Ask Yourself Before Writing Your Novel With Book Coach, Jennie Nash
Most writers start writing too fast.
They get a brilliant idea and immediately focus on what happens (the plot.) As they write forward, they focus on productivity habits (thinking they have to write every day, thinking they have to hit certain word-counts) and on key craft skills (what makes a good antagonist, how to write great descriptions, how to make our dialogue more snappy.)
They are baffled when their story doesn't capture the attention of agents, editors, or readers. Where did they go wrong? The mistake happened way back at the very beginning of the process: they skipped over the fundamental building blocks of story and built their book on a shaky foundation.
In this webinar, Book Coach Jennie Nash, CEO of Author Accelerator, shows us how to avoid this heartbreaking and costly mistake by focusing on our point and our purpose.
Jennie Nash, Book Coach and CEO of Author Accelerator
Jennie Nash is the founder and CEO of Author Accelerator, a company on a mission to raise the bar on book coaching. Author Accelerator has trained more than 50 book coaches to support writers through the entire creative process. Her own coaching clients have landed top New York agents and six figure book deals with Big 5 houses such as Penguin, Scribner, Simon & Schuster, and Hachette.
Jennie is the author of 9 books in 3 genres, including her most recent, Read Books All Day and Get Paid For It: The Business of Book Coaching. Learn more about being coached or becoming a coach at bookcoaches.com and authoraccelerator.com.
Watch the Replay Now
---