Editing Q&A With Kristina Stanley and Lisa Lepki
Have you got questions about the editing process? We've got answers! Hear from professional editor and Fictionary Founder Kristina Stanley and Head of Marketing for ProWritingAid Lisa Lepki in this replay of our live Q&A session.
Find out what to look for during your self-edit to how to know when to call in a professional editor to help you out.
Kristina Stanley, Founder and CEO of Fictionary
Combining her degree in computer mathematics with her success as a bestselling, award-winning author and fiction editor, Kristina Stanley is the creator and CEO of Fictionary - creative editing software for fiction writers and editors. Her novels include the Stone Mountain mystery series and Look the Other Way. NOTE: We record all webinars and send out a replay the following day. So, even if you are not able to make this date/time, it's still worth registering to get the recording.
Lisa Lepki, Head of Marketing at ProWritingAid
Lisa is a serious word nerd moonlighting as the marketing guru and editor of the ProWritingAid blog. With over 15 years' experience in writing, marketing, PR, and producing, she secretly loves the technical elements of writing more than the writing itself (although she won't admit it). Lisa is the co-author of several books, including The Novel-Writing Training Plan and 20 Editing Tips from Professional Writers.
---
Take your writing to the next level: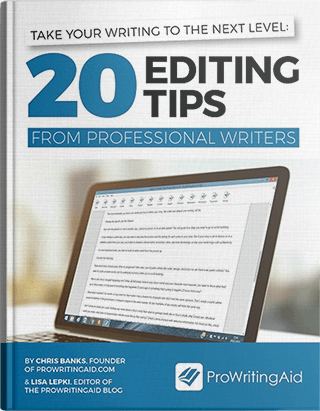 Whether you are writing a novel, essay, article or email, good writing is an essential part of communicating your ideas.
This guide contains the 20 most important writing tips and techniques from a wide range of professional writers.
---