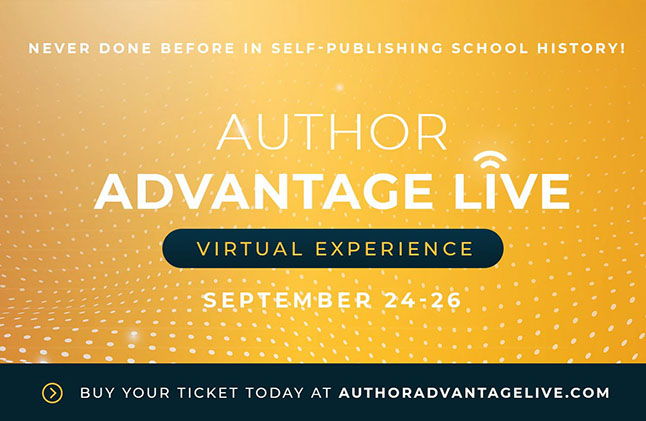 Our friends at Self-Publishing School are hosting an all-new virtual experience this September called Author Advantage Live. Taking place from September 24-26, Author Advantage Live is a three-day virtual experience where you'll learn from expert speakers and connect with like-minded authors just like you! We're thrilled to be one of the key sponsors of Author Advantage Live 2020.
---
**Full disclosure: We've partnered with Author Advantage Live so we receive a small kickback on any ticket sales that result from this article. We fully support the content from our friends at Self-Publishing School and wouldn't share this with you even if we didn't think it was valuable.
---
What is Author Advantage Live?
Have you ever wished someone would tell you what it takes to become a successful self-publishing author? Then you'll want to check out Author Advantage Live.
This three-day virtual conference brings together bestselling authors and experts in the self-publishing field. But Author Advantage Live isn't just another online course or webinar—it's a three-day interactive experience where you'll actually engage in sessions and craft plans to help you take action immediately.
Each session is hosted by a bestselling author or expert that will teach you how to get published, get noticed, and get profitable.
Who is Author Advantage Live for?
Author Advantage Live is for anyone who wants to make a living writing. Specifically, Self-Publishing School recommends attending Author Advantage Live if you are a...
Author: Author Advantage Live contains advice for all types of authors. If you want to learn how to grow your author platform and become a full-time author, then you need to attend Author Advantage Live.
Business Owner: If you want to scale your business using your writing, then this is the conference for you. Learn how Self-Publishing School scaled from $0 to $20M+ in only six years.
Impacter: Looking to leverage impact and change lives? At Author Advantage Live, you'll learn how to leverage your book to share a message and create real change in the lives of your readers.
Author Advantage Live Schedule
Author Advantage Live is a fully virtual conference in 2020, which means you can watch and engage with the sessions from the comfort of your own home. The conference is divided into three days:
Day 1: Get Published
On Day 1, you'll hear from bestsellers Dillon Barr, Gary William, Ramy Vance, and Chandler Bolt about everything from getting into the mind of your ideal avatar to building virality for your book.
Day 2: Get Noticed
On Day 2, experts Ruth Soukup, Sloane Ketcham, and Chandler Bolt share about how to craft your unique author offer and tips for building your platform... even if you're scared.
Day 3: Get Profitable
On the final day of the conference, you'll learn how to scale and sell your book, as well as craft a 90 day plan to achieve your publishing goals.
Check out the full schedule here!
Get Tickets Now
Tickets to Author Advantage Live are limited and going fast. If you want to participate, hurry over to their website to book your tickets now.
---
---