We're thrilled to announce that our Head of Marketing, Lisa Lepki, was a guest on Sacha Black's The Rebel Author Podcast.
The Rebel Author Podcast is a motivational show for all the creatives out there with an inner rebel. You can listen for interviews, industry news, tips, tricks, and tools to help you take your creative business to the next level. This week, it's all about editing your manuscript.
Like many authors, Lisa knows that the process of editing your writing is usually longer and sometimes more painful than the writing itself. Once you've finished writing your novel, it may be tempting to just call it done – but this is a mistake. Editing is integral to good writing. A good self-edit can take your book from good to great, so it's really worth doing. If you're wondering how to make the editing process go as smoothly as possible, you won't want to miss this episode.
Lisa spoke all about self-editing your manuscript, including common writing mistakes you should look out for and how you can fix them before you send your novel off to your copy editor.
Sacha Black is an author, rebel podcaster, speaker, and developmental editor. She has five obsessions – words, expensive shoes, conspiracy theories, self-improvement, and breaking the rules. Sacha writes books about people with magical powers and other books about the art of writing. When she's not writing, she can be found laughing inappropriately loudly, sniffing musty old books, fangirling film and TV soundtracks, or thinking up new ways to break the rules.
If you loved this podcast episode and want to hear more from Sacha, why not join us for our upcoming webinar?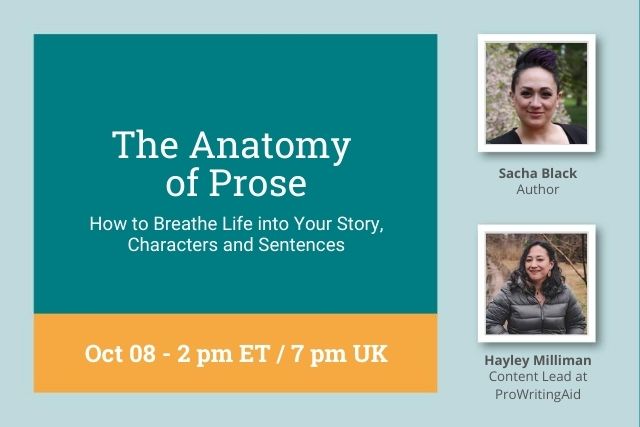 Have you planned your story arc down to the minutest detail and know every detail of your characters' backstory, but somehow your novel still feels... flat? On October 8, author Sacha Black will take you through the most common mistakes writers make with their prose and how to fix them. She'll give you rapid fire tips and tricks for differentiating your characters at the sentence level, and you'll find out how to breathe life into your story.