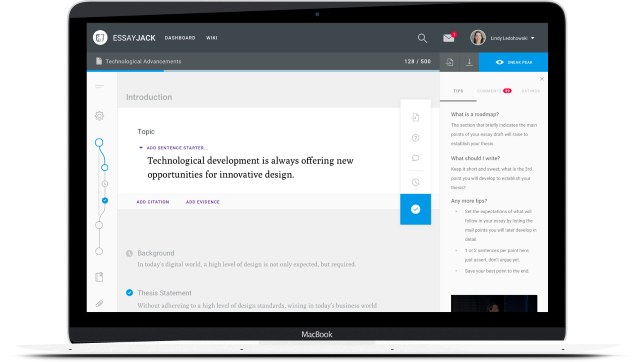 Want to try EssayJack yourself?
Want to find out more first? Read on.
---
Is there anything more soul destroying than reading your students' essays? All that amazing teaching you did. The note taking, discussions, and revision. Then you read what they've submitted and want to cry. Where did it go wrong?
The problem your students are having isn't with the knowledge. It's how they get those thoughts down into a well-organised essay. All too often they're paralysed by fear of the blank page.
Enter EssayJack
That's where EssayJack comes in. It's a web-based tool that helps students write academic essays and develop critical thinking skills. They use prompt questions, sentence starters, and tips to fill text boxes for each section of the essay.
Developed by experienced educators with an impressive 7 degrees and 2 postdoctoral fellowships between them, it's ranked as one of the top English Language teaching digital innovations in the world by the British Council and Cambridge English.
As a teacher, I couldn't wait to try it. Could this help me teach essay writing and support my learners to write effectively?
Navigation
When you first log on to EssayJack, a short welcome video pops up from Dr. Lindy Ledohowski, the CEO. This helps you get started immediately without wasting time getting familiar with the platform. After the 30 second video, you'll know exactly where everything is.
The left-hand bar is where you'll find all the navigation choices. You can add students to assignments and select essays to review.
Look here to create:
Essay templates
Courses
Assignments
The centre dashboard gives you bird's-eye view of your data.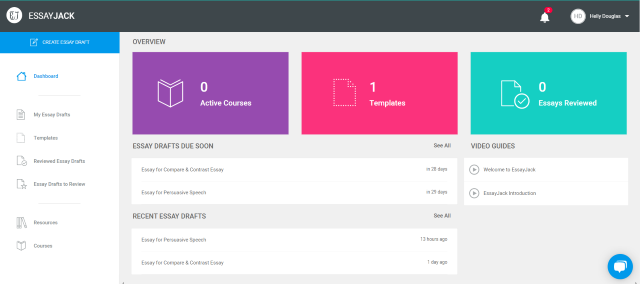 When you click an icon, the screen display will change, but the familiar layout remains. The left section always helps you navigate, whilst the centre is working space. Any tips or information will appear on the right-hand side. I found it very easy to find everything with just one or two clicks.
How to Use EssayJack
EssayJack lets you quickly create a complete essay template. Everything is customisable, and you can reuse templates again for multiple courses. Perfect for busy teachers who don't want to reinvent the wheel.
There are lots of different choices for types of essays. Scroll down the list and select the one you want.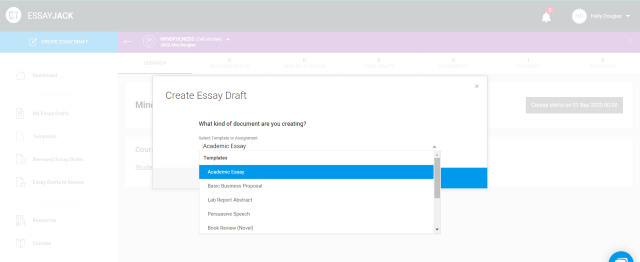 The default layout provides you with everything you need. Press the blue button next to each sub-point to turn it on or off.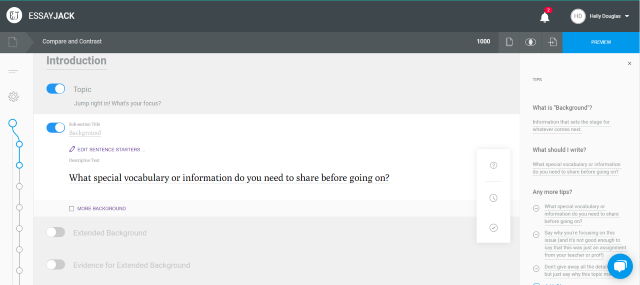 You have complete control over the choices. Take the sentence starters. Just remove any you don't want, or return to the default with one click.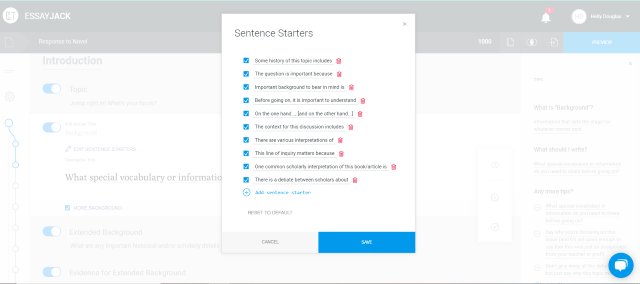 Building Courses
EssayJack lets you build courses. This helps you keep on top of student submissions, review their work, and mark all essays in one place.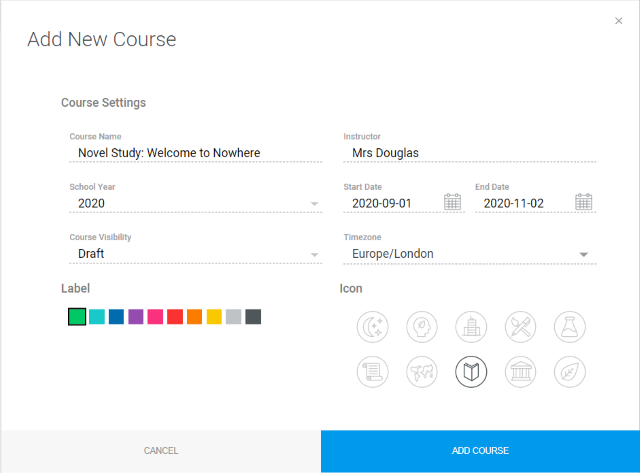 If you work collaboratively, you can add other managers to each course using their email address.
Marking
EssayJack has rubric-based review and individual commenting options. You can use both for ongoing assessment and formative support, or for feedback after final submission.
When I review essays, I'm easily overwhelmed with all those open documents. I can see how EssayJack would significantly speed up and simplify the marking process.
How Students Use EssayJack
After logging in, students start drafting within seconds.
They'll use the left-hand side to move between sections of their writing. But this is far more than the navigation bar on Word. EssayJack breaks everything down further into subsections.
The centre area displays a text box to fill. They can select from the sentence starters and use prompt questions, with a live word count to keep them on track. On the right of the display, students see explanations and tips to make sure they are writing exactly what they need.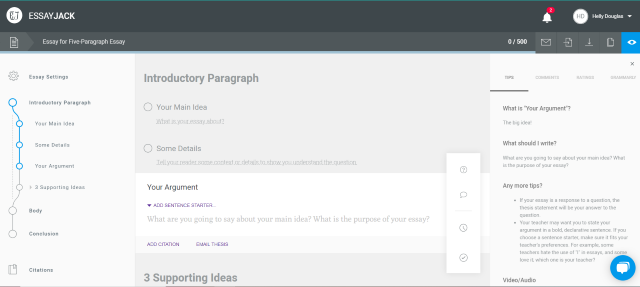 Citations
Referencing sources is always a challenge. I love how EssayJack helps. Students select which type of source they are using.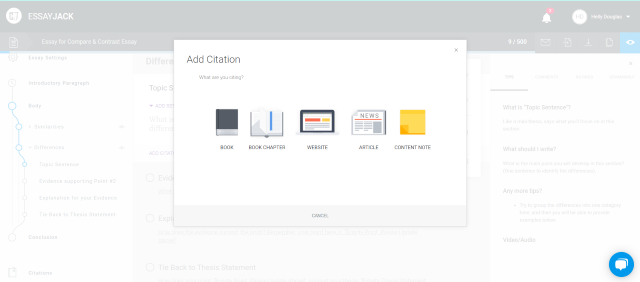 Then use the pop-up box to fill in the details.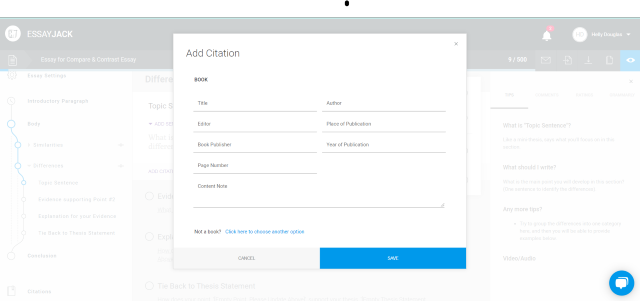 Reviewing Their Work
Students select 'split screen composing' to see how their essay is being built and get a full preview.
They can send work to you for review within the platform. But if they're using EssayJack and their teacher isn't, they can also export as a document or email it to themselves.
Benefits
Teachers are rightly wary of programs that write students' essays for them. That's where EssayJack stands out.
It's far more than a 'paint-by-numbers' approach. All the thinking comes from the student. EssayJack not only provides the structure, but also teaches them how to organise their ideas and write critically.
Technology doesn't have to take over. You can use programs like EssayJack to enhance your students' writing abilities. They're learning how to open their paragraphs, how to structure their ideas, and what they need to include to write the best essay they can.
ProWritingAid takes a similar approach. Once a student has written their essay in EssayJack, they can run it through ProWritingAid to edit it. Like with EssayJack, your students will learn as they edit. ProWritingAid doesn't just make suggestions like a spellchecker. It includes articles and videos to explain to your students why they're making the changes they are.
EssayJack and ProWritingAid work beautifully together to keep students learning as they write.
Personalised Support
I love how much control I have over the essay templates, making it suitable for all ages and abilities.
Some students will use the structure prompts as guides, others will rely heavily on the sentence starters and prompt questions. You can offer as much or as little support as you want.
Increasing Grades
EssayJack is a great tool for teaching critical thinking, so it's no surprise this results in improved student grades.
They've completed five rounds of research studies from Grade 8 through to University level, and each one shows an increase in student grades. They're currently writing this up into a peer-reviewed paper.
Flexible Purchasing
You're not tied-in with EssayJack. By offering a monthly or yearly purchase options, you can choose how to use it. Some schools buy it for a few crucial months each year. Perfect for squeezed budgets. The larger the number of student accounts, the lower the price.
Others suggest it as a resource for parents to purchase, like a digital textbook. You can still make custom changes by connecting your account with theirs.
Summary
Teaching essay-writing is always difficult, however old your students are. The minds behind EssayJack know the challenges because they've experienced it first-hand. They know what teachers are looking for with essay writing support, and this delivers everything you'll need.
Younger students will need training to use this platform, but the results will be worth the effort. Well-structured, thoughtful essays with accurate citations and clear conclusions – what's not to love?
---
Ready to get started? Try EssayJack Now.
EssayJack teaches students how to write critically and organise their ideas into effective essays.
Your students will be able to put your lessons into practise using software that supports and reinforces your teaching. Before long, you'll be seeing well organized, well supported essays, leaving you more time to focus on teaching content and improving their writing even further.
Quick disclaimer. When we find a software we love, we often reach out to the company and ask if we can help promote it. As such, this review contains affiliate links. This means if you buy EssayJack, ProWritingAid receives a small commission at no extra cost to you. It's a great way to help our team keep improving the editing technology you love.
---