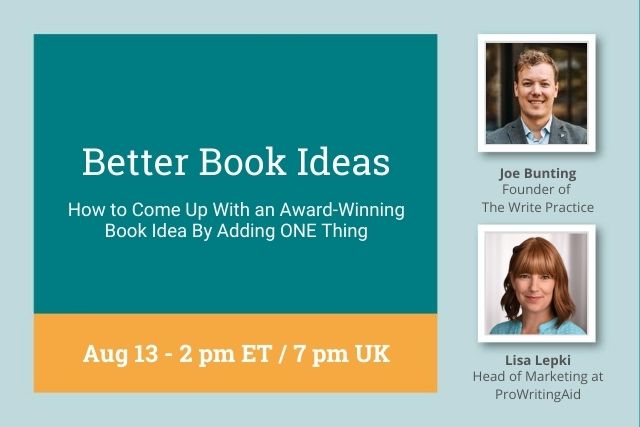 New Webinar Alert! Better Book Ideas: How to Come Up With an Award-Winning Book Idea by Adding ONE Thing
Whether you've been writing for years or you're just starting out, coming up with fresh ideas never gets easier. Or does it?
On August 13, Joe Bunting from The Write Practice will take you through how you can come up with better book ideas, every time. You'll learn how to come up with an award-winning book idea, why the bestselling books of all time follow the "two words" method, and how bestselling authors and screenwriters know if their idea is good or not.
It's perfect for aspiring writers, as well as writers who are in the middle of writing their novel or nonfiction book. It's also helpful for writers in the editing process, as it's important to figure out exactly what a book is about in order to edit it effectively.
Joe Bunting is a bestselling writer, novelist, and dad. He has written nine books, is the host of the podcast Character Test, and his company, The Write Practice, has helped over 10 million people become better writers.
His hugely popular 100 Day Book program includes writing inspiration, weekly lessons, and frequent check-ins with your very own book mentor. Meet your weekly deadlines and finish your book on time and they'll give you $100. Miss three deadlines or fail to finish your book and miss out on the $100.
Pretty great incentive to finish, right?
---