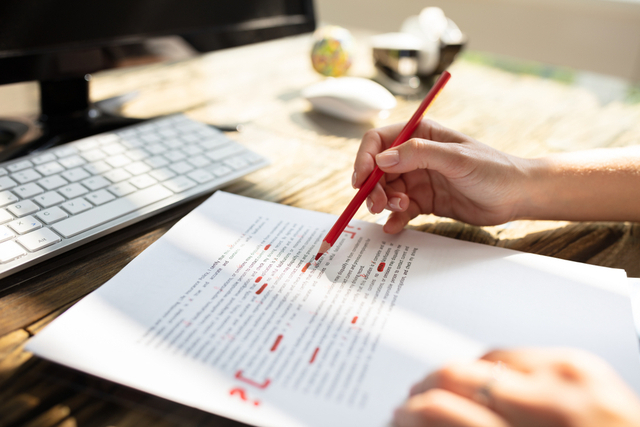 Writers in the ProWritingAid community often ask whether professional proofreading is a viable option, either as a career or as a side hustle. Our answer is usually yes. If you are a ProWritingAid user, then you probably already have a love of words and an interest in good writing technique.
So, we reached out to Caitlin Pyle of ProofreadAnywhere.com. She has helped thousands of writers take the plunge and become professional proofreaders. Here is what she had to say:
Q: How did you get started as a proofreader?
I started my proofreading side hustle when I was studying abroad in Germany. I loved helping fellow students polish their words so they could be really proud of their essays and theses. I continued proofreading when I got home, and eventually ended up proofreading for court reporters while I was working in a court reporting agency.
After that, I proofread on the side while training to be a fitness instructor until I realized that proofreading could be my full-time job. That was a real lightbulb moment for me!
Then some friends started asking how I was able to make money from home as a proofreader and so Proofread Anywhere was born!
Q: What skills do you need to be a good proofreader?
You need to have a natural knack for spotting grammar, spelling, and punctuation errors. Of course, you can learn all those nerdy grammar rules and improve your proofreading skills, but if you don't have eagle's eyes or care about the nitty-gritty, then you might struggle with being a proofreader.
A willingness to research what you don't know is also a huge asset. Even if you focus on proofreading in one particular niche, you'll still run across topics you're not that familiar with. Instead of sending it back to your client saying you didn't understand what a word meant or how to spell something, you will need to do your own research.
You also need to be able to have good time management skills so you meet deadlines and have excellent communication skills. Clients are paying you to solve their problems, so they expect to receive a professional service.
Q: Do you need an English degree?
No, absolutely not! There are tons of students in my courses who do not have a degree – English language or otherwise. Even students who have a degree will tell you – many of them – that the degree they have isn't necessary for what they do as proofreaders now.
All you need is a pair of eagle's eyes, the drive to succeed, and the proper training under your belt. It is important that you get some training to become a proofreader as you'd be surprised how much language changes over the years and how much of it you have forgotten.
Q: How do you know if proofreading is for you?
If any of the following statements sound like you, there is a good chance that working as a proofreader is something you'd really enjoy:
Do you proofread restaurant menus?
Do errors on billboards jump out at you?
Do errors in books pull you right out of the story?
If you can spot errors from a mile away and are determined to provide excellent work to your clients, then yes, proofreading is for you!
Q: How do you find clients?
That is the #1 question I get asked by prospective students. In fact, I get asked that question so often I've dedicated an entire module of my course to getting clients.
Of course, I'm not going to give away the secrets on how to market yourself and get clients here. 😊 It's extremely important that a proofreader has the training needed to make themselves excellent proofreaders before they market themselves. My General Proofreading course includes five modules of extensive training before we even talk about how to find clients and make money!
I teach you both the skills you need AND how to find clients. So if you follow the guidelines I include in the course, you should have no issues finding clients. If you put in the effort and market your business authentically, you will see the rewards.
I don't recommend looking for clients until you've completed some training. Reputation is everything in the proofreading industry, and if you take on a client without really knowing what you're doing and you make lots of mistakes, you might not get another chance with that client. And they won't be recommending you to their network!
Q: How do you know how much to charge?
Proofreaders can charge per word, per page, per project, or per hour. It depends on the length of the project and your own preferences.
In terms of what you can earn, it really depends on how much work you take on, how fast you can proofread, and the rates you set. To give you some idea of what's possible, I was able to earn around $43,000 a year as a proofreader, working part-time hours!
Q: Is there a demand for proofreaders these days?
Yes, there is a huge demand for proofreaders these days, thanks to the boom in self-publishing and the fact that millions of blog posts are being published every day. Anyone who publishes content needs a proofreader.
Q: Can you tell us about your proofreading course?
Of course! General Proofreading: Theory and Practice™ is a detailed training program wherein you'll learn everything you need to know about proofreading general texts – think books, blogs, and the like. It's got everything you need to help you on your proofreading journey from grammar lessons to practice essays to marketing tips.
The course includes 40+ lessons in 8 modules, including 10 grammar and punctuation worksheets and 40 practice essays so you can test your skills. The course is available at two levels – Ignite and Ignite Plus. With Ignite, you get lifetime access to the course. With Ignite Plus, you get lifetime access to the course and the opportunity to take a hand-graded exam to verify your skills. If you pass the exam, you get a certificate of completion, access to an exclusive marketing mastermind Facebook group for graduates, and a listing on Self-Publishing School's Preferred Outsourcer Rolodex.
If you're a word nerd and you want to make an income from home (or anywhere in the world), proofreading could be the right fit for you – whether you're a stay-at-home mom, a retiree, a millennial, or a writer who wants to earn extra money on the side.
Ready to learn more?
Caitlin has some free training to help you learn everything you need to know about her course.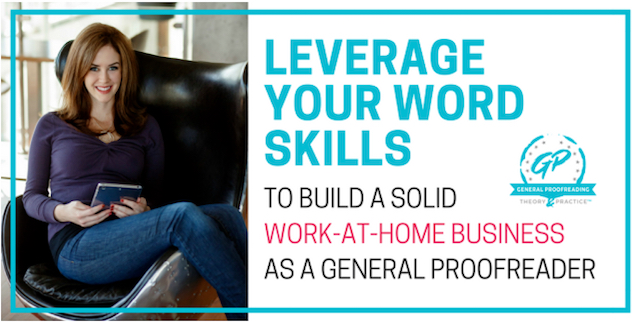 Just so you know: when we reached out to Caitlin to answer our questions, she invited us to join her affiliate program. So, if you do end up taking her course, we will get a small commission at no extra cost to you.
---