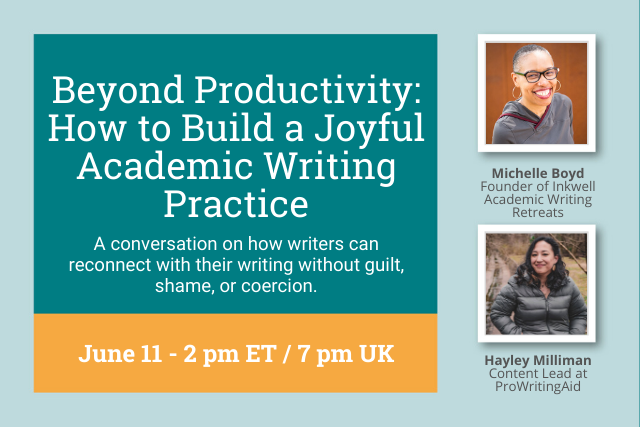 ProWritingAid Presents: How to Build a Joyful Academic Writing Practice with Social Writing
Are you having trouble making space for writing in the midst of pandemic life? Do you feel guilty for not being more productive when it seems you have more time to write?
This workshop describes how writers can reconnect with their writing without guilt, shame, or coercion.
Participants will learn: - how sheltering-in-place actually makes writing more difficult, not less - why focusing on productivity is counterproductive - an easy, healthy, pandemic-friendly way to boost your motivation for writing
Michelle Boyd, Founder of InkWell Academic Writing Retreats
Michelle Boyd, PhD is an award-winning writer and scholar; a former tenured associate professor; and the founder of InkWell Academic Writing Retreats. She has been leading retreats since 2012, when she cofounded and coached her first retreat at the University of Illinois at Chicago. Three years later, she left faculty life to create InkWell, where she helps scholars who dread writing develop a sustainable, satisfying, productive writing practice.
Watch the replay now!
This webinar went live on June 11, 2020, but we recorded it for you to enjoy any time! Just hit the play button below to watch the replay.
Other resources
Subscribe to Michelle's newsletter: https://www.inkwellretreats.org/subscribe.html
Join us for future live training events here: https://prowritingaid.com/webinars
Join our writing community: https://bit.ly/PWA-community
Subscribe to the ProWritingAid Newsletter to get great information about writing delivered straight to your inbox: https://bit.ly/PWA-newsletter
Write us at: hello@prowritingaid.com
---