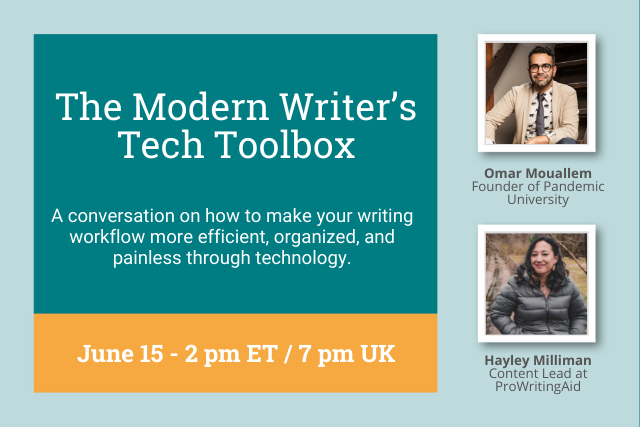 ProWritingAid Presents: The Modern Writer's Tech Toolbox
This one-hour webinar cracks open a prolific freelance writers' toolbox to show how you can make your workflow more efficient, organized, and painless. Omar Mouallem will introduce you to all the latest tech making 21st Century writing more efficient, from word processors built to manage huge projects, surprisingly accurate automatic transcription, A.I. that polishes prose, and "smart pens."
Omar will also give advice on optimizing basic tools, like voice-to-text and text-to-voice, and demo distraction-killer apps to keep your butt in your seat.
Omar Mouallem, Author + Founder of Pandemic University
Orna Ross is an award-winning and bestselling independent author. She writes novels, poems and non-fiction for other indie authors and creative entrepreneurs. A creative facilitator and advocate for self-publishing and digital micro-business for creatives, she is Founder-Director of the Alliance of Independent Authors and has repeatedly been named "one of the 100 most influential people in publishing" (The Bookseller).
Watch the replay now!
This webinar went live on June 15, 2020, but we recorded it for you to enjoy any time! Just hit the play button below to watch the replay.
Other resources
Check out Pandemic University here: https://pandemicuniversity.com/summer-preview/
Join us for future live training events here: https://prowritingaid.com/webinars
Join our writing community: https://bit.ly/PWA-community
Subscribe to the ProWritingAid Newsletter to get great information about writing delivered straight to your inbox: https://bit.ly/PWA-newsletter
Write us at: hello@prowritingaid.com
---