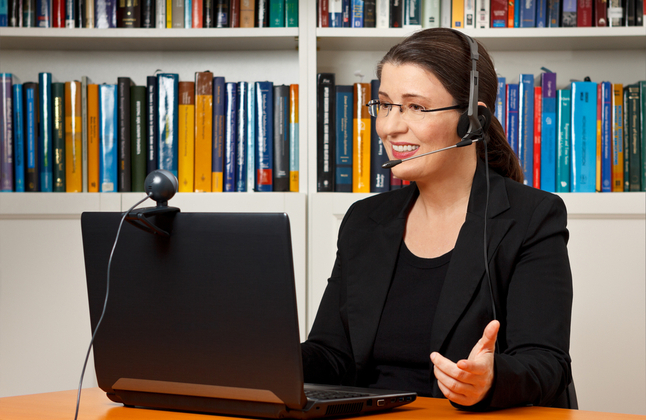 Teaching is a rewarding experience, as it gives us an excellent reason to continue learning. Teaching online is unprecedented as it allows us to interact with students and fellow lecturers without any geographical or time zone limitations.
It can be a dream job for professional writers. You can still work for multiple publications and corporate clients remotely while also educating students virtually via an LMS (learning management system). If you teach online full-time, you might even earn a full professorship.
For four years, I've been fortunate enough to have served as an online writing lecturer for a private online university based in Utah, USA, teaching college-level essay-writing and paper-writing for undergraduate students. Interestingly, I had no writing-related degree when applying for the post.
In this article, we'll discuss what to prepare before hunting for online writing teaching positions, where to find such job vacancies, how to approach the application process, and other routes to consider.
Preparing for the Job Hunt
First and foremost, you need to inventory your skills, past experiences, and accomplishments.
Using my own background as an example, I had no writing degree, like an MFA or an MS in Technical Communication. However, I did graduate from an MSEd in Instructional Design program with an emphasis on online teaching and learning from a state university. And I've developed several business-related online classes and published extensively in numerous print and online publications worldwide, including Forbes and Cosmopolitan.
That said, to teach writing at an online university, you may not need a degree in writing. Of course, each institution has its requirements, so I can't generalize for everyone.
Take a good note of your skills, experiences, and accomplishments as detailed as possible. Create new lists of them, not only those already listed on your resume. Sometimes, we overlook the skills and experiences that we've been using every single day.
For instance, I type super fast, upward of 100 words per minute. As a writer and instructor, it may not be directly relevant. Nonetheless, make an effort to list it because an online lecturer must type a lot due to the online environment, so having this skill would be very beneficial.
Second, familiarize yourself with online teaching tools.
In general, online teaching can be divided into two types: synchronous and asynchronous. Synchronous instruction refers to real-time teaching and learning activities, which can be done via live chat, video conferences, and webcam-based proctored exams. Asynchronous instruction is a teaching and learning process that allows interactions between instructor and student to be done with self-guided lessons, video lessons, lecture notes, and discussion boards without any mandatory real-time sessions. Get familiar with the requirements of both types.
Most schools create their lessons in various formats developed by a course designer, not an instructor. However, you'll at least need to understand how to operate popular LMSs (learning management systems) like Moodle, Blackboard, and LearnDash. Each LMS has its own features, so whenever possible, download the demo version for practice.
Find a way to use it as a student and an instructor so that you can see by yourself from both sides of the fence. Make sure to learn how to create videos using a webcam or a smartphone and have them uploaded to the LMS. In short, be a power user of various LMSs and online teaching tools. Then state that in your resume.
Third, develop one or two demo courses.
While most schools have in-house or contract course developers, who assist in developing the overarching curricula and course modules, a lecturer applicant with some knowledge in creating courses would be a huge plus.
With this in mind, why don't you create one or two demo writing courses? It may take a few days, but it could well worth the effort.
Start with a course premise that you're comfortable with, not something that you think the employer might be interested in. For instance, if you're applying for a teaching position in paper writing, but your forte is in journalism, be true to yourself and write what you specialize in. Doing so will showcase your strengths both as a lecturer and a course preparer.
Fourth, prepare a scannable resume with appropriate keywords.
Today, most job hiring is completed electronically, which starts with using ATS (applicant tracking system) for scanning applicant resumes. Thus, it's imperative to prepare an electronic resume that's scannable, so your application is moved up to the next round.
Always sprinkle keywords from the job ad throughout the resume. Such keywords can also be found in job titles, required skills, job responsibilities, and other specialized requirements. Different keywords related to the institution can be found on their site or blog, which is also crucial to win the employer over.
Your resume should be formatted as Microsoft Word document or Adobe PDF, retaining text formats. Any unnecessary illustrative layout designs, like a profile avatar and colorful dividers, should be used sparingly. Any aesthetic element must have a purpose.
Use standard headers to make sure the software recognizes and can phrase it, e.g. Work Experience, Achievements, Education, Publications, References. Refrain from using uncommon terms, as they're not likely to be recognized.
Where to Find Job Vacancies
Finding online teaching jobs can be through job aggregators, higher education sites, online teaching job boards, and university sites. Or, if you have friends in academia, ask around, as they might have some information on new openings.
The following are a few sources to start with.
How to Approach the Process
Once you're ready to apply and have the scannable resume at hand, write a personalized cover letter. Personalization is vital to show your strong interest and respect to the institution and the hiring committee. Think like an employer: would you be interested in interviewing an applicant who's too lazy even to personalize the cover letter? Most likely not.
Of course, you probably apply for similar positions with related keywords. In such cases, you can re-use the cover letter with minimal personalization. Remember to continue sprinkling the keywords in the cover letter, not merely in the resume.
Most college and university teaching jobs would require a Master's degree. However, if you don't have a graduate degree or diploma, you can try other options, such as teaching online language classes, like ESL (English as a second language) courses.
Other Routes to Consider
Other routes include being an online tutor, an online corporate trainer, a K-12 online teacher, and an online professor. These routes may require a Master's degree or not. The first two don't need any degree, as long as you're capable enough to perform the tasks.
However, if you're aiming to become a K-12 online tutor or online teacher, you'd need at least a Bachelor's degree. There are many online tutoring companies and marketplaces to start with. Check with your state or province to confirm whether you'd need any teaching credentials to tutor K-12 students.
If you're a non-fiction writer, most likely you've been writing instructions throughout your career. How-to books are very similarly structured to online courses. It provides a foundation in the first few chapters (or lessons) and the detailed applications in the remaining chapters (or lessons).
Consider applying for instructional design jobs. There are also plenty of free online courses on this subject.
As an online corporate trainer, you can do a lot of stuff on your own that you probably have been doing as a professional freelance writer. The key is getting connected to the business world, including SMEs (small and medium enterprises).
Another option is appointing yourself as a course developer of your own training company. With web apps getting more straightforward to use without any coding needed, you might want to develop and sell your individual online courses. And there are many turn-key LMSs to choose from, so you can immediately upload course materials without any delay. Here are some of them.
With all these options available to you, it's time for action. Teaching writing online is a viable option at the moment.
Use this privilege of modern communication optimally, so we can live and work meaningfully in a positive and rewarding environment. Through teaching, we can make a change, which is the most rewarding part. Happy teaching.
---