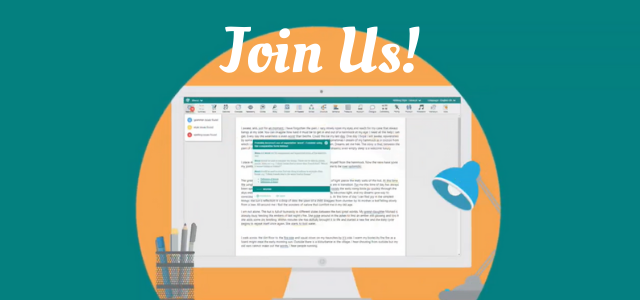 We Love Offering Free Training, Workshops, and Events for Writers in our Community!
Each month, we host events ourselves and in collaboration with our partners, all aimed at helping you become a better writer.
We will update this article monthly with upcoming training dates so you can sign up for what interests you. Bookmark it now so that you never miss out!
---
NOTE: We record all sessions, so even if you can't make a certain date/time, it's still worth registering so you receive the replay!
---
Regular Monthly Sessions
Each month, the ProWritingAid team hosts regular sessions every Tuesday.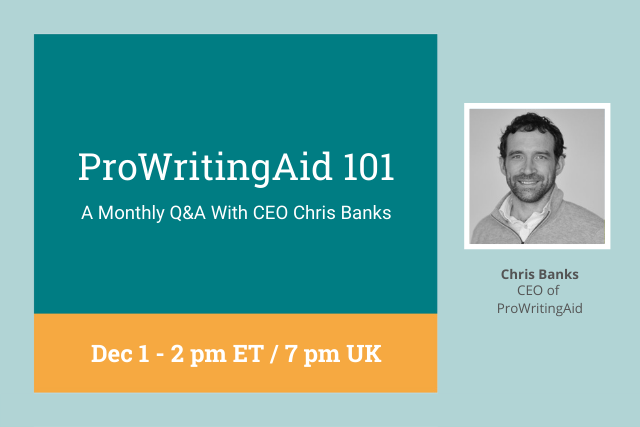 Founder and CEO of ProWritingAid, Chris Banks, will walk you through the ProWritingAid web editor to help you get up and running. See how key features like the Summary Report, Real-Time Checking, and Word Explorer can help you improve your craft. The session will finish with a live Q&A.
Chris Banks is an expert on creativity and language technologies. He started ProWritingAid to help with his own writing, but he soon saw how useful it was for everyone else. Now, he wants to help more people put their ideas into words and those words into the hands (and hearts) of readers.
ProWritingAid 101 happens on the first Tuesday of every month.
---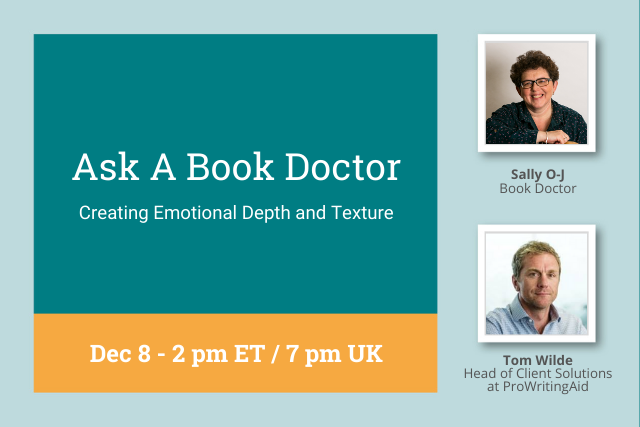 On the second Tuesday of every month, the ProWritingAid community is invited to bring all their questions to our favorite Book Doctor, Sally O-J.
A book doctor works alongside the author, looking at everything from plot and characterization to writing technique, dialogue and texture. If you're wondering how to turn your manuscript from a labor of love into a bestseller, a book doctor's diagnosis might be what you're missing.
When bestselling author Sarah Waters OBE (Fingersmith, Tipping the Velvet) was just starting out, she turned to Sally for feedback, encouragement and support. Sally has worked as a book doctor with Sarah on all of her novels since.
Each webinar will be based around a topic and Sally will provide practical advice and training before opening up for questions from attendees.
Upcoming topics:
---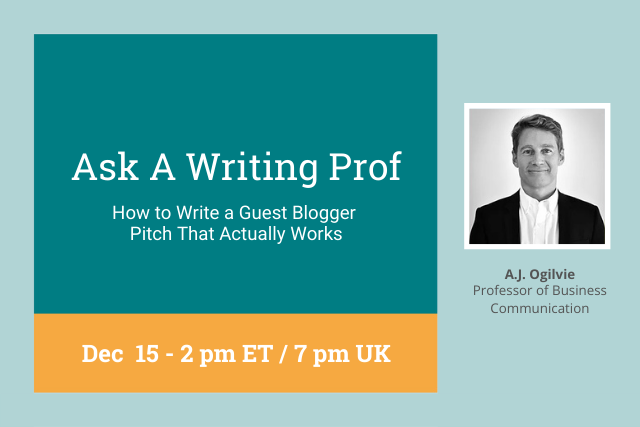 On the third Tuesday of every month, the ProWritingAid community is invited to join Andrew (A.J.) Ogilvie, PhD, Professor of Business Communication for an in-depth training and Q&A.
Upcoming sessions:
---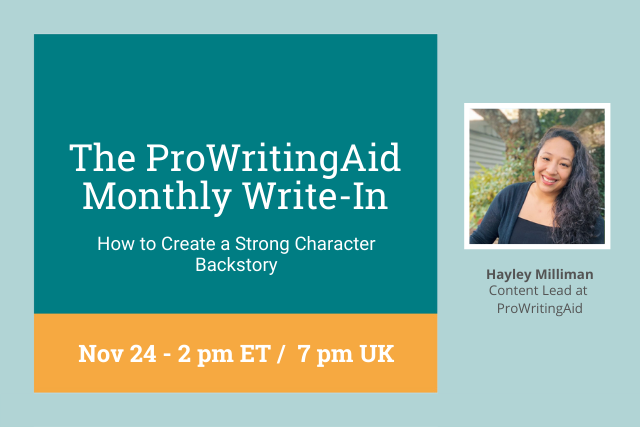 Each month, we gather for the ProWritingAid Write-In. Join us as we work through short prompts and share together for feedback. The Write-In happens on the fourth Tuesday of every month.
Upcoming write-ins:
December 29: Creating realistic emotions
January 26: Outlining your novel
February 23: Writing engaging dialogue
---
Additional Upcoming Sessions
In addition to our recurring series, we are proud to host guest presenters for sessions on everything from managing your content workflow to learning how to self publish. Check them out below.
---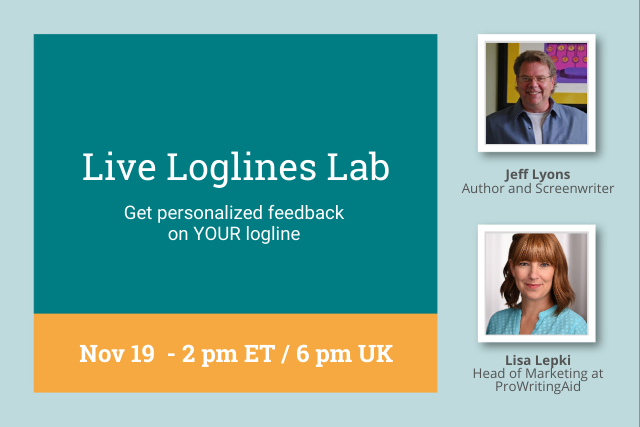 Would you like professional feedback on your logline? Now's your chance!
Loglines are an essential tool for pitching agents, editors, or film producers. In this session, Story Development Consultant Jeff Lyons will be live workshopping participants' loglines to help ensure they are as effective as possible.
You'll be able to share your own logline and receive personalized feedback from Jeff, so have your loglines at the ready.
---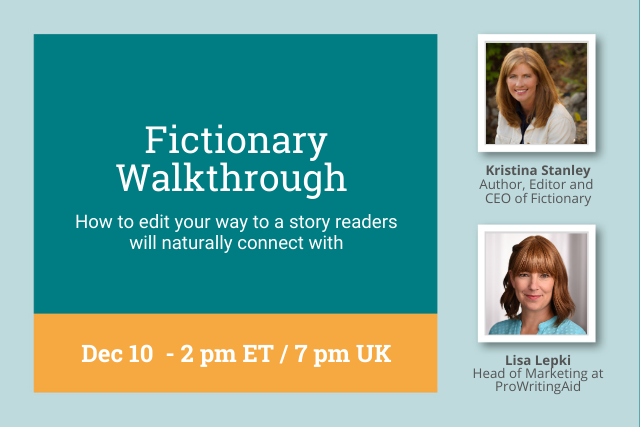 Editing a manuscript is a big undertaking, both intellectually and emotionally. Being thorough can be difficult and time-consuming, but the creative story editing process always pays off.
Fictionary makes editing easier by applying universal storytelling structures to every scene. In this session, Kristina Stanley, CEO and Founder of Fictionary, will walk us through her groundbreaking new story editing software. Bring your questions and see if Fictionary is for you.
---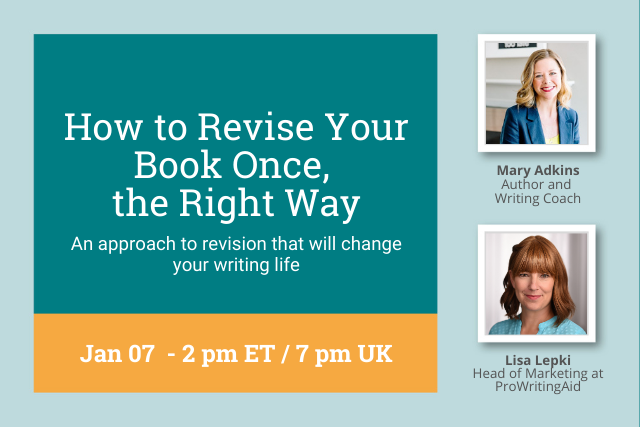 Editing is a lot of work. You can save yourself months of frustration by approaching revision with the proper mindset and priorities. Author Mary Adkins learned this the hard way: she rewrote her first novel, When You Read This, 13 times! But when she turned in her third novel, Palm Beach, to her editor at HarperCollins several months ago, she had only revised it once. What's the difference? It's all in the system Mary will teach you in this webinar.
---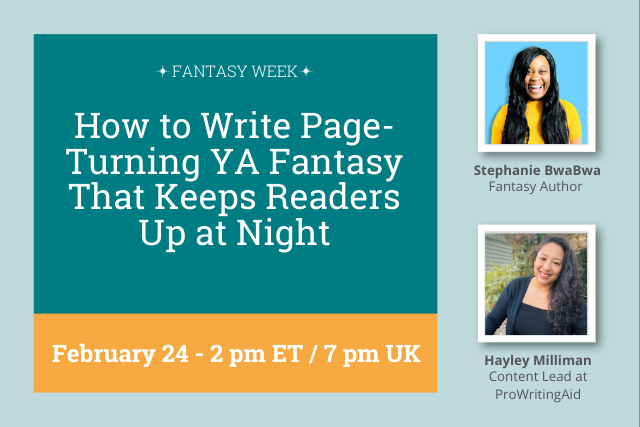 In this workshop, fantasy author Stephanie BwaBwa will dive deep into creating a page turning novel that will keep your readers up at night. She'll break down the main elements all YA Fantasy novels need. Stephanie will discuss what to avoid when writing your novel and highlight how to make your characters relatable, and your story themes memorable.
---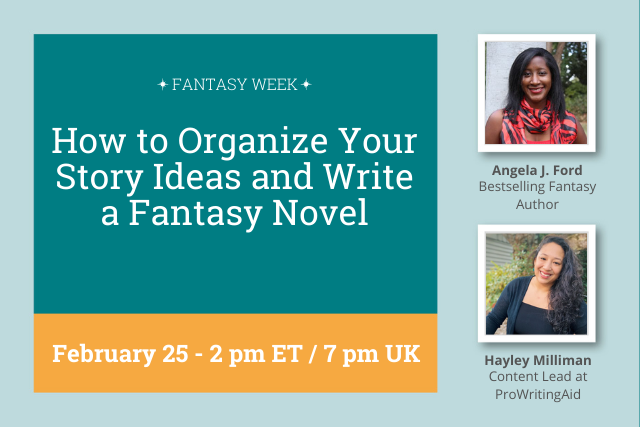 During this workshop, bestselling fantasy author Angela J. Ford will help you dig deep into taking your ideas and turning them into a story readers adore. You'll learn how to take your ideas and organize them (regardless if you're a plotter or pantser) before you begin writing. We'll discuss how to expand your imagination to create an exciting but believable fantasy world and tackle creating fantasy characters that resonate with readers.
Missed a session?

---
Have a question about how to register, or is there a training session you'd like to see us do? Feel free to contact us here.
---