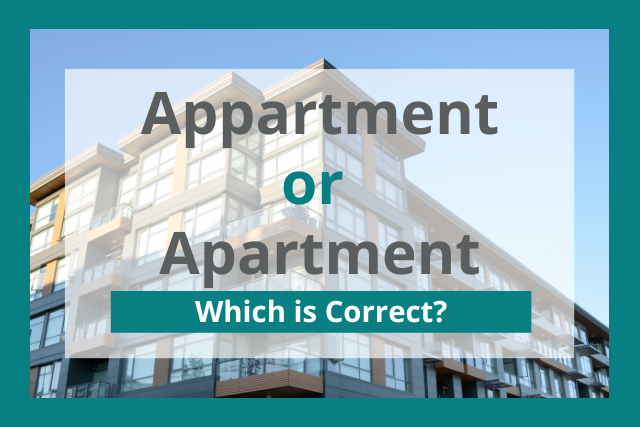 Apartment is a tricky word to spell—it stumps many English speakers every day. So, how do you make sure you're spelling it right?
This article will explain how to spell apartment and give you our best tips for remembering the correct spelling.
Apartment Definition and Meaning
An apartment is a private housing unit inside a larger building.
Typically, an apartment is found in a building that contains many apartments, each of which is occupied by a different person or group of people. Each housing unit is apart from the rest of the building, which is where the word apartment comes from.
For example, you might decide to live in an apartment in the city, rather than a house in the suburbs.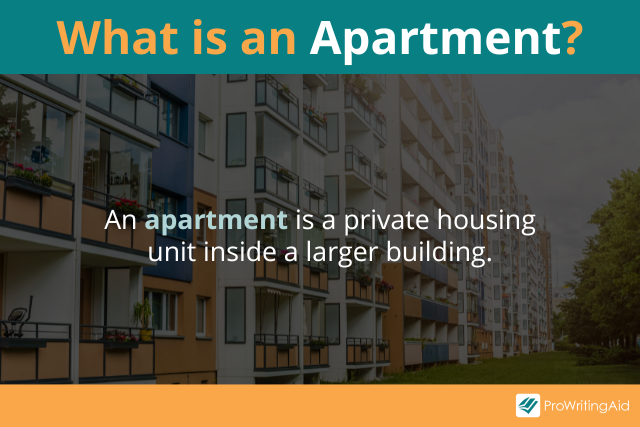 In British English, it's more common to use the word flat than the word apartment. The collective building is called an apartment building in American English, and a block of flats in British English.
How Do You Spell Appartment?
The correct way to spell apartment is with a single P.
Many people are confused about the spelling of apartment. Common misspellings include appartment, appartement, and apartement.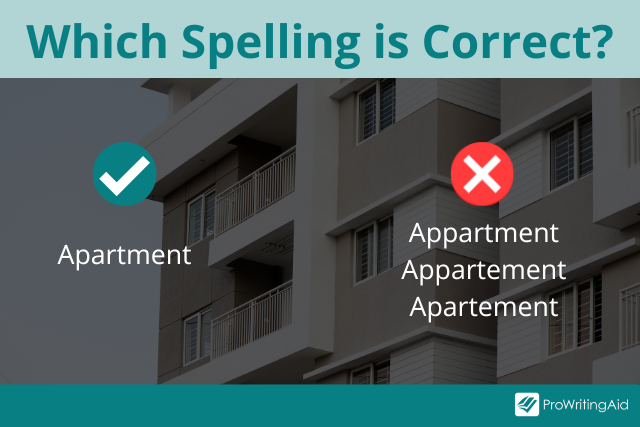 Examples of Apartment Spelling
The best way to learn how to spell a word is by reading plenty of examples. Here are some examples of the word apartment from popular English books.
"I'm sorry. I didn't know you were coming or I'd have cleaned up a little more. My life, I mean, not just the apartment."—Audrey Niffenegger, The Time Traveler's Wife
"Get out of your apartment. Meet a member of the opposite sex."—Chuck Palahniuk, Fight Club
"Adam lived in an apartment located above the office of St. Agnes Catholic Church, a fortuitous combination that focused most of the objects of Ronan's worship into one downtown block."—Maggie Stiefvater, The Raven King
"I want to terminate the conversation and not have you be in my apartment anymore."—David Foster Wallace, Consider the Lobster and Other Essays
"Normal, daily life ticking by on our streets and sidewalks, in our houses and apartments, in our beds and at our dinner tables, in our dreams and prayers and fights and secrets—this pedestrian life is the most precious thing any of us will ever experience."—Shauna Niequist, Cold Tangerines
"'House gods,' Percy said. 'Like... smaller than real gods, but larger than apartment gods?'"—Rick Riordan, The Son of Neptune
"The moment we stepped out into the hall, Cam's apartment door flung open."—J. Lynn, Wait for You
Tips for Spelling Appartment or Apartment
You can think of apartment as a combination of the word apart and the suffix -ment. After all, an apartment is a private suite of rooms that's kept apart from the rest of the building.
As long as you know how to spell apart, you can avoid the most common misspellings of this word. Just add -ment at the end, and you're good to go!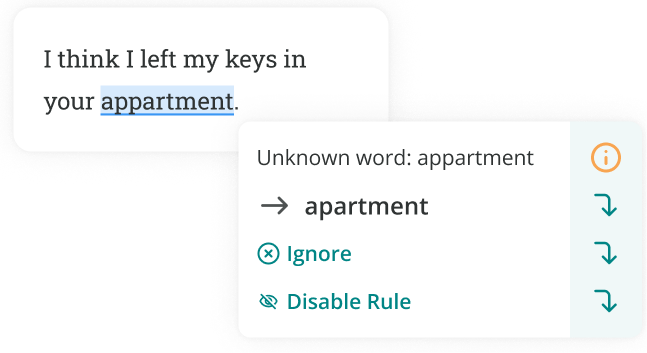 If you struggle to remember the correct spelling, you can always run your work through ProWritingAid, which will help you correct spelling errors with a single click.
---
Take your writing to the next level: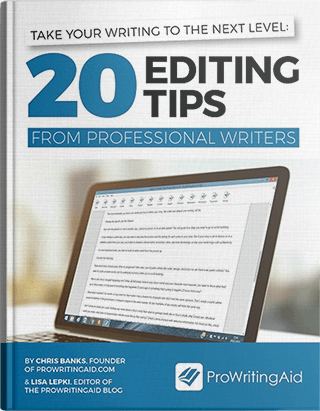 Whether you are writing a novel, essay, article, or email, good writing is an essential part of communicating your ideas.
This guide contains the 20 most important writing tips and techniques from a wide range of professional writers.