Spelling mistakes make your document look sloppy and unprofessional. Worse, they can get in the way of your readers understanding your meaning. To meet your spelling goal, correct the spelling errors identified.
How to Find Spelling Errors
Spelling issues are marked in red within your text. You can hover over each red line with your mouse to correct an error or you can see a full list of spelling mistakes in the Grammar Report.
When you hover over a spelling mistake, you'll see suggestions for how to correctly spell the word. Accept the suggestion that makes sense.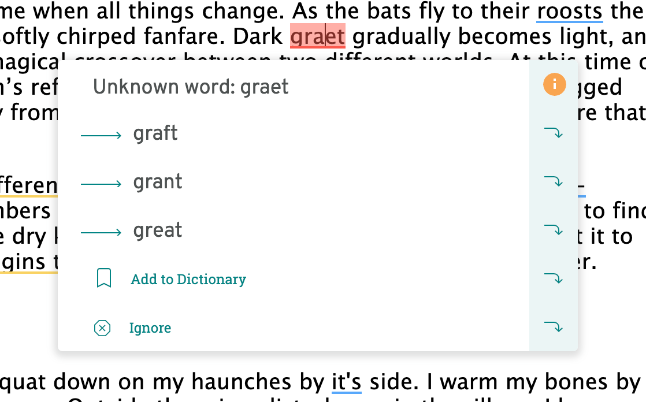 What If I Want to Ignore a Spelling Error?
Sometimes, you'll have intentional spelling errors in your text. Your character might write a letter that contains a spelling error or speak a dialect without proper pronunciation. You can easily ignore a spelling error by hitting the "Ignore" button at the bottom of the suggestion window.
How Do I Add a Word to My Dictionary?
Sometimes, a spelling error that shows up is correct, but ProWritingAid doesn't recognize it. It could be a word you made up, like a character's name or a place, or simply an uncommon word. The "Add to Dictionary" button lets you add words to your dictionary so they're no longer flagged as incorrect.