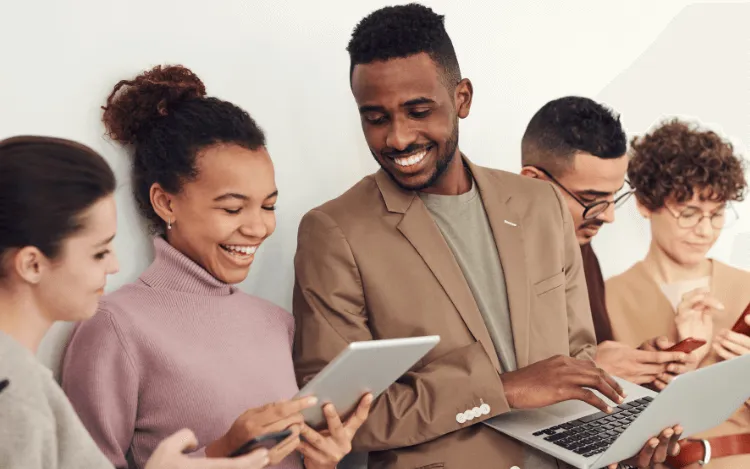 Having a social media presence for your business or brand has become the standard expectation of most customers today.
If you want to impress your target audience, you need to have a strong social media strategy. However, this can take a lot of time and maintenance.
Fortunately, there are many tips and tricks for saving time so social media doesn't take up your entire day, leaving you to do other important business tasks.
We've reviewed all of them so you don't have to. Read on to discover five time-saving social media tips we think will help you and your business.
How to Save Time When Using Social Media:
Without further ado, here are five top tips for saving time on social media.
Tip 1: Use Snippets to Create Posts Quickly
Writing your posts is one of the most time-intensive jobs when you're working on social media. Luckily, you can use snippets to quickly paste phrases into your posts with just a few keystrokes.
You can use snippets to paste your hashtags, common replies to comments, contact information, or links to web pages you'd like to drive more traffic to.
ProWritingAid's snippet feature can be found in your account settings. Once on that page, you'll be able to create snippets for any phrases or details you commonly use in your social media posts.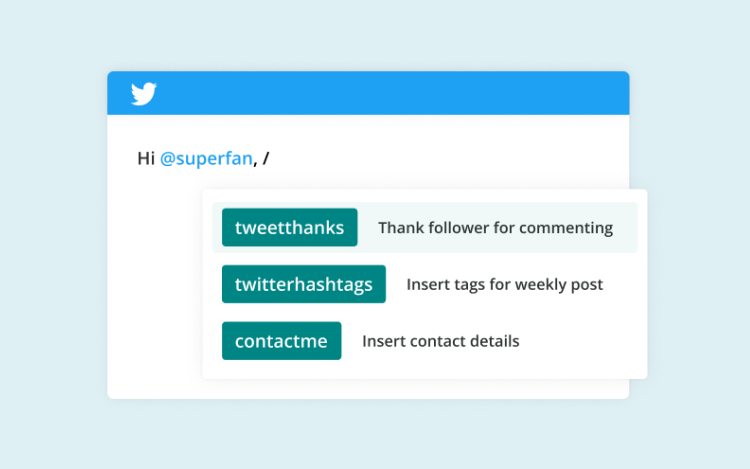 The ProWritingAid snippet feature is a rich text editor—an input field where you can write and edit your text, change the font, and add images and links—which gives you plenty of options for formatting and adding links.
Once you've saved your snippets, make sure you have one of our browser extensions installed so you can paste your snippets into your social media posts by using the \ key. If that key isn't suitable, you can change it in your account settings.
Tip 2: Batch Create Posts and Schedule Publishing
When you created your social media strategy, you probably created a content calendar. If you already know what you're going to post, it makes sense to schedule some time in your week to batch create your posts for the next week.
Most social media platforms have a scheduling feature that allows you to set times and dates in the future for when your posts will be published. This means you don't need to set timers or reminders, and you only have to think about post creation once a week.
If you are posting to a platform that doesn't have scheduling capabilities, you can use a tool like Buffer, which will post them for you. That's a bonus tip for you!
Tip 3: Use ProWritingAid to Check for Typos and Clarity
Readability, spelling, and grammar are some of the most important things you should check in your posts for before publishing. If you're regularly posting typos or your grammar doesn't convey your intended meaning, you risk losing your customers' attention.
You can use one of ProWritingAid's browser extensions that integrate with Twitter, Facebook, Instagram, and more. They also integrate into most scheduling tools like Buffer.
You can use the Realtime suggestions in the extensions to fix spellings, correct your grammar, and apply style suggestions that will improve readability. This is great if you need to post something quickly, and you want a second pair of eyes to check your work.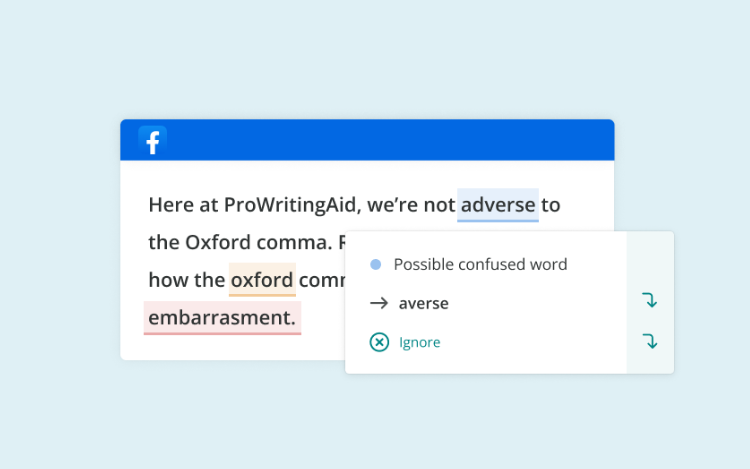 If you want a more in-depth analysis of your writing, you can open the full editor to access any of the 20+ reports. One of the best reports is the Echoes report—you can check if you're repeating yourself or sounding like you're keyword stuffing your posts.
By improving your writing, you're making it more accessible to potential customers, and you'll sound more professional. It's a win-win.
Tip 4: Schedule Time for Authentic Engagement
In order to increase your reach and promote your business further, we recommend setting aside time for authentic engagement with related posts every day. You don't need to spend hours on this, and following a formula or pattern will help you work quicker. 
Try searching for a specific hashtag or related topic and following a structure, such as "like-like-comment" or "like-comment-retweet/share." You can also set a target, like "respond to X stories" or "comment on X posts."
By engaging with your community and your audience, you'll improve your brand image. It can also help the social media algorithms to identify your account as an authority voice on the platform.
There are even apps you can use to organize all engagement with your posts so you don't have to log on to different social media platforms to see who has commented on or shared your content. Automation and organization are also bonus timesaving tips!
Tip 5: Repurpose Your Content to Create New Posts
If you've created content for your website, you can use it as a basis for new social media posts.
For example, if you have a blog and regularly post articles to it, take a quote from one of them and make a graphic with it.
You can also turn videos into short reels with a little editing. There are many easy-to-use editing apps available, and you'll be saving heaps of time as the content is already made. You just need to crop the video and add some music.
Older posts can even be repurposed by reposting them as stories—a short clip or post that appears on your social media profile for a limited time. If the content is still relevant, it's a big time-saver to use it again in a different form.
If you've developed your keyword strategy since you originally published your older posts and blog articles, you can renew them with better optimization by including some new keywords and using better performing hashtags.
Conclusion on Saving Time on Social Media
It's important to keep your brand identity strong on social media, but it doesn't need to be a full-time commitment that eats up your day.
Using our five top tips, and the bonus ones, should ensure you have ample time to complete other business tasks while maintaining an impressive social media presence. 
---