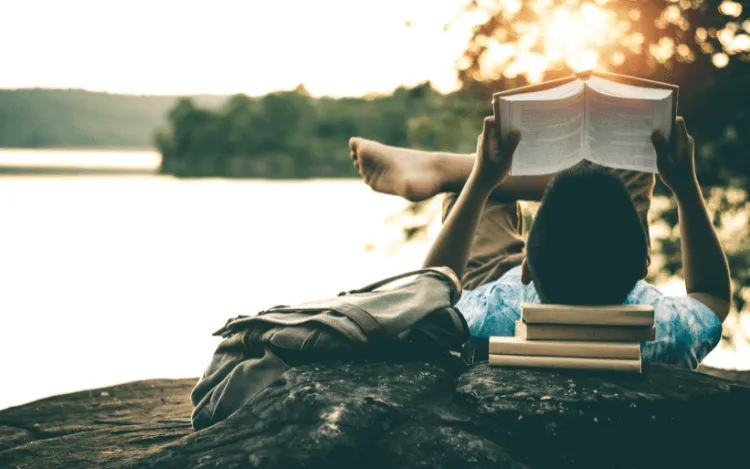 Reading is one of those skills that everyone should learn because it opens up the opportunity to discover and learn so much.
For example, you could escape the real world by reading a fantasy novel, or you could spend your time discovering all the new theories and methods relating to marketing.
Many famous authors, celebrities, and visionaries have shared their thoughts about reading and books. Their quotes about reading can inspire and remind us that reading is such a widely shared hobby throughout the whole world.
In this article, we'll give you 55 quotes about reading and books from writers, celebrities, scientists, musicians, and other influential people. 
Quotes About Books and Reading
If you're looking for some general quotes about books and reading, there are so many you can choose from. Kurt Vonnegut, Roald Dahl, and Malorie Blackman have all shared their love for reading and books.
Many authors praise libraries through their quotes. We underutilize libraries in many towns, which leads to them closing down. If you're looking for books to read, a library is definitely one of the best places you can go.
Here are some quotes about books and reading:
"People can lose their lives in libraries. They ought to be warned."—Saul Bellow
"It is better to know one book intimately than a hundred superficially."—Donna Tartt
"The America I love still exists at the front desks of our public libraries."—Kurt Vonnegut
"Books shouldn't be daunting, they should be funny, exciting, and wonderful; and learning to be a reader gives us a terrific advantage."—Roald Dahl
"Books break the shackles of time, proof that humans can work magic."—Carl Sagan
"When you lose yourself in a book, the hours grow wings and fly."—Chloe Thurlow
"When I look back, I am so impressed again with the life-giving power of literature. If I were a young person today, trying to gain a sense of myself in the world, I would do that again by reading, just as I did when I was young."—Maya Angelou
Famous Quotes on Reading
You might have heard the famous words of Stephen King referring to books as "portable magic" and wonder what he's talking about.
Stephen is probably talking about the way your mind can become completely engrossed in a book, so you lose track of time, and you are transported to the world of the book. You can escape from reality by reading a book, which is pretty magical.
Here are some famous quotes about reading:
"A mind needs books as a sword needs a whetstone, if it is to keep its edge."—George R. R. Martin
"You can never get a cup of tea large enough or a book long enough to suit me."—C. S. Lewis
"Never trust anyone who has not brought a book with them."—Lemony Snicket
"That is part of the beauty of all literature. You discover that your longings are universal longings, that you're not lonely and isolated from anyone. You belong."—F. Scott Fitzgerald
"Employ your time in improving yourself by other men's writings so that you shall come easily by what others have labored hard for."—Socrates
"Books are a uniquely portable magic."—Stephen King
"There are worse crimes than burning books. One of them is not reading them."—Joseph Brodsky
Short Quotes About Reading
You can use a short quote for reading when you're decorating a reading nook and you want to add some decor to your walls.
Well-placed quotes on your walls can help create the perfect environment for reading because you'll feel connected to other readers who share a love for your hobby.
Here are some short quotes about reading:
"There is no friend as loyal as a book."—Ernest Hemingway
"We live for books."—Umberto Eco
"I am a part of everything I have read."—Theodore Roosevelt
"Books may well be the only true magic."—Alice Hoffman
"If a book is well written, I always find it too short."—Jane Austen
"Literacy is a bridge from misery to hope."—Kofi Annan
"Reading for me is spending time with a friend."—Gary Paulsen
Love to Read Quotes
Most book lovers agree that reading is one of those hobbies you can do no matter what you're feeling because there's a book out there to match every mood. 
There's little better than reading the first few lines of a book and finding yourself lost in the world the author has created. If you're hooked from the start, that writer holds you captivated until you finish reading the book.
Books can stick with you forever if you connect with them all the way through.
Here are some quotes about the love of reading:
 "There is no mistaking a real book when one meets it. It is like falling in love."—Christopher Morley
"I declare after all there is no enjoyment like reading! How much sooner one tires of anything than of a book!"—Jane Austen
"There are two motives for reading a book: one, that you enjoy it; the other, that you can boast about it."—Bertrand Russell
"A book is a gift you can open again and again."—Garrison Keillor
"Keep reading. It's one of the most marvelous adventures that anyone can have."—Lloyd Alexander
"I couldn't live a week without a private library—indeed, I'd part with all my furniture and squat and sleep on the floor before I'd let go of the 1,500 or so books I possess."—H. P. Lovecraft
Inspirational Quotes About Reading
Sometimes it's hard to find the time to sit down and read, and your mind might tell you there's better things to be doing. Luckily, there are some wise words from authors who know just how important it is to make time for reading.
Let yourself feel inspired to read and find a book to settle down with. Everything else will still be there waiting for you after you've given yourself some time to read. You'll feel better for giving yourself time to escape from real life and reading someone else's story.
Here are some inspirational quotes about reading:
"The reading of all good books is like a conversation with the finest minds of past centuries."—Rene Descartes
"I have always imagined that Paradise will be a kind of library."—Jorge Luis Borges
"Reading is an exercise in empathy; an exercise in walking in someone else's shoes for a while."—Malorie Blackman
"I have never known any distress that an hour's reading did not relieve."—Charles de Montesquieu
"Reading is a conversation. All books talk. But a good book listens as well."—Mark Haddon
"So Matilda's strong young mind continued to grow, nurtured by the voices of all those authors who had sent their books out into the world like ships on the sea. These books gave Matilda a hopeful and comforting message: You are not alone."—Roald Dahl
"Once you learn to read, you will be forever free."—Frederick Douglass
Sayings About Reading
If you're looking for some sayings about reading, there are so many witty writers have shared, meaning you'll have a tough time trying to pick the best one.
Some writers like to comment about how much reading can change you as a person. Other writers talk about how books allow you to live vicariously through the characters of those books.
Then there's John Steinbeck, saying what we all think when we walk through the threshold of a bookstore ready to buy more books. 
Here are some popular sayings about reading:
"I guess there are never enough books."—John Steinbeck
"Reading is a basic tool in the living of a good life."—Mortimer J. Adler
"I read a book one day and my whole life was changed."—Orhan Pamuk
"Once you have read a book you care about, some part of it is always with you."—Louis L'Amour
"Readers are lucky—they will never be bored or lonely."—Natalie Babbitt
"You know you've read a good book when you turn the last page and feel a little as if you have lost a friend."—Paul Sweeney
"A reader lives a thousand lives before he dies."—George R. R. Martin
Proverbs About Reading
If you need some quotes about reading that everyone can relate to, you could pick a proverb about reading. Proverbs are short phrases that share advice or a truth that is usually well known.
The proverbs we've chosen are relatable and come from writers, musicians, and influential speakers.
Here are some proverbs about reading:
"So many books, so little time."—Frank Zappa
"A room without books is like a body without a soul."—Marcus Tullius Cicero
"The more that you read, the more things you will know. The more that you learn, the more places you'll go."—Dr. Seuss
"Reading is to the mind what exercise is to the body."—Joseph Addison
"Not all readers are leaders, but all leaders are readers."—Harry S. Truman
"Think before you speak. Read before you think."—Fran Lebowitz
"Reading one book is like eating one potato chip."—Diane Duane
Our Favorite Reading Quotes
If you're like us, you love a good quote about reading that you can share on social media or with fellow readers.
Some of our favorite quotes are inspirational for writing and reading. If people are saying these things about other people's books, what might they say about yours?
There's a lot of advice out there about reading, so we've also included some in our list. You can't ever have enough tips on what books to read next.
Here are our favorite quotes about reading and books:
"If there's a book that you want to read, but it hasn't been written yet, then you must write it."—Toni Morrison
"If you only read the books that everyone else is reading, you can only think what everyone else is thinking."—Haruki Murakami
"A book is a version of the world. If you do not like it, ignore it; or offer your own version in return."—Salman Rushdie
"It is a good rule after reading a new book, never to allow yourself another new one till you have read an old one in between."—C. S. Lewis
"Every author ought to write every book as if he were going to be beheaded the day he finished it."—F. Scott Fitzgerald
"A well-read woman is a dangerous creature."—Lisa Kleypas
"No. I can survive well enough on my own—if given the proper reading material."—Sarah J. Maas
There you go, 55 quotes about reading and books that you can use. Whether you need quotes to decorate a reading nook, or you're sharing some inspirational quotes on social media, there's a lot of advice and relatable thoughts in our list.
If you decide you want to add a quote about reading to your social media post, you can use one of the ProWritingAid browser extensions to check your post for any grammatical errors before you publish it.
The Realtime checker will underline any sections you need to review and suggest improvements you can make with a few clicks. It's a simple way to write better social posts, which might result in increased engagement from your followers.
We hope you find our 55 quotes about reading and books helpful no matter what you choose to use them for.
---