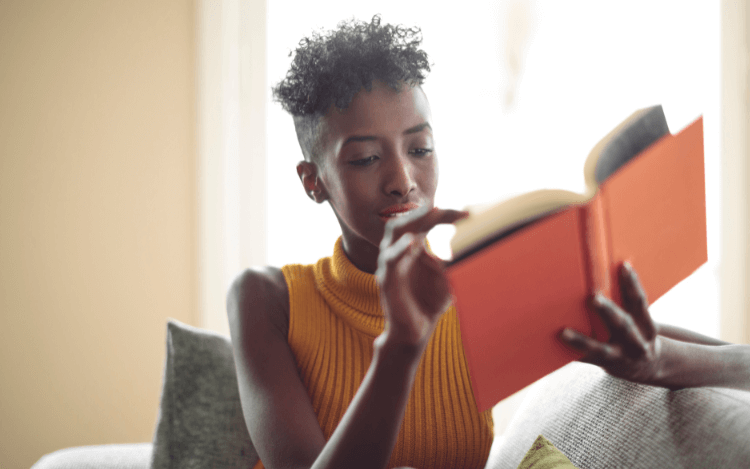 There are countless types of nonfiction books that you can consider writing. One popular genre you might have heard of is narrative nonfiction.
So, what exactly is narrative nonfiction?
The short answer is that narrative nonfiction is any true story written in the style of a fiction novel.
Read on to learn more about what narrative nonfiction looks like as well as some examples of bestselling narrative nonfiction books.
What Is Narrative Nonfiction?
Let's start with a quick overview of what narrative nonfiction means.
Narrative Nonfiction Definition
Narrative nonfiction, which is also sometimes called literary nonfiction or creative nonfiction, is a subgenre of nonfiction. This subgenre includes any true story that's written in the style of a novel.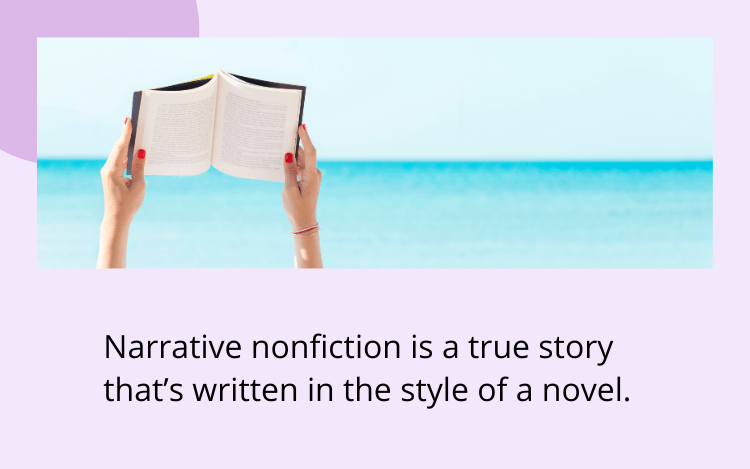 It's easy to understand this term if you break it down into its component parts. The first word, narrative, means story. The second word, nonfiction, means writing that's based on fact rather than imagination.
So, if you put those two words together, it's clear that narrative nonfiction refers to true events that are written in the style of a story.
Narrative Nonfiction Meaning
You can think of narrative nonfiction as a genre that focuses both on conveying the truth and on telling a good story.
Everything in a narrative nonfiction book should be an accurate portrayal of true events. However, those events are told using techniques that are often used in fiction.
For example, narrative nonfiction writers might consider writing craft elements such as plot structure, character development, and effective world-building to craft a compelling story.
Most narrative nonfiction books include the following elements:
A protagonist (either the author themselves or the core subject of the story)

A cast of characters (who are real people)  

Immersive, fleshed-out scenes

A plot arc similar to the plot arcs found in fiction novels

Use of literary devices such as metaphors, symbols, and flashbacks
Some narrative nonfiction writers also play with more creative elements to make the story more intriguing, such as multiple POVs, alternating timelines, and even the inclusion of emails, diary entries, and text messages.
At the end of the day, though, narrative nonfiction is still a form of nonfiction. That means it's important to try to be as accurate as possible.
Authors writing in this genre need extensive research skills, whether that means combing through historical records or interviewing experts. It's impossible to create a completely accurate representation of any true story, so it's fine to take some creative license when writing narrative nonfiction, but most authors still do as much research as they can to make sure they're correctly depicting what happened.
Which Genres Count as Narrative Nonfiction?
It's hard to draw a clear line around what counts as narrative nonfiction since many works of writing blur the lines between subgenres.
Two genres that commonly intersect with narrative nonfiction are memoir and autobiography, which are terms that apply when an author tells the story of their own life. When these stories are told in a narrative style, some people consider that to be narrative nonfiction or literary nonfiction, while others believe memoir and autobiography should be a separate category.
Most journalism and biographies aren't included under the narrative nonfiction umbrella, since they usually focus more on reporting than on telling a story. Still, a form of journalism called literary journalism deliberately aims to tell personal stories in a more creative way, and there are also biographies that do the same.
Some books in other nonfiction subgenres, such as travel writing, true crime, and even food writing, can also be told in a way that resembles narrative nonfiction. In fact, more and more nonfiction books these days are using literary techniques to hook readers in.
Narrative nonfiction books can focus on just about any topic as long as they use literary styles to tell true stories. If you're writing nonfiction, you can definitely consider incorporating literary elements to craft a compelling narrative around your topic.
Narrative Nonfiction Examples
The best way to understand a genre of writing is by reading examples within that genre. Here are ten of the best narrative nonfiction books to add to your reading list.
In Cold Blood
by Truman Capote (1965)
Truman Capote, best known for his novella Breakfast at Tiffany's, started out as a fiction writer. When he wrote In Cold Blood, he famously called it a "nonfiction novel," which introduced that term into the popular consciousness for the first time.   
In Cold Blood tells the story of a brutal quadruple murder that took place in 1959 in Holcomb, Kansas. The book describes the details of the murder, the ensuing investigation, and the eventual arrest of the murderers.  
In many ways, In Cold Blood defined the narrative nonfiction genre. It was one of the first times an author had written journalism in the structure of a novel, and it inspired many future writers to try creative nonfiction too.
Into Thin Air
by Jon Krakauer (1997)
Jon Krakauer is a journalist and a mountaineer who summited Mt. Everest on the day a terrible storm hit the mountain. That storm ended up claiming five lives and leaving Krakauer himself ridden with guilt.
Into Thin Air is Krakauer's account of his adventure and its deadly aftermath. It portrays the entire cast of characters that accompanied him up the mountain and also shows the character growth Krakauer experienced as a result.
This book is a famous example of a memoir that reads like an adventure novel. The American Academy of Arts and Letters gave this book an Academy Award in Literature in 1999 and described it as combining "the finest tradition of investigative journalism with the stylish subtlety and profound insight of the born writer."
Seabiscuit: An American Legend
by Laura Hillenbrand (1999)
Seabiscuit was a California racehorse in the 1930s. Because of his crooked leg, he was never expected to win.
However, when Seabiscuit was bought by Charles Howard and ridden by a jockey named Red Pollard, he rose to unexpected success. Now, Seabiscuit is remembered as one of the most iconic racehorses of all time.
Laura Hillenbrand, an equestrian writer, tells Seabiscuit's story in this classic work of narrative nonfiction. Charles Howard, Red Pollard, and all the other characters involved in Seabiscuit's life are researched and portrayed in a masterful way.   
Reading Lolita in Tehran: A Memoir in Books
by Azar Nafisi (2003)
From 1995 to 1997, Nafisi led a secret book club at her house in Tehran. Every Thursday, she met with her most dedicated female student to read banned Western classics together, from Pride and Prejudice to Lolita.
In Reading Lolita in Tehran, Nafisi describes her experiences throughout the Iranian revolution. It's a gripping book that provides rare and extraordinary insight into what it was like to be a woman in Tehran in the late 1990s.
Like all great narrative nonfiction, this book would be a compelling novel even if you didn't know it was a true story, but the fact that it's all true makes it even more powerful.  
The Immortal Life of Henrietta Lacks
by Rebecca Skloot (2010)
Henrietta Lacks was a Black woman whose cells were taken by medical researchers in 1951 without her knowledge or consent. Ever since then, her cells, now known as HeLa cells, have been kept alive for medical uses.
HeLa cells have been essential for researching diseases, creating the polio vaccination, and making other medical breakthroughs. And yet, her family never benefited from or consented to their use.
Rebecca Skloot's bestselling book The Immortal Life of Henrietta Lacks tells Lacks' story in a thoughtful and illuminating way, weaving in research on the unjust intersection of medicine and race. The book won many awards and was later made into an HBO movie.
Hidden Figures
by Margot Lee Shetterly (2016)
America's achievements in space could never have happened without the contributions of Black female mathematicians at NASA, known as "human computers." Before modern computers existed, these women used pen and paper to perform the calculations that launched rockets into space.
Shetterly's book tells the stories of four of these brilliant women: Dorothy Vaughan, Mary Jackson, Katherine Johnson, and Christine Darden. The story follows them for over three decades as they overcame racial and gender prejudices to help shape American history.  
This work of literary nonfiction is well-researched, informative, and powerful. It was also made into a major motion picture by Twentieth Century Fox.
When Breath Becomes Air
by Paul Kalanithi (2016)
Paul Kalanithi, a Stanford neurosurgeon, was only 36 years old when he received his Stage IV lung cancer diagnosis. He went from treating patients to becoming the patient in such a short span of time that he had to quickly learn how to accept his own mortality.
Kalanithi wrote this medical memoir during the last years of his life, describing how he came to terms with his diagnosis. When Breath Becomes Air tells Kalanithi's story in a poignant and unforgettable way.   
Killers of the Flower Moon: The Osage Murders and the Birth of the FBI
by David Grann (2017)
Killers of the Flower Moon is a true crime murder mystery about a terrible crime in the 1920s, when members of the Osage Indian nation in Oklahoma started getting killed one by one. Anyone who tried to investigate was in danger of getting murdered too until the death toll rose to over two dozen.
When the truth was finally uncovered, it turned out to be a chilling conspiracy bolstered by prejudice against Indigenous people.
Journalist David Grann tells the story of this shocking crime in this narrative nonfiction book, which is soon to be made into a major motion picture.
I'll Be Gone in the Dark: One Woman's Obsessive Search for the Golden State Killer
by Michelle McNamara (2018)
The Golden State Killer was a serial killer who raped and murdered dozens of people in the 1970s and 1980s. Michelle McNamara was a true crime journalist who coined the name "Golden State Killer" in 2013 when she was poring over police records, determined to figure out the killer's identity.
I'll Be Gone in the Dark, which was still in the process of being written when McNamara died, blurs the genres between nonfiction, memoir, and crime fiction. The book eventually helped lead to the killer's capture.
Facing the Mountain: A True Story of Japanese American Heroes in WWII
by Daniel James Brown (2021)
After the Japanese attack on Pearl Harbor in 1941, Japanese Americans faced suspicion and systemic prejudice from their own country. In spite of the injustices they faced over the next several years, many Japanese Americans still signed up to fight for the US in World War II.
In Facing the Mountain, Daniel James Brown tells the stories of four Japanese American heroes: Rudy Tokiwa, Kats Miho, Gordon Hirabayashi, and Fred Shiosaki. The book follows these four men and their families and communities, who were irreversibly impacted by the events of the war.
How ProWritingAid Can Help You Write Narrative Nonfiction
Writing narrative nonfiction can be incredibly rewarding, but it can also be unusually tricky because you have to accomplish two goals at once. Unlike other nonfiction, which aims to inform, or most fiction, which aims to entertain, narrative nonfiction seeks to inform and entertain at the same time.
To inform, you'll need your writing to be clear and easily readable. To entertain, you'll need it to be gripping and active.
ProWritingAid can help with both of those goals. At the most basic level, the AI-powered grammar checker will make sure your writing is free of grammar, spelling, and punctuation mistakes. At a more sophisticated level, it will also make sure you're hooking your reader in by using the active voice, precise word choices, and varied sentence lengths.
In addition, you can also use ProWritingAid to make sure you're writing in the right tone and for the right reading level. Running your narrative nonfiction manuscript through ProWritingAid will ensure your writing truly shines.
There you have it—our complete guide to narrative nonfiction.
Good luck, and happy writing!
---