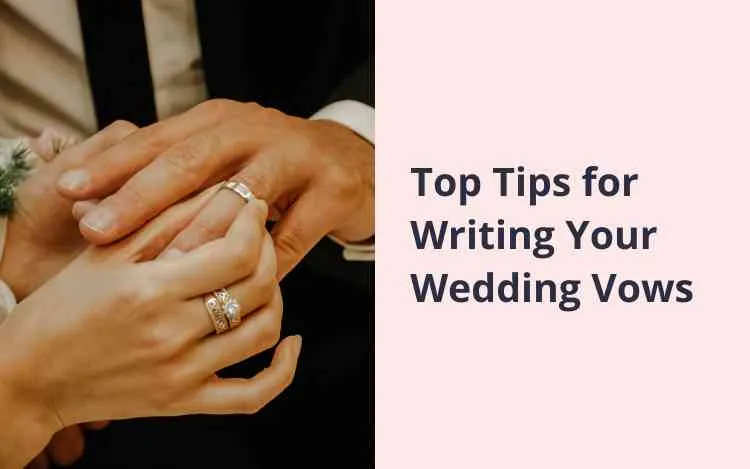 Writing your wedding vows can be one of the most daunting parts of planning your wedding.
After all, it's hard to find the right words to tell your partner how much you love them without sounding trite or cliché. And to add to the pressure, you have to deliver this speech in front of all your family and friends.
So, how do you write the perfect wedding vows?
Read on to learn our top tips for writing your own vows, along with examples of what great wedding vows can look like.
How Long Should Wedding Vows Be?
Most wedding vows are between one to three minutes long.
If your vows are shorter than one minute, you might not have enough time to say everything you want to express. On the other hand, if your vows run longer than three minutes, you might bore your audience and lose their attention.
That's why one to three minutes is often the perfect sweet spot. However, this isn't a hard rule. You and your partner can decide exactly how much time you want to allot for vows while you're planning the wedding ceremony.
Tips on How to Write Wedding Vows
Without further ado, here are our top 12 expert tips on how to write your wedding vows.
Tip 1: Start With a Brain Dump
You probably have a lot of ideas already about why you want to marry your partner. Start by jotting down all those ideas.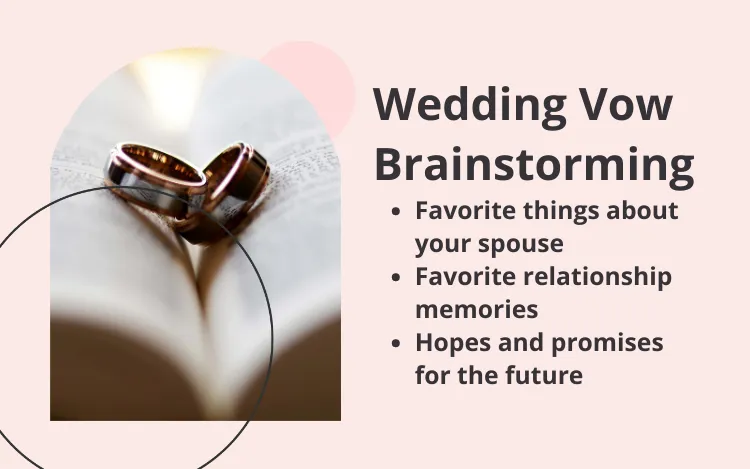 This list should include your favorite things about your spouse. Why do you love them? What makes them special?
It should also include your favorite memories from your relationship together. How did you meet? What was your first date like? Do you have any funny stories about things you've done together?
You should also include all your hopes and promises for the future. What do you want your marriage to look like, and how will you do your part to make that happen?
Don't worry if you end up with a long, messy list—that's the whole point of a brain dump. Once you get these ideas out of your brain and onto paper, you can start the process of sorting through them to figure out what's worth including.
Tip 2: Pick Your Best Ideas
Once you've completed your brain dump, it's time to pick the best elements and discard the others. Look for things that are sweet, funny, or specific to you and your partner.
Remember that the best wedding vows are short and sweet. Trying to cram in too many disparate ideas will just overwhelm and confuse the audience.
Instead, it's better to choose a few key points so each part of your speech has enough time and space to make an impact.
Tip 3: Read Examples
It's hard to write wedding vows if you don't know what they're supposed to look like. So the next step is to look at examples of other wedding vows to get a better sense of what you should be aiming for.
Try reading a large variety of them so you can pick the style that suits your own wedding vows best. For example, you might want to look at a few funny vows, a few serious vows, and a few sentimental vows.
Reading these vows on paper is helpful, but it's also useful to look for videos so you can see what these vows sound like in action. YouTube is a great place to start.
Tip 4: Find Inspiration in Your Favorite Books, Songs, and Movies
Not every sentence in your vows has to be original. You're free to make references to other sources, especially if they're ones that are meaningful to you and your partner.
Books, movies, and songs can be a fantastic source of inspiration for your vows. You can consider including a lyric from a song that you and your spouse both love or a line from a movie you watched together.
Tip 5: Get Specific
The more specific you can get with the things you describe in your vows, the more memorable your vows will be.
A specific sentence like, "I love you because you do the crossword with me every Sunday morning" is stronger than a generic sentence like, "I love you because you're smart."
Similarly, a specific sentence like, "I love you because you always make me hot chocolate when I'm stressed" is stronger than a generic sentence like, "I love you because you're kind."
Try to think of concrete, unique stories or traits you can use to make your speech more special.
Tip 6: Choose Promises You Can Keep
Given the romance of your wedding day, it can be tempting to make grandiose promises that turn out to be difficult to keep.
Using words like "always" and "never" is a surefire way to set yourself up for failure. Try to use language that shows how strong your commitment is without setting an impossible standard for yourself.
For example, "I promise to listen with an open mind" is a more achievable promise than, "I promise to never argue with you." Doing this can help you start your marriage on the right foot and try to honor the vows you've made.
Tip 7: Include Some Humor
There's no better feeling than making your spouse smile during your wedding ceremony.
Adding some lighthearted humor into your vows can be a fun way to lighten the mood. You can share a funny anecdote about your spouse or include a joke or two throughout your speech.
Try not to use too many inside jokes, because you might confuse the rest of the audience. Instead, either provide enough context to explain the inside joke, or stick with humor that lets everyone laugh along.
Tip 8: Edit, Edit, Edit
It takes more than one draft to write the perfect essay, blog post, or short story. The same is true for wedding vows.
Even if you're proud of your first draft, you'll still need to do some serious editing to get your vows ready for the wedding day. Revise as many times as it takes to create vows you are happy with.
Tip 9: Note Your Pauses and Intonations
Writing a speech is different from writing other types of prose. Nobody will see your commas, semicolons, or exclamation points—instead, they'll hear them.
You can write cues for yourself, such as "pause here" or "wait for laughter," within your vows. It will be much easier to read your vows well if you know how you're supposed to say them.
Tip 10: Practice Out Loud
In addition to editing your vows on paper, you should also practice reading your vows out loud.
Sufficient practice can ensure you don't get too nervous on your wedding day.
You can also time yourself on your practice runs to make sure your vows are the right length. That way, you won't delay your wedding ceremony by writing vows that are too long or speed things along too much by writing vows that are too short.
Tip 11: Ask for Feedback
When you're just editing your vows on your own, you might not know which parts to change to make your vows even stronger. That's why it's crucial to ask for feedback before your wedding day.  
It's best not to ask for feedback from your spouse so you can surprise them with your vows on the day of the wedding. Instead, choose a trusted friend or family member.
You might feel vulnerable asking someone to listen to you practicing your vows, but just remember you'll be reading these vows in front of hundreds of people soon. It's better to mess up in front of one person than in front of hundreds.
Tip 12: Don't Procrastinate
Waiting until the day before your wedding to write your vows is a surefire way to stress yourself out. The more time pressure you put on yourself, the harder the process will be.
We recommend starting at least a week in advance. It's better if you start even earlier than that, if possible, since the week leading up to your wedding might be packed with other planning activities.
Wedding Vow Examples
Here are some sample wedding vows you can use as inspiration when you start writing your own wedding vows.
Romantic Wedding Vows
Example 1: I'm so lucky to be with you. You're the kindest, smartest, and most caring person I've ever met. You're the person I want to spend the rest of forever with. From this day forward, I vow to support your dreams, to always be there when you need me, and to celebrate all the joys of life with you.
Example 2: I've spent my whole life looking for my other half. And for so long, I never realized he was right here in front of me. Being with you makes me feel like the luckiest person in the world. I promise to stay by your side through all of life's adventures because you'll always be my best friend.
Example 3: I promise to love you in sickness and in health, in good and in bad. And honestly, that's the easiest promise I've ever made. As soon as we started dating, I knew I was going to love you no matter what happened. Now I'm just making it official in front of all our family and friends.
Funny Wedding Vows
Example 4: I fell in love with you because you're funny, you're sweet, and you have great taste in TV shows. From this day forward, I promise not to watch the next episode of our favorite Netflix series without telling you. Or at least, I promise to pretend it's the first time I'm seeing it when we watch it together.
Example 5: Thank you for loving me, even though my long hair clogs the shower drain, and you're always the one who cleans it. I promise to clean it after we're married. Just kidding, we both know that's never going to happen. But I do promise to kill all the spiders in our house, so it balances out.
Example 6: On our very first date, you ordered Hawaiian pizza, and I almost walked out. (To those in the audience who don't know me, I hate pineapple on pizza!) But now, three years later, I'm so glad I stayed. For the rest of our lives, I promise to always let you have the last slice of pizza. Unless it's Hawaiian pizza, in which case, you can have it all to yourself.
Religious Wedding Vows
Example 7: When we first started dating, I prayed to God for a sign to ask you to marry me. And when He gave me that sign, you made me the happiest person on Earth by saying yes. You're my soulmate, the answer to all of my prayers, and the most precious gift God has ever given me. I vow to love you and cherish you for the rest of our lives.
Example 8: As the Bible says in 1 Corinthians 13: "Love is patient and kind; love does not envy or boast; it is not arrogant or rude. It does not insist on its own way; it is not irritable or resentful; it does not rejoice at wrongdoing but rejoices with the truth. Love bears all things, believes all things, hopes all things, endures all things."
Example 9: I take you to be my husband/wife, to have and to hold, to love and to cherish, according to God's holy vow. I will cherish you as I cherish Christ, follow you the way I follow Christ, and guide you the way Christ guides me. Today, I pledge myself to you in the name of our Lord Jesus Christ. In His sight, we shall be one.
Traditional Wedding Vows
Example 10: Today, surrounded by all our loved ones, I take you as my husband/wife, to have and to hold, until death do us part. I will be yours alone for as long as we both shall live.
Example 11: I, [your name], take you, [partner's name], to be my husband/wife. I promise to love you for better or worse, in sickness and health, for rich or poorer, until death do us part.
Example 12: In front of all these witnesses, I promise to be your loving and faithful husband/wife. I will love and honor you all the days of our lives.
Template for Wedding Vows
There's no right or wrong way to write wedding vows. This is your wedding, and you get to make the rules!
Still, there are some elements that most wedding vows include. Here's a wedding vow template you can use as starting point.
Step 1. Declare Your Love
This is one of the most important parts of your wedding vows. It's always good to include the words "I love you" early in the speech.
Tell your partner why you love them and why you've decided to spend the rest of your life with them.
Don't be afraid that people will laugh at you for expressing your heartfelt feelings. If there's one speech in your life where it's okay to get a little too sappy and sentimental, this is it.
Step 2. Share Some Stories About Your Relationship
One great way to make your vows feel personal and special is by telling stories about your relationship so far.
You can choose funny stories that will make your spouse laugh or vulnerable stories that show how far you've come together.
Step 3. Describe Your Vision for the Future
Take a moment to talk about what you want your life with your partner to look like.
Where do you want to live? Do you want to have children, and if so, how many? What do you envision your life looking like in ten, twenty, or fifty years?
This can be a sweet moment within the wedding ceremony where you and your partner look toward the future together and create a shared vision.
Step 4. Make Promises
The reason marriage vows are called "vows" is because of the promises you're vowing to keep.
What promises do you want to make to your spouse? How can you make sure they feel loved and supported for the rest of your lives together?
Choosing the right promises can create a strong foundation for your marriage if you make your best effort to keep them.
Step 5. Acknowledge the Audience Members
At the end of your vows, it can be a great idea to acknowledge the friends and family who have taken the time to attend your wedding ceremony.
You can mention how much you'll appreciate their support throughout your marriage, or you can simply thank them for coming. This can be a good moment for connection and shared joy with the people you love.  
Conclusion on Writing the Perfect Wedding Vows
There you have it—our complete guide for writing wedding vows. Hopefully this article helps you write the perfect vows for your big day.
Good luck, and have a wonderful wedding!
---