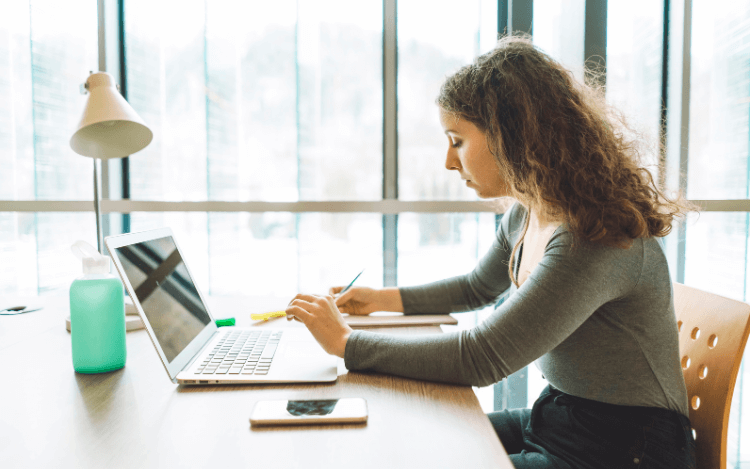 Letter writing is still a popular form of communication in a world where we expect instant responses thanks to email and phone calls.
USPS reports they process and deliver an average of 421.4 million mail pieces every day. Millions of those are letters being sent all over the world, not just to the US.
Letter writing is a great way to make your voice heard, make things happen, and show how much you care about something. Writing a letter carries more weight than an email or phone call because it takes more effort, and there are bigger costs involved.
In this article, we'll talk about how to write a letter to clearly convey your points, and we'll show you some examples you can use for inspiration.
How Do You Write a Letter?
To write a letter, you need to decide if you're going to handwrite or type. Handwritten letters show you took the time to express your thoughts on paper. However, typing can save you some time, and you can still hand sign it after it's printed.
The next part of writing a successful letter is thinking about what you would like your letter to achieve. You could write a love letter, hoping to get a date. It could be a cover letter to accompany your résumé, which needs to secure you an interview. Think about the result you hope to achieve before you plan what you want your letter to say.
You'll need to decide if your letter will be formal or informal. Depending on the recipient and the reason for the letter, the formality is important, as it can affect how the message is received. If you are writing a personal letter to someone you know, opt for informal. However, if it's for a job application or for an official, the reader would expect you to use formal letter writing.
Another thing to consider when writing a letter is your tone, which is how your letter sounds to the person reading it. If you're writing a complaint, you want the reader to know you're frustrated, but you don't want to sound rude.
When you're ready to write your letter, set some time aside for it. Before you write your letter, make a plan for what you're going to say. Get your writing tools together as well as some envelopes and stamps, then you can start.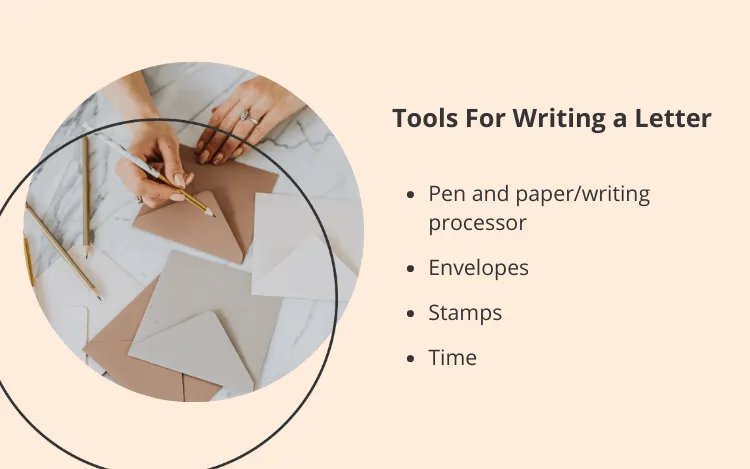 How to Format a Letter in 6 Steps
A letter is a piece of writing that is easy to identify by the written format. Letters follow a similar format to allow the reader to find and skim the important information.
The formatting details in the next six steps will tell you how to write a letter that gets your point across.
How to Head a Letter
Letterheads start with the sender's address aligned to the left, right, or in the middle. If you write formal letters, you will need to include this as the receiver may need to respond in writing. For informal letters to those you know, forgo your address if you want to.
If you write lots of letters, consider getting some letterheads printed. Having a stack of paper with your details already printed can save you a lot of time. Alternatively, you can get a custom stamp printed and an ink block.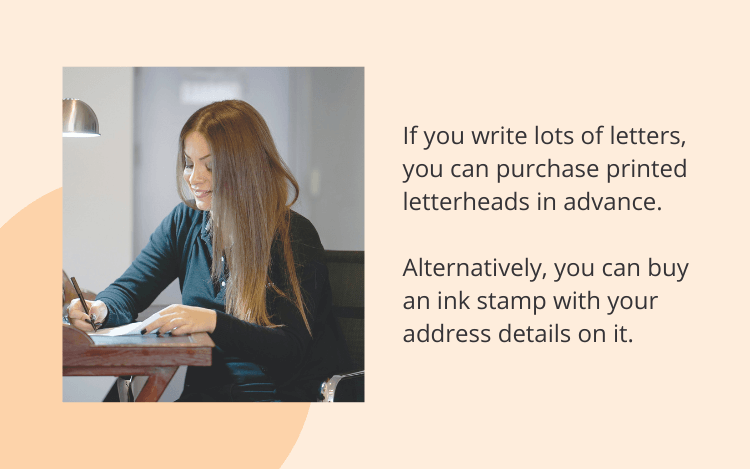 Which Side Do You Write the Date on a Letter?
Under the sender's address, you'll need to add the date you're writing the letter. Write the date on the same side of the page as your address.
For personal letters where you haven't included the sender's address, you still need to add the date. The date gives context to your letter, so you don't want to leave it out.
If you're writing a formal letter, write the date out in full with the month first, then the day, then the year. For example, a letter written on 2023-03-15, you would write March 15, 2023. In the US, you need to add a comma between the day and the year.
Where to Include the Recipient's Address on a Letter
The recipient's address needs to be aligned to the left-hand side on the line below the date.
When writing a formal letter, start the recipient's address with their name on one line, followed by their job title on the next line. Then write the company name and address below that.
For personal letters, you don't need to include your recipient's address.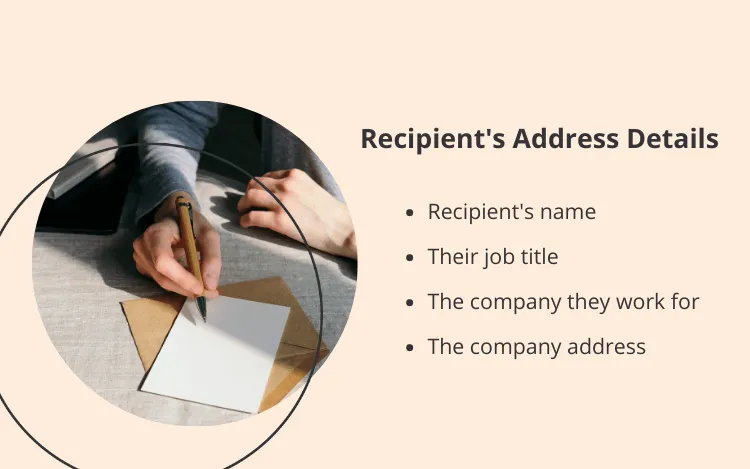 How to Write an Introduction in a Letter
The introduction in your letter is the greeting and the first paragraph. Leave a line space under the address and start with the greeting.
There are many possible greetings you could start your introduction with, such as "Dear [recipient's name]." For a formal letter, write their entire name. Alternatively, you can write "Mr." or "Ms." followed by their initials and surname. If it's an informal letter, just write their first name.
If you don't know the name of the person you're writing to, you can use "Dear Sir or Madam." To get the right address for your letter when writing to a company, you can call and request the name of the person you need to write to.
After the salutation, write your introductory paragraph. Always include the subject in your first sentence, and follow up with your reason for writing. For example, in a complaint letter about a faulty product, you would mention the product and any purchase reference in the first sentence, then explain you would like to complain about the quality of the product.
In a personal or informal letter, still include the subject and reason for writing in your first paragraph. This lets the reader know what to expect in the letter and sets the tone.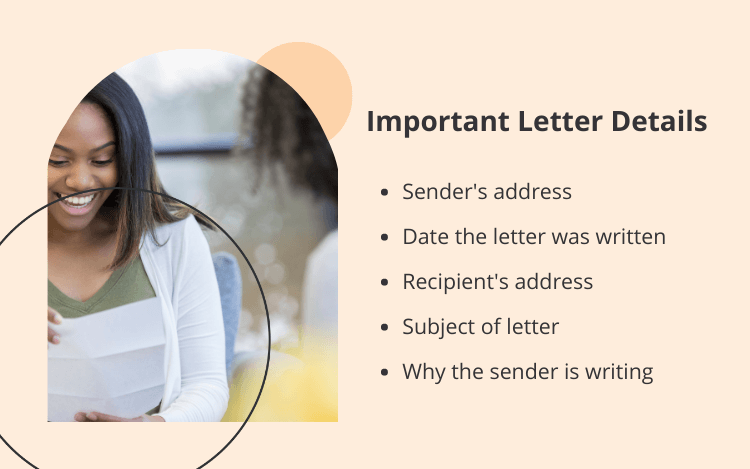 What to Write in a Letter
The body of your letter is where you'll add the main points you want to address. All the points should be in an easy-to-follow order so your reader doesn't lose the overall message of your letter.
Each paragraph should start with an opening sentence, followed by your evidence or additional information. Then you'll want to close with a concluding sentence that connects to the next paragraph.
The length of your letter can differ depending on what you are writing about. Don't write too much to make your letter look longer, as you'll risk losing the reader's attention. However, you don't want to leave anything essential out of your letter, either.
If you're struggling to order your points or know what to say, try using a template to guide you. Just remember, each letter is unique, so don't rely on a template to write 100% of your letter. You don't want your letter to sound generic or copied from the internet.
Ways to Sign a Letter
The last part of letter writing is the signature or sign-off. How you sign your letter will depend on the formality of the letter and if you know the recipient.
For formal letters, use "Yours sincerely" when you know the recipient, and "Yours faithfully" when you don't. If you are writing to an official, such as a politician you will never meet, you can use "Yours truly."
Sign-offs are not set in stone, though some people might tell you they are. It's best to use what feels right for your letter based on the formality and tone you've used so far.
In an informal or personal letter, you can sign off with something a lot friendlier. You could use "With all my love" or "Your devoted friend."
If you are typing your letter, you can handwrite your signature under the sign-off to show you have checked it and are confirming the words above are all your own.
For formal letters, include your full name in capital letters under your signature to be clear about who is signing the letter.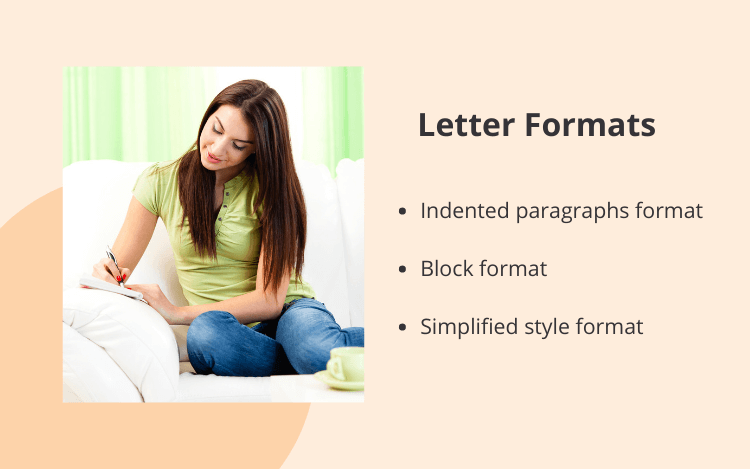 Letter Format Examples
If you're still not sure about how to write a letter, we have some examples to help you get started.
Here is an example of the indented paragraph format:
Jane Smith
123 High Street
London, OH 12345
November 23, 2022
Martin Jones
Marketing Director
Advertising Company
456 West Street
London, OH 23456
Dear Mr. M Jones,
I recently saw your television advertisement for the new beauty salon on 7th Street, and I thought you did a great job. I would like to inquire about your rates for a 30-second advertisement for my beauty salon.
Please send me the costs for filming and producing an advertisement for television. I believe this will benefit my business and bring in new clients.
If there is any further information you require for the quotation, please get in touch with me at the above address.
Yours faithfully,
Jane Smith
If you're using the indented paragraph format, indent the initial line. You should then format subsequent paragraphs with indented first lines. The indented paragraph format is a common format used for both business and personal letters. 
Here is an example of the block letter format:
John Doe
1 New Street
Manhattan, NY 12345
January 3, 2023
Joe Bloggs
Managing Director
Example Company
123 Old Road
Brooklyn, NY 67891
Dear Mr. J Bloggs,
I'm writing to you today to discuss the price increase in my energy bill dated December 30th, 2022. I don't recall being notified of this increase.
As you did not notify me of the increase, I did not budget for it. I cannot afford the extra amount and would appreciate it if you revert my charge back to the previous amount.
I look forward to hearing from you.
Yours faithfully,
John Doe
In this format, align everything to the left, including the addresses and the date. You do not need to indent your first line, but you should leave spaces between paragraphs. You'll see the block letter format used by businesses as a formal letter format.
Here is an example of a simplified style letter format:
Janet Jones
Retail Company HQ
456 New Acre Drive
Denver, CO 12345
March 30, 2022
Tim Smith
Store Manager
Retail Company
123 High Street
Colorado Springs, CO 34567
STOCK LEVELS OF BANANAS AND ORANGES
The stock levels of bananas and oranges in your store are getting low. I would recommend you place an order for these items soon to ensure you continue to provide these to your customers.
Please let me know if you cannot place an order for these products before April 5th, 2022.
I look forward to seeing you again on my next store visit. 
Yours sincerely,
Janet Jones
The fundamental difference between this format and the others is that it includes a subject line instead of a greeting.
How ProWritingAid Can Help You With Writing Letters
Once you've written your first draft of a letter, you'll want to edit it to ensure it reads correctly and doesn't have any grammatical errors. That's where ProWritingAid can help you.
Start by reading your letter aloud, as this will help you spot any glaring errors. Then you can run it through ProWritingAid to see if there's anything you've missed. The Realtime checker picks up on spelling and grammar errors and passive voice. It also shows places where you can improve readability, which is important for your reader to understand what you're saying.
You can use the Style and Grammar Reports for a more in-depth analysis of your letter. If you are writing business letters, select the specific document type from the drop-down menu in the Realtime sidebar before you run your reports. This will ensure your results focus on the specific requirements for your letter type.
Even if you're not typing out your letter, write a first draft and edit it before you write the version you'll be posting. For tips on editing, you can check out some of the other articles on the ProWritingAid blog.
We hope this article has helped you learn how to write a letter that achieves the results you want.
---